Waterproofing has become a must; no matter whether you have bought a new home or renovating the existing one, you must do proper waterproofing for the floor and wall that are exposed to moisture. But, before you apply waterproofing to the affected wall, it's better to gain a comprehensive understanding of the process.
If you are constructing a house or renovating your apartment and wondering about the need for waterproofing then we have got you covered. Today in this post, we are talking about everything you need to know about waterproofing. Starting from giving you a basic overview of waterproofing, we are also talking about
The difference between waterproofing and damp proofing
Cost of waterproofing
Best available waterproofing chemicals and brands and more.
So if waterproofing is on your mind, continue reading the post below as it contains all the necessary information you need to know related to waterproofing.
Let's get started!
What is waterproofing?
Waterproofing is basically the process of making a structure or object waterproof. Once it's done, the insulated structure or surface becomes resistant enough to prevent redundant water ingress.
Particularly, waterproofing is applied to buildings to make a barrier. This way, the passage of water can be stopped on all those surfaces that are more prone to getting moist by water as compared to other parts of your house.
The walls, roofs and foundations of your residence are some of them. In fact, when it comes to waterproofing and strengthening the surfaces of constructions nicely and flawlessly, waterproofing is considered a second-to-none option.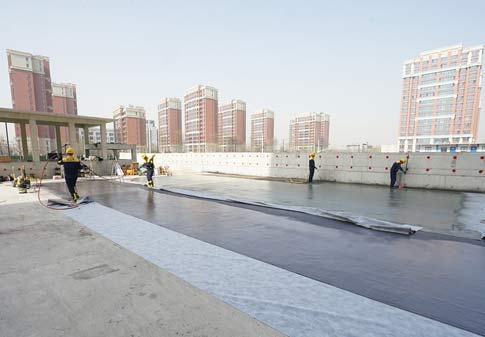 To say in a nutshell, waterproofing doesn't allow the unnecessary penetration of water within unexpected surfaces under external forces like capillarity or hydrostatic pressure.
So, select an appropriate waterproofing solution for your house and protect it in the best possible way.
Damp-proofing vs. water-proofing
When building a new home, it's easy to get confused between waterproofing and damp-proofing. In fact, unless you get a thorough understanding of each, using the terms damp-proofing and water-proofing interchangeably would be no surprise.
Although similar techniques are used in both damp-proofing and water-proofing they are definitely somewhat different from each other. Let's introduce each of these concepts to you first.
Damp-proofing
Damp-proofing is a treatment applied on a surface to prevent the absorption of moisture when there will be no hydrostatic pressure.
Waterproofing
Waterproofing on the other end is applied to a surface to prevent the passage of liquid water that is also under the influence of hydrostatic pressure.
Basically, the actual differences between damp-proofing and water-proofing lie in their physical attributes. Particularly, the construction components used in each of these processes vary a lot from each other.
Apart from that, the post-application conditions and expected thickness after the treatment is done can also differ to a great extent, no matter whether you have opted for damp-proofing or water-proofing.
Waterproofing and Damp-proofing: Key Differences
So, how are damp-proofing and waterproofing set apart notably from each other? Well, damp-proofing is simply a coating that is either applied manually or sprayed on the surface of the wall.
However, modern-day constructions don't consider it an effective treatment anymore. Yet, in many cases, damp-proofing is still applied widely to regulate water vapour within the surface moisture without stopping the incoming flow of liquid water.
The thing is, damp-proofing is a basic method and can only curb the dampness of your house to a certain extent.
So, if moisture has become a major concern for your home, then you can surely go for damp-proofing, but don't expect it to be a permanent solution to this issue.
Again, damp-proofing doesn't have the ability to seal bigger holes or cracks that are often the results of form ties. This increases the probability of unwanted damage that can be caused by an unattended or untreated backfill.
On the contrary, water-proofing is the most fruitful treatment that can effectively retain water in several of its forms. These include water vapour, water crossing a surface and resulting in moisture within the soil or water under hydrostatic pressure and so on.
Technical comparison
As a treatment, water-proofing can efficiently bar each of these forms of water, hence is regarded as a way more viable option as compared to damp-proofing. All said, below is a table that illustrates the differences between waterproofing and damp-proofing in terms of certain features like thickness, underground stability and material used etc.
| | | |
| --- | --- | --- |
| Features | Damp-proofing | Waterproofing |
| Crack Bridging | Little to none | Ability to bridge gaps of 1/16 inches |
| Underground Stability | Fragile at low temperatures | Can retain flexibility and elasticity even at low temperatures |
| Ability to Resist Hydrostatic Pressure | Cannot resist water flow permanently under hydrostatic pressure | Can resist water flow under hydrostatic pressure |
| Thickness | Below 10 mils after it's being cured | 40 Mils to the minimum after it's cured |
| Origin | Chiefly developed as a particular type of primer to create road surfaces and safeguard the basements like that | Designed particularly to protect moisture on the block wall and poured wall foundations |
| Material Used | Unrefined form of Asphalt | All-polymer composition or Polymer-enriched Asphalt membrane |
technical comparison between waterproofing and damproofing
Are you still confused that whether to go for damp-proofing or water-proofing? Hopefully, after taking a look at the features above, the one treatment that you would love to go for is waterproofing, right?
After all, it's the question of the life-long safety and protection of your home. So, why not spend that extra amount of money and time on a complete wall-proofing session rather than opting for damp-proofing?
Rest assured that the results you will get in return are going to be worth the investment.
How much does waterproofing cost?
On average, the cost of waterproofing depends on the area that you want to get water-proofed and the process and chemical being used. The standard waterproofing rates vary between Rs. 75 to 350 per sq ft.
Consider this price list.
| | |
| --- | --- |
| Type of surface | Rate per sq ft |
| General floor | Rs. 150-250 |
| Basement | Rs. 200-350 |
| Terrace | Rs. 250-350 |
Note, the waterproofing rates and charges given above are meant to give you just a basic idea of how much you may have to spend on your waterproofing project. It may vary depending on factors like the location and size of your house, the material used, the type of service availed and the foundation of the residence etc.
Different types of waterproofing methods and materials used
Nowadays, companies use different types of waterproofing techniques and materials according to the tailored needs and budgets of their customers. So, whether you require waterproofing for your bathroom or kitchen, basement or walls, balcony or terrace, professionals will generally use the below-mentioned methods and components to restore the affected parts back to their previous appearance.
Tar sheet waterproofing
Available in 1, 2 and 3 Ply, this treatment is meant for homeowners who are up to repairing roofs that often get consistent puddles of rain after a few spells of showers or thunderstorms. If done properly, it can prove to be extremely effective, leaving long-lasting outcomes down the road.
Crystalline epoxy coating
Epoxied polymer is combined with the hardening component. Consequently, epoxy resin creates a layer of extra protection on the surface, making it adequately corrosion-resistant and water-proof as a result.
PVC waterproofing membrane
Made of polyvinyl chloride, this material is chiefly used for waterproofing roofs.
Thermoplastic
Thermoplastic or TPU is an appropriate material for those whose homes have been affected by conditions like cracked decks and fountains, damaged tanks, elevator pits or property lines or split slabs for that matter.
Rubberized asphalt
Used primarily to curb conditions like hydroplaning, noise, cracks and damaged surfaces, rubberized asphalt ensures a longer lifespan for any of the underlying substances on which it has been applied.
Bituminous membrane coating
Bituminous Membrane Coating consists of a self-adhesive membrane and flashlight on the top and is generally used to cure low-sloping roofs having lesser efficiency.
Liquid rubber waterproofing
It's a thin coating comprised of a topcoat as well as a primer coat and is used by a trowel, roller or spray to ensure that extra flexibility for the affected areas.
Cementitious coating
The simplest waterproofing treatment so far, cemented waterproofing can be used in the interior parts of your house such as bathrooms, kitchen and all those areas that are not exposed to the sunlight. Easily available ingredients are mixed and applied usually in the form of semi-flexible or rigid water-proofing to attain the desired results.
Polyurethane liquid membrane
Depending on the polyurethane you select, the quality of the treatment will also vary. Even after it has been applied, there is a chance that bubbles within the layers may form, often resulting from the leftover moisture on the first layer. So, be a little careful about that.
Polymerized silicone waterproofing
Polymerized Silicone Vinyl "Waterseal PSV" is a highly effective and durable waterproofing material meant particularly for terrace waterproofing. It is furthermore comprised of elements such as additives, microfibers, graded fillers and adequately long-lasting and elastic Silicone Polymers that are fast, light and weather-proof as well. In fact, one can apply this technique both for the purpose of outdoor as well as indoor sealing and roof-related projects.
So, are you building a new home or repairing and restoring the already existing one? Well, whatever the case, you can use any of the waterproofing methods or materials mentioned above to waterproof the affected parts efficiently and at a price that doesn't get hefty in your pocket.
Top five brands offering waterproofing solutions
So, are you also feeling the need to get your home waterproofed until recently? Are those unwanted patches, cracks and damp walls hampering the true beauty of your home? If you say yes, then it's to fix them on time. To make things easier, here are the top five companies that offer effective water-proofing solutions to their customers.
Asian Paints Waterproofing
Asian Paints came into being in 1942, initially as a home-painting brand but has now become one of the top companies offering quality waterproofing solutions. In fact, at present, Asian Paints has developed a diverse range of 200 waterproofing solutions and products.
Also, the professionals in this company use the latest tools and technologies, so can offer the finest types of waterproofing services to all their customers.
In fact, by using a network of partners throughout India along with a combination of Asian Paint Waterproofing and Safe Painting Service, Asian Paints Smart Care, an offshoot of the company particularly meant for rendering waterproofing services, is able to identify all kinds of waterproofing issues and can find out an effective solution to each of them.
So, when it comes to getting waterproofing solutions with a 100% warranty, you can go for Asian Paints without thinking twice.
Forsoc Chemicals India
This is yet another globally famous company that offers top-notch water-proofing services to all its customers. Ever since its inception, the brand has taken an oath to provide only the best quality waterproofing solutions, no matter what.
Moreover, Forsoc Chemical India is one such waterproofing service provider where you will get a comprehensive range of waterproofing services for your home, starting from basement waterproofing up to rooftop waterproofing etc.
In fact, each of the waterproofing projects is completed with utmost dedication and sincerity, hence, lasts for many years to come. This is all due to the advanced tools and techniques that their experts use while providing any particular waterproofing service.
To say the least, the incessant stress on quality has what got this waterproofing agency an edge over its competitors.
Dr. Fixit Waterproofing
Dr. Fixit hardly needs to be introduced. As a waterproofing company, they have been providing a diverse range of waterproofing solutions to all their customers. So, whether you are repairing or renovating an existing home or constructing a new one, Dr. Fixit has a waterproofing solution for each of them.
Just take a look at their product range and you will find that the brand is offering various kinds of repair and renovation products as well as new construction waterproofing items to serve the purpose of different waterproofing needs.
One can use these products on the affected areas of their house and expect outstanding waterproofing in return. So, depending on the severity of water damage and the location of your home, you can select any of these waterproofing essentials from them.
Sika Waterproofing
As a waterproofing company, Sika too gained prominence in India and globally in due course. The brand is currently selling waterproofing solutions to serve some special issues that affect a home.
These products are often chemical and microbiological resistant, hence can be used safely in high mechanical conditions also. Not only this but the company also sells nature-friendly products to their customers.
Generally, these waterproofing solutions have no artificial plasticizers in them, and waterproofing your abode with these substances means safeguarding it from various external disturbances that also without affecting the environment.
So, if sustainable waterproofing is what you are up to, then choose Sika Waterproofing as your one-stop partner.
All India Waterproofing Company
All India Waterproofing Company has been providing amazing waterproofing services to various Indian households from the time it came into being.
They use simple ingredients such as cement along with other chemicals and will make sure that the waterproofing treatment that your home has got becomes sturdy and durable enough over time.
More specifically, the brand focuses on the quality of its services and makes sure that people with all kinds of budgets can avail of their waterproofing treatments easily.
Hence, if water leakage and seeping are also affecting your home's health, then you must fix it on time by getting the outstanding waterproofing services offered by All India Waterproofing Company.
Where and when waterproofing is applied?
The importance of waterproofing is increasing with each passing day, no matter whether you are renovating or repairing your existing home or constructing a new one.
Tell signs your home needs waterproofing
As already said that waterproofing is something that is imperative for existing homeowners as well as individuals who have constructed a residence until recently. So, before the project begins, it's better to get your home inspected thoroughly by waterproofing specialists first.
Regardless of whether you need waterproofing for your interiors or exteriors, experts generally recommend identifying the potential areas of water damage within the living space after which the waterproofing session is to be started.
Having said that, below are the tell-tale signs of waterproofing that indicate water damage in your home and so that it needs to be treated through an effective water-proofing treatment right away.
A musty lingering smell
If you are getting a musty lingering smell all around your house, rest assured there is water damage in your abode and that's for sure. It indicates that water has seeped into the interiors already by now.
If left untreated, it can further lead to the growth of mildew and mould that would ultimately lead to serious health problems between you and your family members.
Patchy walls
Are you noticing any striking differences on your walls such as cracks, chalking, scraped-out paints or of rusty spots? If yes, then it's a clear sign of water damage. This is mostly the case with homes where balconies and exterior walls are often exposed to uncomfortably hot weather conditions.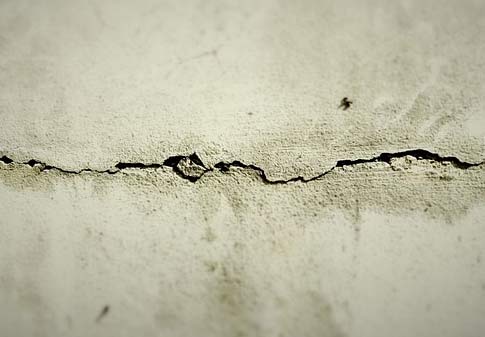 As a result, the water-prone areas such as the bathrooms, kitchens and laundry rooms of those abodes get affected the most. Also, conditions like pipe leakage in air-conditioners, and unwanted leaks in windows and ceilings can deteriorate these interior walls furthermore.
In a word, patchy walls can damage the overall health of your house severely which can only be prevented through a proper waterproofing treatment.
Wet floors
Wet-floor can be as detrimental to your home as any other waterproofing issue, inflicting its health like anything. It indicates that a ceiling leakage might be the main culprit. Such a problem is often triggered by the roof of that living space.
However, other sources including leaking pipes from the bathroom or kitchen can also be equally responsible for creating wet floors within your interiors.
Alternatively, water seeping in from a floor, window or wall can lead to an abrupt ceiling leakage as well. So, identify this spot on time and get it the much-needed waterproofing treatment to prevent further deterioration.
Essential spots that need waterproofing
Don't let water damage pose a threat to the health of your home. Before the condition deteriorates anymore, you must get it treated on time by availing of effective waterproofing solutions from a reputed waterproofing company. So, here are some of the spots that require waterproofing indispensably, no matter whether they comprise the interiors or exteriors of your property.
Interior Walls
Interior walls are mostly affected by leaking pipes, kitchen splashes and of wet bathrooms. To resolve this matter, on-time drying, adequate ventilation and effective waterproofing solutions are the only way outs.
As a result, there will be little to no lingering smell or discolouration in the walls. The best way to get this job done is by seeking the assistance of expert professionals as quickly as possible.
Exterior Walls
No matter what but both the roofs and exterior walls of a home have to bear the brunt of harsh weather conditions, be it in the form of rain or blistering sunshine.
If proper waterproofing is not done on time, it may allow water to effortlessly seep into the penetrable and cracked portions of your house. So, you must treat this condition in advance to prevent any further structural deterioration outside your living space.
Roofs
Have you ever wondered how water actually seeps into the various areas of your house? Yes, you guessed it right, it begins from the roofs and then moves elsewhere since this is where the droplets of rain fall first.
In fact, water damage begins when the terraces let a consistent puddle of precipitation accumulate there. The best way to get rid of this issue is by levelling up the roof properly first and subsequently applying an effective roof waterproof solution to it with the assistance of professionals.
So, before it's too late and things like carbonation, bridge cracks, fungal infestations and water seepage hamper the health of your roof like anything, it's better to hire a waterproofing company that will do everything on your behalf.
Right from using premium roof waterproofing solutions to making good use of Hydroresist Technology, the experts will make sure that your roof remains protected and secure from any of the external hazards out there.
Waterproofing is the need of the hour!
Whether you call it a necessity or a luxury, every homeowner must go for waterproofing these days without a failure. In a word, going that extra mile and investing your hard-earned money and effort in waterproofing from now can prove to be really beneficial both for you and your residence.
Not only will it safeguard the affected parts in your abode effectively, but it will also keep the various diseases at bay resulting from fungal and bacterial attacks.