So, you are finally gearing up to move into your new apartment. It's indeed wonderful feeling the moment you scour through your entire abode for the first time. However, there is a lot to do and buy to set up your new home.
Maybe, you are reclining on your couch or simply taking a walk-through in your kitchen, you've finally built your dream home where you and your family are going to reside permanently.
However, buying the essential items for your brand-new house is of the highest importance. For that, you need to set a fixed budget first and buy the most imperative apartment essentials as of now.
Make sure you stick to your intended budget as hard as possible. Such a financial strategy must be inclusive of all the essential costs that comprise your moving as well as decorating and other related expenses.
Also, hire the best packers and movers near you who can help with moving all the household goods and appliances to your new apartment without breaking the bank.
In a word, you need to have enough wisdom and discretion in you while buying the necessary stuff for your new apartment.
Essential items checklist to set up a new home
Take a peek at the checklist below that comprises the most essential items you should be buying to set up your new apartment for easy and comfortable living.
Kitchen essential items for a new apartment
Stocking your fridge and pantry is essential when you are in your new home for the first time. To do so, you need to be sure of the fact that your kitchen is already filled with all the imperative comestibles so that you can sustain well at least for the next two to three days.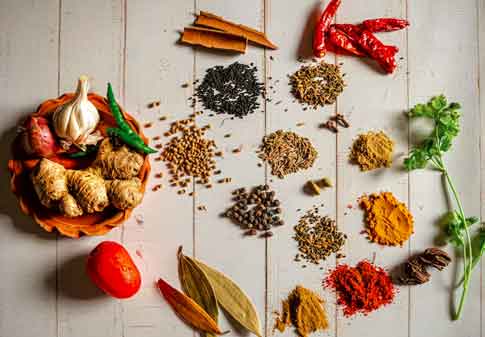 Always remember, a spanking-equipped kitchen can save you a great deal of money in the long run as you don't have to spend on everything you need right now.
Nevertheless, you can consider this checklist as it contains the most essential grocery items that you will need for your household indispensably not less than for a week.
Pepper
Salt
Snack Food (nuts, pretzels and chips etc)
Pasta Sauce
Dried Pasta
Packaged or canned chicken or tuna
Dried or canned beans
Soy Sauce
Vinegar (balsamic, apple cider, red and white)
Cooking oil (Olive and/or vegetable oil)
Mustard and ketchup may be the condiments of your choice
Nut Butter
Grains (Farro, lentils and quinoa etc.)
Easy-to-cook oats
Tea and coffee for sure
The baking powder as well as baking soda if you are an outright baking specialist
Sweetening agents like saccharine, honey and sugar etc.
All-purpose flour
Bread and
Flour to name just a few
Cereal
Buy not more than one or two containers as that would be more than enough. After all, it's just the beginning of your gastronomic experiments in your new apartment, right?
Note that, the recommended grocery items are here to give you a general idea about what to buy and what not to buy immediately after moving into your new apartment. Depending on your individual needs and wants, you can add or exclude some of these essentials so that everything remains within the means of your budget.
Freezer
Consider purchasing kinds of stuff like frozen veggies and fruits, meat and other poultry items, frozen patties including both vegan and non-vegan burgers and frozen pizza for dinners etc.
Fridge
Jam, fresh veggies and fruits, cheese like cheddar, Gouda or parmesan that most gourmets use in their recipes, eggs or related substitutes of egg, butter and milk (maybe almond, soy or cow or anything that you prefer). However, while shopping for these items, make sure you buy whole fruits and vegetables and not packaged or pre-cut ones.
The furniture you need in a new apartment
Purchasing elegant furnishings definitely forms one of the most essential aspects of arranging your new apartment. However, you can shelve buying some of the pieces that you think you won't need as of now.
Yes, it's a compromise you don't have to do for lifelong. Hence, even if you have to attend to your guests inside your bedroom until you've bought a gorgeous-looking sofa, it's not that everything is finished.
With time, you will gradually require these items for your recently purchased apartment.
Chair and desk
Table and chairs for a small dining space
Coffee table that fits appropriately in tandem with the overall dimension of your home and
Sofa
Well, the furniture recommended above was just some of the rudimentary fitments for your apartment for the time being. Subsequently, you can purchase a few other things as well to add that oomph factor to your entire dwelling.
Decorative pillows, throw blankets, side tables, sound system, area rugs, curtains and potted plants comprise this checklist.
Later on, if you feel like it, you can purchase a Television too and for that, you will certainly need a snazzy TV table, isn't it? As the saying goes "slow but steady wins the race" couldn't be untrue in your case as well when it comes to buying furnishings for your modern-day residence.
Bathroom essentials you can't do without
When it comes to organizing your bathroom, there are quite a few toiletries that you will need imperatively. Body wash, shampoo, deodorant, toothpaste and toothbrush are the most prominent of them. Apart from that, you will also need a couple of things to ensure your bathroom remains spanking organized and clean all the time.
Small trash can
Toilet paper
Plunger
Toilet brush
Rug or bathmat
Toothbrush case or holder: In case, you have an impressive plastic cup, just use it as an alternative for now. Make sure you wash it daily to give it an immaculate appearance.
Wall hook if one is already not installed there
Shower liner and curtain only if you consider them absolutely necessary
Two bath towels for the time being. You can buy more later if need be.
It's in the initial phase of your relocation when you will need these components at your disposal. Eventually, you can buy an array of items including a shower speaker, chic soap dispenser, and water cup holder for additional storage etc.
Bedroom essential items to set up a new flat
The bedroom comprises the most crucial area of our home as we normally sleep there after a tiring day. So, when it comes to purchasing a mattress for that area, going for lousy options is the last thing we want.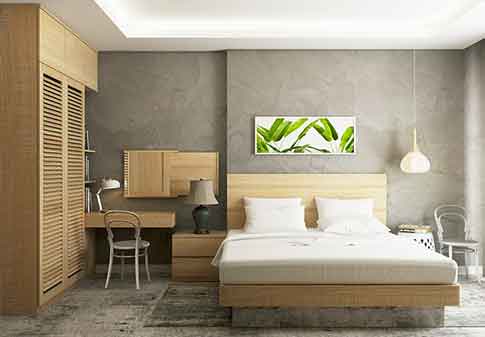 For this, you can search online a bit and you will find a plethora of products that best fit your tailored needs. In this case, you can surely look for the bed-in-the-box mattress that's indeed a chic choice to make.
Again, if you cannot spend decently on your mattresses as of now, buying an air or futon mattress would be a great idea.
A duvet cover and duvet or comforter is something you may like to consider buying.
When buying pillows start with one or two first and continue shopping for them as and when needed
At the time of purchasing sheets, it's always better, to begin with, the one provided you can wash it every single day. If you aren't comfortable doing so, consider getting two for your bedroom.
Apart from that, you will need a few items additionally down the road.
Laundry hamper
Cedar rings or balls if there are recurring moth infestations.
Hangers for your wardrobe.
A full-length mirror that is a bit less expensive in case there isn't a stylish one already at your disposal.
Under-the-bed containers or plastic organizers and dressers for the storage purpose in your home
In case your living space lacks adequate window coverings, then you will surely need to install good-quality curtains that look quite minimalist and elegant at the same time.
Extra lighting can enhance the aesthetics
Single or multiple lamps including floor lamps as well since lighting comprises an imperative part of any abode out there
Try and buy one lamp and two if possible. Place them on either side of your bed to add to the grace and beauty of that living space.
In this entire journey, you may think that you are done with all your bedding linen stuff, but, that is not the case. In fact, with time you will need a handful of things extra and of course, that is considered indispensable for each of your bedrooms. Bedside tables, bed frames, rugs and throw pillows are some of the essentials that you can zero in on.
Cleaning essentials
You have always done full justice to the adage that cleanliness is next to godliness, by keeping your home immaculate 24/7. Well, for that, you don't always need that expensive vacuuming equipment or similar components. Instead, consider buying these kinds of stuff to get your dream home that spick-and-span appearance all the time.
Hand soap for bathroom and kitchen
Rubber gloves
White vinegar and Baking soda
Liquid dish soap
Dishwasher detergent in case you have a dishwasher
Laundry detergent
Wood cleaner to clean all your wooden surfaces
Multi-purpose spray
Bathroom cleaning spray
A portable vacuum cleaner until you are able to afford something more expensive.
Mop in case you have hard-surface floors
Bucket for cleaning or mopping
Paper towels
Anti-bacterial wipes
Microfiber cloths and soft rags
Separate sets of sponges for cleaning and washing dishes respectively
Dustpan and Broom and
Garbage bags including both small and kitchen-size
Later, maybe you can buy stuff like a microfiber sweeper, furniture polish, an eye-catchy vacuum so on and so forth.
Kitchenware items you should buy for your new home
Making good use of your kitchen in your new apartment is important. So, before you start doing that, you must get these basic items that will let you maintain your cookhouse in the finest possible way.
Garage Can
Dish drying rack in case you don't have a dishwasher
Not more than two to three dishrags
Four to six dish towels
One set of oven mitts
Food boxes to preserve the leftovers
A set of measuring spoons and cups each
A wood board, silicon or plastic cutting board
Corkscrew and bottle opener
Ice cube tray
Strainer for draining vegetables or pasta
Adequate amount of paper napkins
Kitchen sheer for opening the several plastic packages out there effortlessly
One large mixing bowl that you can start off with initially
Cooking utensils including a large spoon, spatula etc.
A paring knife, a chef's knife and a serrated knife
French Press or Coffee Maker
A mug that would be more than enough, to begin with
Four water drinking glasses for a small family or maybe more depending on the size of the household.
Flatware utensils including spoons and knives, two each along with a steak knife (optional)
Baking sheet comprising a medium and large cookie sheet
Oven-friendly dishes including that large and medium-sized casseroles
Pans and pots include a small and a large pot and a large and medium-sized frying pan. In this case, you can buy a small cookware set that may be a much more inexpensive option.
Well, when buying these items, you don't have to always opt for the top-quality variants available in the market. It's just that they have to be functional and adequately attractive.
Decorate your apartment the way you please!
So, now that you are familiar with how to arrange a newly bought apartment smartly and efficiently, it's time to carry on with yours. For any home décor related assistance, you can reach out to a reputed company like Houseyog!