When it comes to bathroom designing, there is so much you can do to make your bathroom aseptically appealing, as well as super functional and efficient. There is a plethora of bathroom design and renovation ideas that are trending in the market nowadays. However, choosing a feasible option that'll work well for your bathroom is not as easy as it may seem.
Aside from doing a lot of space planning, you need to ponder over the materials and fixtures too so as to give your bathroom the look and feel it deserves. Especially if your bathroom is not in a prim and proper condition, it has to be renovated and upgraded from the ground up.
But, again renovation doesn't imply reconstructing your bathroom from scratch, interior design specialists say. Just changing a few things in your bathroom or revamping the décor a bit can alter the entire appearance of your bathroom drastically.
Whatever suits your budget and tailored needs, you should define the scope of your bathroom design and renovation accordingly. Having said that, below are some compelling reasons why you have to get your bathing renovated.
Read on to find out more.
Why bathroom renovation is important?
This is one such question that wavers in everyone's mind and surely it is a matter of concern in the present-day world when most of us have to live in diminutive homes or apartments that often comprise of crammed bath spaces.
If not used well, this part of your residence can get overloaded with unnecessary stuff. And within a few days, you will find your favourite bathroom dreadfully cluttered.
The importance of bathroom renovation is that's why increasing with each passing day. So, are you also contemplating upon the fact that whether to go for a bathroom remodelling or not?
Well, when there are so many bathroom design and renovation ideas, it's easy to feel daunted and slightly confused. Don't stress, as today's guide gets you covered. As you read through it, you will learn about the various reasons why bathroom renovation must be an indispensable part of your home renovation spree.
Hence, without delaying any further, let's get started!
Create a comfy seating area
If you have a large bathroom, then adding a bench to it can be a wow idea. There you can indulge in a pampering and prolific scrub for as long as you want. Built-in seating can be an amazing choice in this matter.
However, an elegant upholstered bench or an ordinary teak shower seat would also do the good, if you want to keep the expenses low. In this context, it is pertinent to mention that shower seating is getting increasingly popular these days.
Particularly, Indian households with individuals suffering from certain health conditions are using the latter unfailingly as an essential component of their bathroom. So, if you are also purchasing this unit, make sure that it is adequately sturdy and safe and is made in adherence to professional-grade standards and consists of anti-slip rubber grips.
Some of the prominent examples include:
A multi-purpose shower chair
A wall-fixed chair or stool
A free-standing chair and
A free-standing stool
Depending on your individual needs and requirements, you can shop for any of these variants as you enjoy some of the most comfortable and relaxing times in your bathroom for many hours to come.
Smart bathroom designs are in the vogue
Opting for smart bathroom designs can transform the entire look and feel of this space drastically. In this regard, digital shower panels can do wonders as they offer absolute control over the flow of water and temperature.
In addition, adjustable heated towel racks teamed up with radiant flooring will stoop up the factor of modernity in your bathroom to quite a great extent. Besides, integrating those infrared sensors will turn on the mirror lamps and lights automatically while controlling the entire lighting all by itself.
So, by opting for a bathroom renovation like this, not only you are staying abreast of the latest bathroom remodelling trends, but you are also saving a lot of money on your heating and water equipment to a fairly good extent.
Add more functional features to your bathroom
What are the features that you wish to segregate in your dream bathroom design and renovation project? Zero in on this aspect multiple times before you finally start scraping out the floors and walls over there. In a word, your bathroom should be designed in such a way that meets all your custom needs and desires in the best way possible.
Here are some essential attributes that must be a part of your bath space the next time you renovate it.
Slip-resistant flooring and non-slip shower bases
Slip-resistant flooring is one of the most imperative features that any bathroom should have, no matter how big or small it is. In this regard, you can opt for ceramic tiles or Italian marble flooring which is generally available in a variety of designs.
Bathroom basin or sink
Installing a premium and sturdy sink for your bathroom is of the highest importance to ensure maximum safety for it. Always remember, just the way the kitchen essentials can be replaced with the former equipment of your bathroom, the same cannot be the case with the latter.
On the contrary, the bathroom basin must be adequately big to be used comfortably aside assuring a longer lifespan as well.
Shower screens
When it comes to Indian bathrooms, shower screens are something that lack a lot. Even though a small investment but this component can induce that much-needed convenience in your bathroom that you have been missing for so long.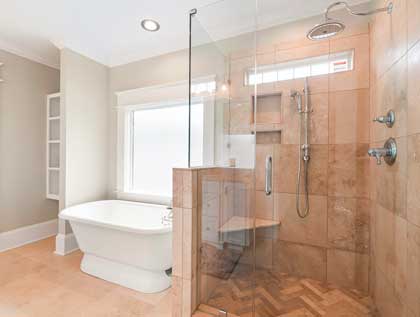 When a glass barrier of this sort is able to set apart the shower zone and the rest of the space in your bathroom so feasibly, what's the harm in integrating that? This in return makes the bath space of your house a non-slippery and risk-free area to be used.
Upgrade the appearance of your bathroom
Contemporary bathrooms are all about elegance and luxury. Creating that opulent and spa-like ambience must be your ultimate objective in this matter. So, make sure that you strike that balance between the colour palette, décor, countertop, flooring, lighting and fixtures and guess what?
Your minimalistic bathroom will start appearing utterly regal and sleek from now on, making it a craved-for space to enjoy some of the comfiest bathing sprees both for you as well as your family members.
Reinforce the storage space properly
As time goes on, the requirements for storing things in your bathroom pace up. Hence, increasing the storage space must definitely be on your bucket list when renovating your bathroom.
In this context, components such as custom storage and cupboards for existing and redundant clothes with opening shelving in each can be a good-to-go option if providing that spic and span appearance to your bathroom is what you are up to.
Besides, when installing cabinets in this space of your house, there are certain things worth remembering. These include:
Go for storage modules that are sturdy and long-lasting.
Particleboard and MDF are again affordable options for bathrooms in rental spaces, though they are not as durable as plywood.
If your cabinets are prone to moisture, then opting for water-resistant plywood must be your ultimate choice.
Do you have a cramped bathroom? In that case, the ideal space for your cabinetry should be above the toilet and beneath the sink.
So, make sure that you take each of these aspects into consideration while installing cabinets in your bathroom so that convenience and ease always remain at your fingertips while you are there.
Resolve the underlying issues
People in India tend to use bathrooms more than anywhere else in the world. Hence, Indian bathrooms are prone to wear and tear the most aside from being susceptible to frequent leakages. So, if there is a leaky toilet or sink, you tend to waste around 700L of water on that every single day and it's no joke.
On top of everything, if you have a moist bathroom, then be assured that it's the perfect breeding ground for moulds and mosquitoes. These problems if left untreated for a long period of time can further lead to electrical issues, mould-related troubles and most importantly rotting floors.
Hence, make sure that you get all the pipes, faucets and taps of your bathroom fixed on time to ensure a longer lifespan for it that also at a fraction of the actual renovation cost. Doing so will not only reward you with a faultless bathroom but you can also safeguard this space of yours from any of the unprecedented damages out there.
Actualize the bathroom of your desire!
As daunting as it may seem, bathroom renovation and design can be a quite gratifying and enjoyable tasks if done with the assistance of a pro. Besides, with so many eye-appealing bathroom designs and renovation ideas, creating the bath space of your dream has no more remained a hassle.
So, if you also wish to get over your ordinary and haggard bathroom this time, then consider going for a bathroom remodelling spree for sure, more so, for each of the reasons mentioned above.
Also, do not hesitate to consult a professional to help you with the renovation and interior design of your bathroom. The professional designer can help you visualize different layouts and designs in high-definition 3D design renderings.