We have already played with Mother Nature a lot. And the myriads of endangered flora are clear evidence of that. In fact, according to the IPPC, the reckless actions that mankind is taking every now and again are what has led to this brunt, and it's no wonder.
Well, it's indeed a matter of concern since the level of carbon dioxide is pacing up as global warming escalates along with it. So, how to overcome these detrimental consequences effectively and smartly?
Yes, you have guessed it right, by using as many sustainable products as possible in our day-to-day life. An imperative part of this would be to go green with your home interior design first. Wondering how to get it right? Well, that's what we are going to talk about in this post, so continue reading to discover some amazing tips and tricks that you can use right away.
Try these eco-friendly interior design tips and tricks
If we can implement an eco-friendly interior design for our homes and workplaces then that will not only usher us towards protecting the environment significantly but also create a sustainable ambience all through our spaces.
Consider these six interior design tips and tricks for a sustainable future.
Time to make sustainable interior design choices
Going green with your interior design is not an option, it's a necessity instead when the entire world is at stake due to these harmful greenhouse gases and the threat they are posing to us. In this context, it is pertinent to understand what exactly sustainable interior design is.
So, make sure that you keep the "eco-friendly" factor in mind when purchasing the materials for your interior designing spree, starting from paints, and fabrics to that woods. In response to it, there are quite a few advantages that you can expect instead.
Reduced maintenance cost, little to no exposure to harmful toxins and a viable residence to live in is the most prominent of them. To help you with all this, below are six sustainable interior design ideas that you can steal a glance at.
Hence, without any further ado, let's get started!
Use more natural textiles
Synthetic fibres such as rayon or nylon cannot be an option when it comes to integrating carpets, curtains, cushion covers and so on if at all you want to attain an environment-friendly interior design.
Rather opt for stuff like silk, jute, cotton or wool may be. Particularly, wool would prove to be a ravishing alternative, because just the way it is mite and dust-resistant, it is exceedingly anti-bacterial, sustainable and hypoallergenic too.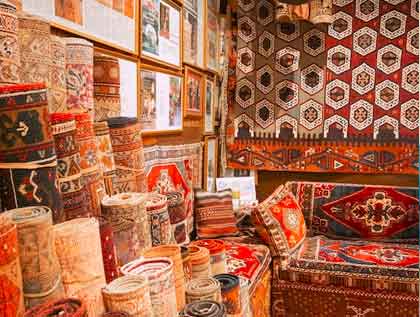 Besides, natural textiles are feasible options due to the fact that they emanate the least of VOCs, thereby safeguarding your home décor from the various unwanted perils out there.
Avoid VOC-loaded products
Volatile Organic Compounds (VOCs) are natural chemicals that are found in the products we use in our daily parlance. These often include cleaning agents, air fresheners, paints, adhesives and so on.
Aside from that, you will also get VOCs in things like candles, diffusers and fibres etc. When wavering in the conventional room temperature, they tend to evaporate faster than expected, leading to ailments such as neurological disorders, headaches, nausea etc. and in many cases damaged liver to that cancer as well.
So, to keep these detrimental VOCs at bay, you can adhere to a lot of effective ways starting from purchasing organic carpets made of wool or silk, furnishings devoid of any formaldehyde and sustainable paints not containing any lead at all.
Meanwhile, make sure that you use more natural scents for your candles and diffusers aside from using cleaning agents comprised of little to no harmful toxins in them. Hopefully, this will allow you to ditch VOC forever and convert your home into an utterly safe place to live.
Opt for nature-friendly materials
When it comes to your interior décor, selecting natural materials over artificial ones is the way to go. Say, for instance, you can use cork and Bamboo for your flooring and furnishings to give them an utterly spic and span appearance.
Coming to the countertops and tables, opting for components such as marble or travertine, the latter being a purely natural stone can be amazing choices to make. Again, to give you upholsters that enviably cool finish choose latex over any other material out there, and that's for sure.
So, if a product is not appearing natural, it means it's not natural at all. In this context, avoiding things like polyesters, plastics and chrome-plated interiors would be viable enough.
Implementing lighter walls is the way
Where lighter colours reflect a luminous vibe throughout your living space, darker shades tend to overhype that as fast as possible. So, the walls of your home cannot be an exception in this matter.
In fact, as you choose to paint your walls with lighter tones, expect to create a way calmer and cooler ambience instead.
Not only this but more light and heat would also be there and it's no wonder. Whereas darker hues on the flip side tend to generate poor light reflectivity and visibility for whoever goes for them.
Now, the choice is yours.
Start using more natural lighting
As you use more and more natural lighting by allowing the sunlight to peep into your bedroom or living room adequately, the need to access artificial lights will be reduced quite a bit. Also, indulging in a great deal of organic illumination means maintaining an optimal temperature within your living space and there is no doubt about it.
Simply open a window of yours and allow that gust of fresh breeze mellow you down. So, in a way, both the purposes of a naturally lit-up and well-ventilated home would be served.
Going green is the mantra
No matter whether you are going for a diminutive or massive interior décor, go as greener with your materials as possible. In this context, going for sustainable wallpapers would be a feasible option just the way it would be for organic paints that hardly contain any VOC in them.
Also, choose LED lights over the conventional CFLs as you opt for floor mats, rugs and curtains that are purely made of natural agents or biodegradable components.
A sustainable interior design is the need of the hour!
So, what are you waiting for? Put each of the six pointers into place mentioned above and attain an interior design that is sleek, space-efficient and most importantly sustainable. Needless to say, such a living space would be your stepping stone when it comes to actualizing a cleaner and greener planet and it's beyond any doubt.