When it comes to reinforcing the look and feel of your living room and bedroom, without an iota of doubt, stupendous window curtains can do good. Be it dramatic, bold, easy-going or casual, window curtain panels for these spaces of your house are available in a gamut of options in the market these days.
As a result, it's easy to feel bombarded and confused since there are a hell lot of variants of curtain designs to choose from. However, as you read today's post with a great deal of care and attention, shopping for the curtains for your living room and bedroom will become a lot easier.
Wondering if you really need to consider anything except your budget before purchasing the curtain for your living room or bedroom? Well, there are many things that have to be considered before buying window curtains, or else you may end up getting it wrong.
So, without any further ado, let's check the out!
Things to consider before buying bedroom and living room curtains
If you browse the internet a bit, you will see that window curtains, particularly for living rooms and bedrooms come in a diverse range of fabrics such as cotton linen, silk, velvet and so on. Aside from that, these window treatments are also available in a plethora of styles and it's no wonder.
Therefore, you got to be as meticulous as possible when purchasing your favourite bedroom and living room curtains.
Take a peek into the below-mentioned aspects.
Curtain hardware and rods
Make sure the colour of your curtains aligns well with the final look and feel of the curtain hardware. This helps get your bedroom or living room the impression that it certainly deserves.
In this context, it is pertinent to mention that using a double-curtain rod for dangling a pair of semi-sheer curtain panels unlike sheer liners can do wonders. Do this, only if you like a layered window treatment.
Similarly, teaming up vibrant curtains with a framework that exudes a matte finish look will result in a living space that everybody envies. In a word, you need to be a little on the creative side, use your grey matter somewhat as you ensure the desired level of light and privacy, be it for your living or that of bedroom.
Curtain colours
As far as enhancing the visual appearance of your living room or bedroom is concerned, the curtains colours that you go for can play a huge role behind that, rewarding your boudoir or hallway with a cohesive yet jaw-dropping look and feel.
So, when picking up curtain colours, ponder over the existing décor and colour schemes while paying adequate attention to the surroundings of your living space also. In this context, why not zeroing in on grey or sturdy white drapes that give off a seamless aesthetic impression if a neutral window treatment is what you long for?
Alternatively, you can get your hands on more eclectic accents such as impromptu wall art, throw blankets and decorative pillows that seem a perfect blend of ombre, zig zags and stripes, fun designs that are more in the vogue these days.
Having said that, outlined below are a few patterned designs that you can select both for your bedroom as well as living room curtains.
Here you go!
Printed Curtains
Be it striped patterns, printed drapery, or subtle or more boldly curated designs, it's time to convert your bedroom and living room windows into a fad that is a visual treat in itself.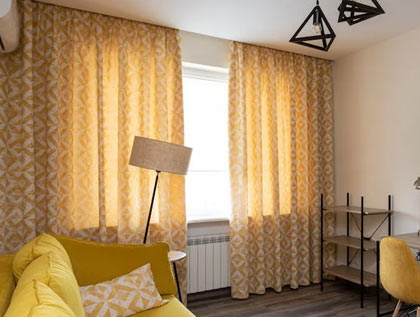 Solid Curtains
In case your boudoir or living room is deluged with different types of patterns, then solid curtains are the way to go. Just the way these window coverings are versatile, you can pair them up seamlessly with the décor that already exists in your home.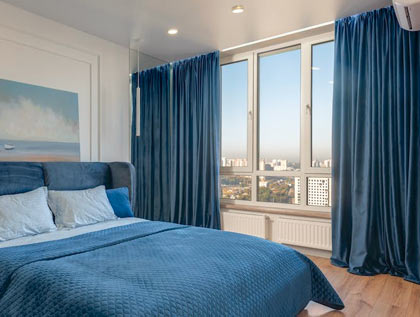 Black Curtains
If a cosy yet dramatic décor is more your thing, then bring along a couple of black curtains to your home and you are all good to go. Because these curtains can blend really well with any sort of colour scheme aside from blocking out light completely.
Grey Curtains
Neutral tones of grey curtains are meant for those who wish to keep it elegant yet simple. Needless to say due to their ability to complement shades of blue, green and other subtle hues in the finest way possible.
Blue Curtains
Looking for a wow window décor this time? If yes, then blue or green draperies or curtains would definitely satiate your desire. Window treatments in such colour options blend perfectly with other tones of blue, pale pink or yellow.
White Curtains
A lot of homeowners prefer a window décor that seems well-lit-up and much airier as compared to the other patterns and designs in the market. In this context, it would be no exaggeration to say that draperies, shutters or blinds that are available in lighter tones of ivory are all good to go. Not only do they complement any living space impeccably, but the ones in neutral shades can do it more.
Tips to Select The Best Curtain Fabrics
Before selecting the window curtain fabric for your living room or bedroom, factoring in a couple of aspects is imperative.
Here is what!
Sheer Curtains
Want to create a bright and comfy ambience all about your living room? If you say yes, then opt for sheer curtains without thinking twice. As a material, it's adequately transparent, hence, you might need more liners in order to ensure improved concealment. However, you can choose semi-sheer curtains also, subsequently striking that desired balance between light and privacy everywhere.
Velvet Curtains
When shopping for drapes, velvet curtains surely make a deluxe option. So, be it your living room or bedroom windows, the sturdy and heavyweight appearance that these curtains exude is enough to reward the pertinent area with a touch of opulence and ritz and that's for sure. But, in case the drapes need to be pulled wide open, it's always good to add a few lines to them in order to attain the desired look and feel.
Linen Curtains
Also called cotton linen in alternative terms, linen curtains are an apt option to go for particularly if the ambience of your living space is downright casual. In fact, these curtains exude an easy-breezy ambience, be it in your living room or bedroom while also allowing adequate light to prevail in there.
In this matter, try and opt for a premium blackout curtain from a reputable brand, a window covering that can impede the harsh and unwanted sunlight from entering from any nook and cranny of your residence.
Cotton Curtains
Extremely easy to clean and versatile, fill the windows of your living room or boudoir with cotton curtains this time. More so, they are available in a wide range of design and colour options, be they lighter to that or heavy designs.
Besides, you also have the liberty to pick your preferred style and colour from the plethora of choices out there. However, these window treatments are somewhat stiffer as compared to the other draperies and panels in the market. Despite that, the opaque framework that it comes with ensures a great deal of privacy within your living room or bedroom.
On top of everything, these curtains add a hint of modernity and vibrance to any room, particularly the ones made of velvet.
Silk Curtains
Are you on the lookout for an elegant window treatment? If yes, then dangling silk curtains on the many windows of your house is the way to go. Particularly, when puddled or pleated over the floor, these curtains seem utterly luxurious and there is no doubt about it. To ascertain more privacy, consider adding a lining to your drapes since silk curtains tend to be somewhat transparent.
Tips to choose the best curtains for the living room and bedroom
Pondering over the functionality of your window curtains is of tantamount importance, no matter whether you want to hang them in your bedroom or living room. Aside from that, taking factors into consideration such as the amount of light and privacy you want in your haven or the purpose you wish to serve with your draperies is equally imperative.
With that said, here are a few tips implementing which will let you make an informed buying decision when it comes to selecting curtains both for your living room as well as the bedroom.
Curtains for Bedroom
If you want to enjoy your own me-time in privacy or just snooze for a while, then bedroom curtains are the way to go. In this context, it is pertinent to say that opting for a blackout curtain or curtains made of sturdier fabrics would do you good. In return, you can expect to see your boudoir in a state of complete darkness that too without compromising on the desired amount of light. More specifically, shopping for silk or velvet curtains would cater to these needs and expectations in the best way possible.
Curtains for Living Room
The living room, no doubt is one such space where all the family members catch up at the end of each day. So, when selecting curtains for this part of your house, considering both the privacy and functionality of your draperies is absolutely necessary.
Besides, you must also give a thought to the amount of light you want to prevail in there at any point in time. To the best of suggestions, try and dangle sheer curtains on the windows of your living room, especially when having a gala time with your friends or family members.
Alternatively, you can go for the heavier panels too, blackout curtains being the ideal variant as they can hinder the unnecessary amount of light from entering your living space.
Actualize a spectacular curtain décor!
So, that was it! Grabbing some of the finest curtains for your living room and bedroom is now as simple as that. All you need is a bit of discretion, expertise and a keen eye for detail to complete this task. To get an even clearer understanding, skim through the blog above mindfully as you expect to reward your home with an enviably cool curtain décor down the road.
Frequently Asked Questions
Below are a few of the Frequently Asked Questions pertaining to bedroom and living room curtains.
How do I hang curtains?
The way you will hang curtains will largely depend on the overall look and feel of your living area. So, draperies ranging in size from two to three inches and that tend to float somewhat higher can reward your living room or bedroom with a more casual appearance.
On the other end, curtains dangling half an inch off the floor offer a cleaner and more invigorating impression in the concerned part of your house. However, if giving a touch of romanticism to your refuge is more your thing, make sure you hang your curtains at least four to six inches off the ground, subsequently rendering them with a more puddling finish.
How to layer your curtains?
Combining heavier fabric curtains with sheer curtains is undoubtedly the finest way when layering your draperies and in return, you can easily block out the unwanted amount of light from entering your room.
How many curtain panels should I buy?
The number of curtain panels you are going to buy will depend on the actual size of your window. While larger windows will need at least 4 panels in total, a single panel will suffice in case your windows are smaller.
So, to finalize how many panels you will be needing altogether, it's always good to multiply the width of the window by 1.5 to 2 inches. Subsequently, divide this amount by the width of one particular curtain panel so that you can understand whether or not you will have a lot of panels or just a few of them for that matter.
How to select curtain size and rod length correctly?
When looking for the desired curtain size and rod length, it's always good to make sure that it extends 3 to 6 inches at least beyond the window's framework. In this context, you must hang wider curtains, more so if you have smaller rooms or areas having closely-knitted windows in order to attain a cleaner and more crisp living space. Alongside, dangling the curtains slightly higher would prove to be even better if making your ceiling look taller is something you long for.
How to select curtains for the living room?
Make sure you consider privacy and function imperatively when seeking out curtains for your living room. Also, ponder over the amount of light you want to let in before you finally shop for your favourite curtain range.