Even when you have decorated your living room or bedroom impeccably, there still may be certain parts that seem to be slightly odd. And, needless to say, you want to overhype these imperfections for sure.
Without thinking twice, picking eye-catchy wallpapers is the way to go if displaying such abrupt flaws to your invitees is the last thing you want. But the million-dollar question is, how to choose wallpapers smartly and efficiently for your bedroom or living area?
Well, if you are unsure and wondering what to consider when choosing the wallpaper shades, patterns and designs, then we have you covered. Continue reading, as we explore some quick and easy tricks to choose the best wall covering for different spaces of your home.
Tips and Tricks to Choose Wallpapers
Wallpaper is a trending wall decorating material that's gaining popularity these days. Thanks to technological advancements, today you can easily get tired of looking at different shades, prints, patterns and wallpaper variants.
When there are so many options and wallpaper variants available out there, picking that one perfect wallpaper roll that meets your aesthetics taste and budget can be overwhelming. However, if you have a professional interior designer on board, they can help sort and minimize the options according to your budget. Nevertheless, you can still get it right by following a few simple tricks.
In this context, outlined below are a few easy-breezy tips adhering to which you can choose wallpapers like a pro.
So, let's dive in.
Go for a captivating mix and match
Just the way a room with a lot of patterns will exude the feel of an overdone space, in case, there is completely no pattern at all, that won't look good too. So, make sure that you strike that desired balance while picking plaids, floral motifs or stripes, subsequently, converting them into an enviably cool layout. Aside from that, try and retain the same colour theme or else select similar hues, if need be, to get your bedroom or living room a uniform look and feel.
Scale your room with flying colours
Be it small-scale patterns or large-scale motifs, both can do wonders for your living space. Say, for example, to make a vacant room appear well-decorated and furnished, going for large-scale patterns teamed up with vibrant backgrounds and colours would do good.
Similarly, small-scale patterns aim to create a spacious vibe in case you have a tiny resting haven. However, you can give a whirl to a trellis design also if getting your flat walls an in-depth look and feel is what you are up to.
Accentuate as aesthetically as possible
No matter whether you are buying wallpapers for your living room or boudoir, flamboyant vertical patterns that include stripes as well can get your refuge a formal, regal yet vivacious touch and it's no wonder.
In this context, it is pertinent to mention that horizontal motifs that are adequately wide will make even a diminutive room appear larger. On the other end, vertical patterns, particularly that of florals wherein the shape of the design either resembles a U or a V can get any ceiling a broader look and feel than it actually is.
Zero in on a spectacular style
Taking the style of your wallpapers into consideration is imperative when purchasing these elements for your bedroom or living room. In case a formal look is more your thing, make sure you get your hands on large-scale patterns teamed up with exuberant colour options.
Conversely, if you are contemplating a bright yet fun style, then zeroing in on small motifs that remain wide open and are spaced regularly will satiate your desire, Polka Dots being the most ideal variant.
However, amidst all this, give a thought to the aesthetic impact of borders for sure. Not only you will get them in a plethora of styles and motifs ranging from wildlife images, and pastoral views to the scenes of that sport, but borders also have the ability to incorporate spectacular themes within any given space that too in no time.
Try and hide the faults texturally
Tired of seeing the incessant flaws on your walls as well as the obnoxious impression your room décors are exuding? If you say yes, then motifs integrated with perceived or real textures can camouflage or hide these imperfections in the smartest way possible.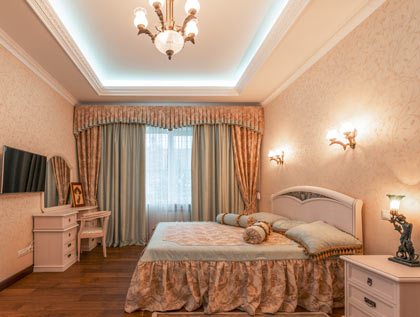 So, make sure you go for patterns having actual tactile surfaces including string and grass cloth, fabric, expanded vinyl, foil and even burlap. Apart from that, there are a few other designs also that resemble components like leather, wood, marble and not to mention animal skins too.
In this context, choosing a layered pattern can be a good idea as it creates the illusion of a texture, primarily in the form of a floral motif led by a monochromatic damask design. Sounds interesting, right?
Play with lights
Do you have a gloomy hallway, a northern-side room or a space with no windows at all? In case you do, go for wallpapers that would light up your living area or bedroom adequately all through the day.
To the best of suggestions, try and go for motifs having those effervescent or metallic inks or else you can give a whirl to light-coloured patterns also. However, if attaining the maximum amount of light is more your thing then designs with even surfaces will do the good.
So, make sure you keep those textured or dark-coloured patterns at bay as they tend to absorb more light within your bedroom or living room, making the space appear unreasonably compact and scruffy.
Deluge your wall coverings with majestic colours
Colours can really do magic, setting an upbeat mood within any given space. So, to make a room appear warm and inviting, opting for flamboyant shades such as hues of orange, yellow or red would serve you the much-needed purpose.
Likewise, if a bigger-looking ceiling and living area are what you are up to, make sure you opt for cool colour options that can either be violet, blue or green. Always remember, where softer and more subtle shades invigorate serenity and calmness into your resting haven, vibrant colours on the contrary will liven up the same space with a great deal of vivacity and exuberance, and that's for sure.
Hence, pick a wallcovering range that does complete justice to your tailored tastes and preferences.
How to calculate the number of wallpaper rolls you may need?
Don't know how to select the desired number of wallcovering rolls when thinking of decorating your living room or bedroom with them? Here are a few tips for you to get it right.
Measure the wall space in square feet
Measure the wall of the concerned area starting from the floor to the ceiling while also not leaving a single nook and cranny of it. Now multiply the two figures that you have got consequently. Meanwhile, calculate the size of the remaining walls too as you finally add the totals to each other.
Gauge the width and length of the ceiling
In case you are covering the ceiling of your room, make sure you multiply the width of the floor by its length in order to calculate the square footage of the ceiling. However, usually, the wallpaper works well on straight walls in bedrooms, living rooms, walkways or other such spaces.
Divide each of the figures by 25
To get an idea of the average square footage, dividing each of the figures by 25 is imperative. And doing it in a conventional single roll of wallpaper would lead to a prim-and-proper calculation.
Now subtract the total figure-half single roll for every door and window
This includes the resultant figure that helps you decide on the actual number of rolls required. So, make sure that you go for round fractions only pertinent to the next greatest whole number. But, if your wallcoverings are double-rolled as the case with the conventional wallpapers, consider dividing the outcome by 2 and you are all good to go.
Time to implement a jaw-dropping wallpaper décor!
It may sound a bit quirky, but awe-inspiring wallpapers can supersede any other home-décor ideas, irrespective of the dimension of your living room or bedroom. So, to get your living space a phenomenal look and feel this time, do embellish it with a series of scintillating wallcoverings and be assured that your near and dear ones can't stop appreciating your sense of aesthetics and it's a sure thing.