Personalizing and decorating a bigger bedroom is much easier. When you have a bigger space, you can try and experiment with different design elements to match your personality, and still get that luxurious and spacious look. However, when you have to personalize and decorate your small bedroom, you have to be very careful with what design elements you are considering. For instance, you can't afford to add a lot of furniture, because of the limited space. And that's why, customizing and personalizing a smaller bedroom often gets challenging. Luckily, there are smaller design tweaks that can still be made while customizing and decorating your space to reflect your personality.
Today in this post, I am sharing some simple bedroom design tips and ideas that will help you to Personalize and decorate your small bedroom easily on a budget.
Best ways to decorate and personalize your small bedroom
Although high-end luxurious apartment complexes offer bigger bedrooms and space, most of the economy range flats and apartments have smaller bedrooms. Needless to say, you can't just go wrong while decorating and furnishing your flat. Buying big size furniture, luxurious arm chairs, installing open storage cabinets etc can ruin the overall ambience and functionality of your small bedroom. There is a fine line between a well decorated bedroom and an overstuffed space, and the trick is to not cross that line.
Even though your bedroom is your very personal space, it must reflect who you are. The colors of the linen and curtains, design and size of your bedroom furniture, a small personal nook can all enhance the functionality and show who you are.
However, when you are personalizing and furnishing a small bedroom, you have to be very choosy about each of these elements. While the elements must fit your personality and enhance the functionality of the space, it should also be easy to implement and cost-effective.
So, here's how you can personalize and decorate your small bedroom that will reflect your personality. Check out these simple and easy to implement steps below and get ready to be surprised by the end results.
Add a mirror
Glass and mirrors are extensively used these days, especially to decorate small spaces. By combining glass as a design element, you can easily create an illusion of bigger space. The best place to add a mirror in a smaller bedroom can be the cupboard doors.
When your bedroom is smaller in size, you have to be very careful in designing the furniture. And what can be better than a sliding cupboard door? While the slide doors help save a lot of space, when you add a full size mirror to the doors, it looks amazingly beautiful. By putting a mirror on the cupboard door, you can enhance the overall appearance and easily create an illusion of larger space.
Plants and greeneries
While personalizing and furnishing your bedroom, consider making space for some living house plants. Plants and greeneries can say a lot about your personality. Also, plants are the best cost-effective décor elements that do require a lot of space but can enhance the space beautifully. You don't have to put a lot of potted plants to create greeneries. Just a couple of nicely picked plants that will go well in your bedroom should be good enough.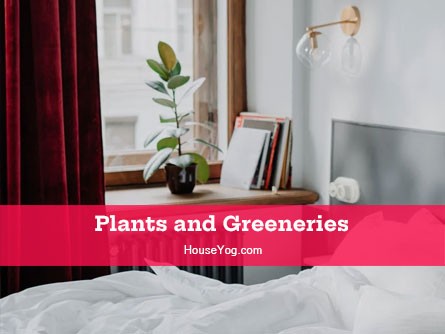 However, remember to not use artificial plants. Choose live potted plant(s) preferably succulent plants, which suit your personality. Adding plants that do not require much care can be the best ways to personalize and decorate a small bedroom.
Add a carpet or rug
Apart from pleasing your feet, rugs and carpets can transform almost any space, including your bedroom. Rugs are available in various design patterns at different price ranges. You can choose and order a rug that fits your budget and matches with the overall bedroom design theme. By adding your favorite rug or carpet, you can easily add a different personality to your bedroom.
Add hanging selves
Bed side tables are a must have feature for any bedroom, big or small. However, if there is limited space in your smaller bedroom, you can easily replace the bedside table with a hanging self. While there are many design options available today that you can choose and order from, you can also order a customized hanging self for your bedroom. Besides being cost-effective, hanging self does not take a lot of floor space and can really go well with the smaller bedrooms.
Make an accent wall
A small accent wall can help transform your small bedroom. Painting the wall can be the most cost-effective and faster way to personalize your bedroom to match your personality. And if you like doing it yourself, you can even try painting the wall yourself.
Second alternative to painting your wall can be to use the wallpaper. There are so many options and cheaper options of wallpapers are available today that you can easily pick and install one without much effort.
Paintings and photos
Using good quality painting or photo frames you can give a different dimension to your bedroom personalization and decoration. While a good and famous painting can be costly, you can even consider cost-effective alternatives options. Properly framed, painting and photo frames can be hung on one of the walls of your bedroom.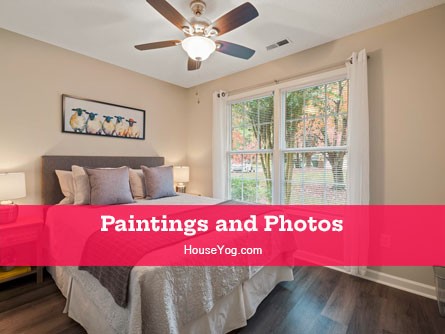 If you are creating an accent wall, then instead of spending money on costly wall décor elements, you can opt for paintings and photo frames of your choice. There are plenty of options and depending on your personality type, you can choose what works well for you.
Make use of lights
Proper lighting can be crucial to any space. But, when it comes to your bedroom, you can make good use of lights to make your bedroom look cozy and romantic. Small tiny lights are available in various forms and designs these days. You can mix and match these tiny lights of different colors to decorate your small bedroom. These lights are great and can help create a cozy and romantic bedroom, even when it's a small bedroom.
Use vertical blinds
Covering the window of your bedroom with the blinds and curtains is a must do thing while personalizing any space. Besides, the bedroom is your private space and therefore the window needs to be covered well. While you are furnishing your small bedroom, instead of using the full window curtains, you may like to go with vertical blinds. Firstly, it won't take any other space, and secondly, it offers you the flexibility to allow lights when needed. And you can put the blinds down when you need privacy at night. Also, the vertical window blinds offer you the opportunity to add colors to your room that can help enhance overall looks and aesthetics.
Colorful pillows
When it comes to personalizing and decorating a bedroom, your bed, bed cover and pillow can help customize your space greatly. The look of your bedroom can seriously be transformed with the right combination. Also, you are going to need them all so why not choose something that goes well with your personality. And, there are plenty of designs and cover patterns that you can try for yourself when choosing the pillow and cushion covers.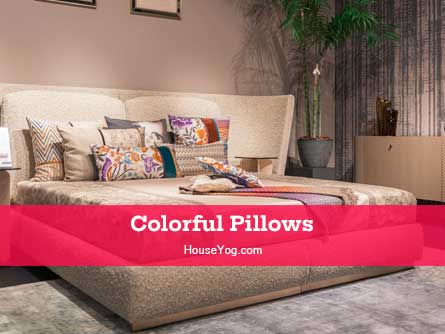 Over to you
When it comes to decorating a small bedroom, you have to be very careful in choosing each and every element. For instance, when you are already short of space, you can't pick wrong size bedroom furniture randomly. By doing so, you may compromise with the functionality and aesthetics of your small bedroom.
However, when done right, a small bedroom can also be decorated and furnished nicely. I have already shared some of the quick and simple bedroom personalization tips and hacks that can help you get it right.
Try some of these tricks and let me know how it works for you.
Happy decorating!!