After a long tiring day, your bedroom is where you feel the most gratified. Hence, it's imperative to ensure that a proper good night's sleep bestows upon you in your bedroom. Interestingly, by keeping certain kinds of indoor houseplants in your bedroom, you can transpire the entire ambience of your bedroom drastically. Not only do they look aesthetically pleasing but enhance the vibes, purify the air and help get better sleep. What's more, these bedroom plants can diffuse toxins at night as they continue to release oxygen all through that time.
Enhanced mood, improved health good sleep quality and decreased levels of stress are the most prominent benefits of keeping indoor houseplants in your bedroom. So, whether you are looking forward to decorating your bedroom with tiny succulents or massive indoor plants, fill every nook and cranny of your bedroom with them in tandem with your individual tastes and preferences.
And the best part is you need to put in little to no effort from your end so as to maintain your favourite plants. That apart, their ability to thrive vigorously in low-light conditions is what made them unsurpassable in terms of ornamenting any sort of bedroom impeccably.
Top 10 bedroom plants for good sleep and fresh air
Here are the top 10 bedroom plants that will let you enjoy an utterly sound sleep in your bedroom every single day.
Let's begin!
Anthurium
Anthurium is perhaps one of the best bedroom plants in the world that enhances the aesthetics as well as uplifts your mood. The neon flowers that are seen blooming on it can last up to eight weeks and not less. In fact, fresh buds pop up almost every morning; hence, getting a glimpse of this lovely floral ensemble is something you will witness on a regular basis.
So, try and place them in a spot that receives adequate light aside from being favourably humid as well. Coming to watering them, do it every week as you leave a gap in between, letting the water dry out in the proper and expected way.
Boston Fern
Ever since the Victorian era, Boston Fern has earned a great deal of fame as a revered bedroom plant, conventionally thriving in swampy and humid regions. Alternatively called Sword Fern as well, the dangling feather-shaped leaves that this floral species showcases add to its aesthetic appeal even more. Again, a gentle reminder, ample sunlight is imperative for this house plant to grow and survive properly. So, it's better that you keep your Boston Fern preferably in a bright sunny corner or hang it right near the bedroom window or the balcony.
In addition, misting it at continual intervals will retain that lush green appearance of the foliage and that's for sure. So, get a hold of this succulent for your boudoir today.
Rubber Plant
Hey! Do you have a diminutive bedroom? If you may say so, then Rubber Plant can be a good-to-go option as a bedroom plant for good sleep and aesthetics. Particularly, its lustrous, dark-coloured leaves will exude a dramatic vibe and feel to your bedroom. Again, it thrives in low-light conditions, though sunlight in suffice is something that it needs imperatively. Besides, water your plant not more than once a week only when you touch it and find it a little dries.
Peace Lily
If removing those detrimental allergens and toxins from your bedroom is what you are up to, then placing Peace Lilies in your bedroom can be a feasible choice to make. And the sight of the dazzling white flowers and verdant green leaves is something you will surely fall for. All you need is a well-illuminated living space for this plant to grow and prosper effectively. Also, do water them when the uppermost inch of the soil seems dry.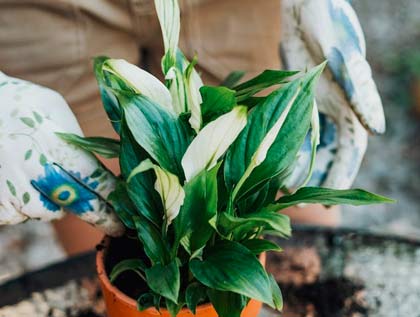 Monstera
Alternatively known as the "Swiss cheese plant", Monstera is literally prevailing on social media right now. Besides, the moderate lighting that it requires makes it an easy-going option for every homeowner out there.
Coming to watering them, you just need to do it once a week and not more than that.
Pro Tip: Avoid integrating Monstera if you have pets at home as its foliage can lead to unwanted irritation amongst cats, dogs and other tiny creatures.
Philodendron Birkin
Are you looking for a bedroom plant that grows faster than expected while showcasing lush green leaves teamed up with spectacular white pinstripes? If you say yes, then Philodendron Birkin must be your ultimate choice to go with.
Try and water this plant once a week and put it somewhere receiving indirect yet subtly warm sunlight, allowing it to thrive as appropriately as possible.
Pothos
Amateur gardeners, here is good news for you. Dangle Pothos in your dream bedroom and your desire to relish the sight of verdant foliage is satiated. In fact, the feature of drooping vines that comprise this plant makes it compatible enough to be kept over the shelves, dressers or your hanging planters. Though moderate lighting is what Pothos are inclined towards, still it can endure low-light conditions provided the surroundings are not feasible enough.
Just make sure that the soil dries out completely between each of your watering sprees and you are all done.
Aloe Vera
We often find Aloe Vera as a major ingredient in soaps as well as body lotions, though it makes a stunning house and bedroom plant too. Having fleshy foliage and barbed edges, putting Aloe Vera in your bedroom won't be much of a hassle for you at all.
And the only reason is it doesn't have to be watered often. But make sure adequate sunlight prevails all the time for this indoor house plant to grow and thrive well. To the best of suggestions, put your Aloe Vera right before the windowsill as you render it with the finest of nurturing.
Snake Plant
The sturdy, sword-like foliage that Snake Plant gives off adds an awe-inspiring factor to your bedroom as you remain assured about it without a doubt. Alternatively known as Sansevieria, Snake Plant so far is the easiest to maintain, requiring little watering aside a bit of indirect sunlight. And the longer lifespan that this houseplant boasts makes it the best bedroom plant for good looks, great vibes and better sleep in your bedroom.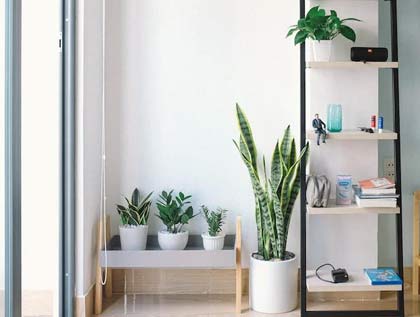 English Ivy
English Ivy does enhance the aesthetic appeal of your bedroom, allowing you to dangle it from a planter or simply drape it around a nightstand. Besides, its ability to release oxygen all through the night and absorb indoor air pollutants such as ammonia and formaldehyde gets English Ivy an edge over the rest of house plants to be precise.
Furthermore, it thrives well in bright sunlight during winter and autumn and in moderate light during the months of spring and summer. Also, it has an inclination towards humidity, so try and mist it at frequent intervals.
Time to go green with your bedroom
So, what are you waiting for? Put any of the 10 plants in your bedroom mentioned above and inculcate a great deal of freshness and vivacity in that space of yours 24X7. Last but not least, a combo of a few of these plants can also prove to be a game-changer, if getting a sound and undisturbed sleep every night is what you long for.