If you have purchased a brand new house and you are planning to design and decorate your home, then you are up for a super exciting and fun experience ahead. You might have collected multiple design ideas for different spaces in your dream home. Interior designing involves a lot of planning, design ideas and brainstorming, budgeting, sourcing and finally execution. However, if all you have are the design ideas, and you're unsure about where to start and how to plan home interior design perfectly, then read on for a detailed step by step guide.
Today in this guide, we'll be discussing about:
Why planning is so important for home interior designing?
A beautiful home interior design starts with in-depth and detailed planning. One of the benefits of planning a home interior design project minutely is that, it helps make informed decisions. While planning your home interior design project, you have to think about every aspect of the project. The plan should include everything from design theme to aesthetics, functionality to durability, expenses to overall interior design cost. When all these crucial aspects are well thought of in advance, you will have fewer issues in execution and decorating your dream home.
When you plan home interior design perfectly, it'll help you execute and complete the project within your budget. Proper interior design planning and budgeting can be the life saver.
The ultimate guide to home interior design planning
Detailed home interior design planning prior to starting the work will help eliminate many of the guesswork and re-work that you might have to do otherwise due to lack of a well thought of interior design plan. It also helps calculate the expenses and make detailed budget and estimate for executing the interior project.
You have to have a clear vision of how you want your dream home to look, without compromising with the functionality and durability.
Now, that you get the point, you are ready for the next step i.e. to plan your home interior design perfectly.
Makeup your mind
As you may have already experienced, designing and decorating a new house or renovating and decorating an old house can be fun and exciting. But, the process is well complicated, and therefore you may easily get overwhelmed and confused. With hundreds of design ideas and choices of materials, one can easily get carried away and end up compromising with the functionality, aesthetics, budget and so on.
So first of all, make up your mind and be prepared for a roller coaster ride ahead. Consider all the options and relook at all the designs and ideas that look exciting and appealing to you. Trust that there is no right or wrong way to design and decorate a space. At the end of the day, it's your home and whatever design, theme, elements and décor you are using should make you feel comfortable and happy.
Functionality comes first
One of the key things to remember when planning the interior design for your home is to give priority to the functionality above everything else. Functionality of the space is supremely important and therefore, whatever looks and layout you create, it must be functional, comfortable and convenient to use.
If you are working with an interior designer, then they can help create functional and efficient layouts for your home. If you have not spoken with an interior designer yet, then take the print out of the floor plan and start brainstorming different layouts on your own.
There are so many things that have to be considered at the planning stage. So, start by answering some of these questions to get more clarity on layout and design:
What's the size of your family and how many family members will be living in this house?
Do you need a separate space for your pets?
What type of kitchen layout will work well for your family? Open kitchen or a separate kitchen room?
How much storage space do you need to keep all your kitchen essentials and food grains?
What kind of kitchen appliances do you have or plan to have in the kitchen? This is important because you have to create space for all these kitchen appliances.
What are the essential features you need in your master bedroom and other bedrooms?
Apart from the bed and cupboard, do you need a separate study desk in your bedroom, a dresser, a bedside table, extra shelves to store books?
Do you need a Television unit in the master bedroom?
Want any extra storage space e.g. a utility rack in balcony, crockery unit in the kitchen or outside wall of the kitchen or any other rack at other space?
How about decorating the balcony?
Do you want any electrical alterations, like extra plug points and switches for laptop, home appliances, ceiling lights etc?
Any alteration in the bathroom? Like a cabinet to store toiletries, a cabinet with mirror and backside storage space etc?
Do you have any civil work, like replacing wall and floor tiles in the washroom or kitchen?
Do you want to demolish a wall to open up the space or build a wall to separate the area?
The more questions you ask, the more clarity you get. With more clarity in the beginning at the planning stage, you get to design a better, efficient and functional home. After all, home interior designing is not just about looks and aesthetics. It's also about functionality, comfort and convenience. And that is why you should have a detailed plan for your home interior design.
Make a reasonable budget
Proper budgeting is an integral part of any major project. Without proper budgeting, you are always at the risk of overspending and that's the last thing you want for your home interior design project. Always remember to make a reasonable budget for the home interior design project.
If you are unable to figure out the expenses and make the budget, you can always discuss with the interior designer and contractor. They can help calculate tentative expenses for all the work from carpentry to false ceiling, modular kitchen to wallpapers and painting and other related work.
The best part is that when you have a budget in mind or the interior contractor is aware of your project budget, they can help source the best quality materials that can easily fit in your estimated budget. There is no limit to spending on a home renovation and interior decorating project. However, when you have a budget in mind, you can choose the best quality available as per your budget.
While we are talking about the interior design cost and expenses, you must remember to not compromise with the quality of raw materials. Even if it requires increasing your budget by 10-15%, it's always better to go for the quality than using cheap and low cost solutions to keep the overall interior design cost low.
It's always better to decrease the scope of the work than compromising on the quality of interior design. Instead of decorating or renovating the entire house at a time, you may like to do it in parts. But, never go for low cost materials that won't last for at least 7-8 years.
Choose a design theme
When it comes to home interior design planning, one of the most confusing and difficult decisions you have to make is to choose a design theme. While the latest interior design themes keep changing, you have to choose a design theme as per your taste and lifestyle.
While one of the most popular and ever green design themes according to me is the mix of classic and modern interior design ideas, you can choose a theme as per your likes and dislikes.
Some of the most popular home interior design themes that you can choose from are hereunder:
Bohemian theme – Works well for those who love to live carefree
Classic theme – if you are after simplicity, symmetry and sophistication, then this is the theme you should go with.
Modern and contemporary – if you love what is in trend today, and want your space to look less cluttered, clean and sleek, then modern and contemporary themes are what you need.
Elegant themes –are for those who want the best of both the world i.e. a modern theme with rural feel by incorporating nature.
Bollywood glam – for those who are looking for the super luxurious look and feel inspired with trendy design elements.
Rustic and industrial themes – needless to say, these themes are bold, rough and sleek design which generally suits larger space at both home and office.
And it does not end here. You can find inspiration from any other design theme. However, you must choose a theme beforehand. The design and choice of the furniture, false ceiling, wallpaper, wall pints, lighting and every other design and decor element will be based on the design theme you choose. And therefore, you should have a clear idea of what you like, dislike and prefer and plan everything accordingly.
Natural and artificial lighting
Proper ventilation and lighting can seriously increase the aesthetic appeal and make any space look beautiful and comfortable. Depending on the position of windows in your house, you may get enough of natural light and ventilation. For instance, a south facing house will get plenty of natural sunlight if it is based in the northern hemisphere.
However, what if you do not get plenty of natural sunlight? Using artificial light is the best viable solution. So think of it as lighting and ventilation while planning the layout for your home interior design project.
Any room or space that does not have plenty of natural light must be identified. Once you have identified the spaces and areas that need artificial lights, just find appropriate lighting solutions that can work well for the space. Your interior designer can offer plenty of lighting solutions and alternatives as per your need and budget.
For instance, you can install white or warm led ceiling lights to get uniform lighting across the room. Similarly, you can have strip lights in the ceiling for a different mood. Entertainment units, temples, crockery units can also have strip lights. Large tripod and stand lights in the living room can enhance the overall looks and feel of your living room or study nook.
So the point is, there is a lot that can be done with lighting and therefore, remember to not ignore lighting while designing your home interior. Proper lighting is very important. And it can make or break the overall experience of any space in your dream home.
Consider Electrical work
Whether you are renovating or planning to do the interior design work for your newly purchased flat, there will be some electrical work involved. However, you may not be able to figure out the need for electrical work, unless you finalize the design and layout for your home interior.
By carefully inspecting the design layout, you will be able to know if you need any alteration in the switch board. You may need extra switch boards at different places. You may also have to change the position of the switch board. For instance, you may need:
Extra low height switch boards with sockets for floor lamps
Extra board or switches for ceiling lights, chandelier and strip lights
Two way switches near the bedside unit to operate easily
Switch board with multiple socket points for study table, and dresser unit
Extra boards and sockets to operate kitchen appliances like microwave oven etc
Wiring for extra air conditioning, if it's not already available
Also, if you are planning to integrate a home automation system, then based on the automation system you choose, you may require a lot of electrical work.
Depending on the level of electrical work re-organizing and installing new or existing switch boards, it may involve labour charges, wires, cables, switches and other ancillary materials. So this must be a part of interior design planning. And you should also consider these expenses in your interior design budget.
Think of Plumbing work
Although you will have some electrical work involved, chances of plumbing related alteration are very thin. However, depending on what you already have, and what you want, you may need help with plumbing. Usually, the developer provides everything basic. However, if you are after a luxurious bathroom, you may have to do some plumbing related work.
From installing a diverter in the wash area, which is usually not offered by the developer to mixer or diverter in the wash area, depending on what you need, you may have to plan for the plumbing work in the washroom, kitchen and wash area.
You may also like to replace the wash basin or kitchen sink, in case you are not happy with what you already may have. So, the best you can do is to inspect what you already have and figure out what you need and plan the plumbing related work and budget accordingly.
Plan for Modular kitchen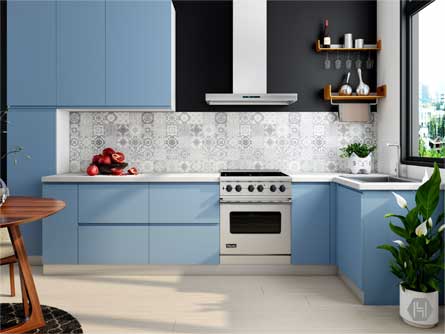 The kitchen is one of the most important and essential spaces of the house. And therefore, the design of your kitchen has to be well thought of. Layout and design of the kitchen should not just look good, but it should be easy to use and maintain. Design of your kitchen can either be open or closed. But it must be efficient and offer plenty of storage space. Irrespective of whether you have an open kitchen or a closed kitchen, it has to be planned well in advance.
Here're the most essential things to remember while designing a modular kitchen are:
Layout and size – of the kitchen countertop i.e. straight, parallel, L shape etc
Spaces for appliance – the kitchen should have spaces to keep all the kitchen appliances. Create space for all the accessories you have or wish to have
Smart storage – Kitchen should offer plenty of storage space to keep all the kitchen essentials, utensils, crockery etc
Kitchen cabinets – depending on the kitchen layout, you can have top and bottom cabinets
Modular kitchen accessories – like the baskets, racks, spice cabinets, bottle pull outs etc
Chimney – is one of the most essential accessories for your kitchen. Also while researching for the best kitchen chimney; you should consider suction power and ease of maintenance.
BWP or BWR plywood – There are different types and grades of plywood for kitchen. But the best grade plywood to use in the kitchen area is either BWP or BWR.
Glossy laminates – it's better to use the glossy exterior laminates for ease of maintenance.
Fittings and accessories – don't compromise with the quality of fittings and accessories being used in your kitchen carpentry wok. Opt for good brands like Ebco, Hettich and Hafele etc for their durability and flawless functionality.
Emulsion paint – use good quality emulsion paints for they are easy to clean and maintain.
Apart from that, look for anything that improves the functionality and efficiency. For instance an open spice rack, good quality taps, sink, proper lighting and maybe a wall mounted fan etc. Theirs is much to think about how to make your kitchen smart and efficient while planning your home interior design.
False ceiling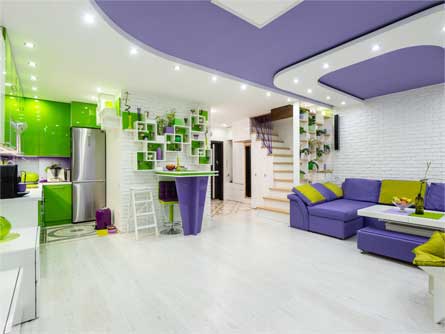 A false ceiling or the secondary ceiling is a must have for many homeowners. Although the false ceiling is not an absolute necessity for a house, you may like to do the false ceiling. False ceiling helps conceal all the wires, cables and anything else in the ceiling that you want to hide. Apart from concealing the space, the false ceiling can surprisingly increase the aesthetic appeal of the space. With a false ceiling in place, you can decorate the ceiling with LED and strip lights.
The false ceiling can be made of POP (Plaster of Paris), Gypsum boards and other materials like wood, PVC etc. If you want to do the false ceiling in your apartment, then do it early. Best is to do it before starting the carpentry and other interior work. The cost of a false ceiling may vary depending on the materials you use, and the complexity of the design. However, it will be safe to estimate the cost of a false ceiling between Rs. 80 to 100 per sq ft.
Surface preparation for painting
As you know, painting is a two step process where the first step is called surface preparation. Surface preparation involves any repairing in the wall with wall care putty to make the surface even. The best time to prepare the surface for wall and ceiling painting is when the false ceiling is installed.
Many times, homeowners and interior designers do the painting work towards the end or mostly after the carpentry work. The idea is since many of the walls will be covered with furniture; there is no point to apply putty and primer.
However, by applying putty and primer on all the walls and false ceiling, you'll be able to fix wall crack. It;ll also help level the wall and protect the wall in the long run. So, consider the application of putty and two coats of primer after a false ceiling.
Planning for Carpentry and wood work
Carpentry and wood work involves a lot of planning. Majority of your time, involvement and interior design budget will be spent towards the carpentry and wood work.
So, needless to say, you have to plan everything well.
When you are planning the home interior design, you should consider everything. For instance what will be the size and design of the furniture in your bedrooms? What types of furniture will be needed in the living area? Do you need a custom made bar cabinet? Not just that, you will also have to think of the base materials to use, colors, finishes and texture etc. That way, you will be able to prepare a realistic budget and can finish the project in your budget.
Carpentry and wood work generally takes time, and is more challenging. Consider these carpentry essentials while planning the wood work at your home:
Figure out the most essential furniture you need in various rooms. For instance a bed, cupboard, bedside table, small TV unit and a study desk in the master bedroom.
It's okay to add all the furniture you wish to have in your plan. And then, sort it out and choose the most important ones as per your budget and availability of space.
While it's good to have plenty of storage space, try to avoid overdoing it as it costs space and money.
Work with your interior designer to create the designs and layouts. Also, finalize the specifications for the base materials like plywood, internal and external laminates, fittings and accessories.
There are many options of these base materials i.e. multiple manufacturers and brands at various price ranges.
If you are budget conscious, you may like to choose the value for money brands and materials.
Once the designs are ready, you are good to order the base materials and start the carpentry and wood work.
In the meantime, you can choose the outer laminates or veneer etc as per your need.
External finish – once the structure is ready, the last step is finishing and polishing. And, fittings handles where applicable like in the cupboards, cabinets, drawers etc.
While it's always recommended to custom build all the furniture, you can also order some of the readymade furniture from the catalogue. For instance, dining table and chairs, living room sofa etc can be ordered online or offline off the catalogue.
If you plan to do so, then explore and choose the furniture. And then discuss with your interior designer if it'll go well with your home interior. In fact, you can ask them to accommodate any such furniture in the design for better visualization. We at Houseyog, often help our customers choose ready-made furniture. Like a dining table or the sofa set. We also help them visualize the furniture by incorporating in 3D interior designs.
Painting and wallpaper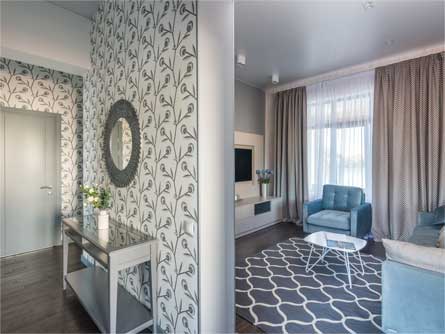 Now that the carpentry and wood work is over, it's time to choose the wallpaper and wall paints. Your interior designer might have shown you the wall finishes with measurement. Now is the time to choose the shades and finishes of the paints and wallpapers. The interior designer will show you the shades and finishes that you can choose from. Once the shades and finishes are finalized, you are ready for application.
Even though wallpapers are waterproof, it's best to apply it to the walls which are not exposed to moisture. The best walls to apply wallpaper are the interior walls in your bedroom and living room. Avoid wallpaper in the washroom and kitchen walls.
There are many paint brands available in India, but it's better to go with the most popular ones like Asian paints, Berger Paints, Nerolac etc.
The shade of colors you choose can have a serious impact on the overall aesthetic looks of your house. The interior wall paint colors or color combination can even affect our mood. And therefore choose the colors very carefully.
Some of the most commonly used wall paint color shades for Indian homes are:
Pure white – you can never go wrong with a pure white color on the interior wall and ceiling.
Off white – it's my second best favorite base color for interior walls and ceiling of the house.
The shades of gray – it looks soothing, calm and luxurious and the combination of gray with gray will work well for master bedroom
Pastel colors – like the lighter shades of pink, baby blue and mauve. These pastel colors are soft, neutral and soothing in nature and therefore work well.
Soft pink and turquoise – can be considered as the bold color combinations and this combination is guaranteed to work well for kid's bedrooms, especially for boy's bedrooms.
Choosing the right base color, secondary color and accent color is so very important. And therefore, you should stay prepared to spend good time discussing, debating and choosing the right color shades for the interior walls.
Think of Furnishing
This is almost the final step for your home interior design planning. Now that all the civil, carpentry, painting and other works are done, it's time to give final touch to the overall decoration. Some of the most essentials things to consider may include:
Sofa cushion and cushion cover
Mattress, pillows, bed cover and pillow cover
Blinds and curtains for windows
Carpets and door mats
Flower pots and other decorative items
While the list of furnishing and decorative items can go really long, I will leave it there.
Installing home appliances
This is another cost that has to be planned well in advance. Depending on your lifestyle and functional needs you may need to different types of home appliances, like:
Split ACs
Fridge
Microwave oven
Cook top or as oven
Home theatre or music system
Television
You may already have these appliances or you may like to order new. Whatever is the case, please do plan your home interior design budget accordingly.
Final thoughts on how to plan home interior design
Home interior designing can easily be considered as a time consuming and expensive project. Right from planning and figuring out the layout and designs to choosing base materials, finishes, finalizing color combinations and finding a professional home interior designer to help you through the project, it's no easy task.
We have already discussed what you need to consider and how to plan your home interior design perfectly. If you consider these things while planning your home interior design, you'll be able to plan and execute the entire project much more efficiently.
And by the way, if you are unsure about where to look for the best turnkey interior designers then we can help. Houseyog offers fully customized turnkey interior design solutions and online interior design consultancy at surprisingly attractive prices. Feel free to call our helpline number: 7596058808 and we'll be happy to help you plan your home interior design efficiently.
What else do you think one should think of, consider and plan for hassle free home interior designing?
As always, do share your experiences, hacks, questions and concerns by commenting below.
Happy house designing!!