Buying a ready to move house is the most preferred option for many of us, especially in major Indian cities where there are plenty of options. But, there are many who prefer building their own house on their own land, instead of buying a ready to move flat. Sometimes, they don't find a suitable house as per their needs or budget and at other times they simply don't like the flat culture. If you have decided on building your own house from scratch and wondering where to start then continue reading this post.
Builders and developers in major Indian cities are building different types of residential complexes with different facilities and amenities. And therefore, one can easily find and buy a suitable house to move in. However, if you are unable to find the perfect house as per your space requirements and preference, then building your own custom house is the most viable option.
Besides, you may not always find a house that suits your space requirements and budget. And therefore, building your own house may be the way forward for you. So, if you are considering building your own house on your own land, and wondering about:
Building your own your own house
Selecting and buying a land
Making a perfect house floor plan
Finding construction contractor
Making construction budget
Then continue reading this post. Today in this post, I am sharing a simple guide to building your own house on your own plot from ground up.
9 Easy steps to building a house on your own land
Building a dream home on your own land can be an exhausting and an overwhelming process. Because it involves a number of steps from selecting a plot of land to getting the house floor plan drawn, hiring an architect to finding a construction contractor to build your custom home; it requires plenty of planning, coordination and of course patience.
But, the joy of building your own house on your own land and the way you always wanted to build can't be matched. Of course, its time taking and tiring process, but the joy of living in a custom built house as per your space requirements, preferences and style can be phenomenal.
However, there is plenty of scope for error and therefore you should spend time in planning everything perfectly to avoid any error along the way of constructing your own house. A construction checklist can come handy in keeping track of every aspect of constructing a new house
So are you ready to discover how to build your own house on your own land without hassles?
I heard you saying yes, so here we go.
Freeze the space requirements
When building your own home, you should start with freezing your space requirements and the most essential features. This is an absolutely important first step as unless you know what you want, it'll be difficult for you to plan other essential aspects of building a home.
Think through and figure out:
How many bedrooms do you need?
How many bathrooms will be required?
How many floors do you want to build now or in future?
Do you need any extra room like a store room or a study room?
Do you need a garage?
Do you want to build a single storey or a duplex house?
How many balconies do you need?
Do you want an open terrace?
Ask more questions like this so that you know what are the absolutely important spaces and features you need in your house. Don't bother about other nice to have features for the time being, or maybe note them down, but focus on absolutely important space requirements for your new house for the time being.
As you already know, there is so much money, time, and effort involved in building a house, having a clear idea of what you want will help you immensely when building your new home.
Finalize a plot of land
Now that you know about the key features and size of the house (number of rooms and floors), the next step is to find a suitable plot of land. If you already have a plot of land, then you can skip this step. However, if you don't have a freehold ready plot available, then you have to find and buy a plot of land to build your house.
Finding a suitable size plot to build your dream home can be a time consuming process. Sometimes you will not like the location, at other times it will be the size or dimension of the plot or the plot may be out of your budget.
However, you can't really do without a plot, and you have to find and select a plot and get it registered to move forward with your home construction. Plots and lands at main locations in your city may be a little costly. You can find a residential plot a little outside of the main city at economical rates, if not cheap.
However, when choosing a plot, don't go over budget because you still have to spend money in constructing your house. Moreover, cities are growing rapidly these days, and what seems like a little remote may become the future of the city in a few years from now, so just keep that in mind.
Finalize house floor plan and elevation
Now that you know your space requirements, number of floors you want to build, you have a free hold ready plot available, now is the time to reach out to an architect to design your house in your style.
Depending on the dimension and size of your land, you may even consider using a readymade house plan design and get that customized to suit your requirements. But, if you are after a fresh new custom house design, then you can do so as well.
Whatever is the case, you have to finalize the house floor plan for each floor, and get a beautiful exterior elevation designed for your new dream home.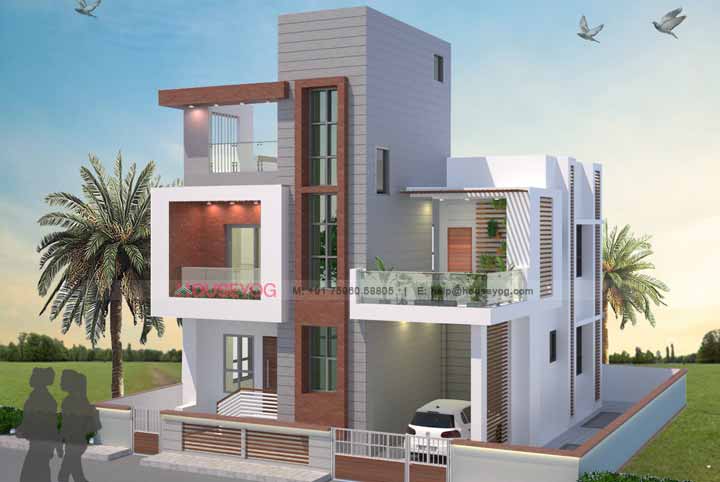 Figure out construction budget
You can easily get a tentative idea of construction cost based on the build size of the house. But, as you already have a house plan and building elevation design ready, your architect can help you figure out the construction budget.
Usually, in India a new home can be constructed with Rs. 1300 – Rs. 1500 per square feet. Since you already know the total build area, you can calculate the construction cost easily.
However, you should be ready to adjust your budget by 10 – 15% at the construction stage.
Think of nice to have features
Now that you have the tentative construction cost, it's time to review your space requirements and check if you can add any nice to have features while elevating your house like using a little expensive floor tiles, or using wall tiles in the exterior of your house or going for a small landscaped garden etc.
If your budget allows, you can make these small adjustments after discussing with your architect. And, if your architect okayes this and they think that adding these features will not increase the overall construction cost by much, then you should tweak your feature list before approaching a construction company or the custom home builder.
Hire construction contractor
Architects and construction contractors are the two vital stakeholders and they have a very crucial role in helping you build your dream home effortlessly. Needless to say, you got to be very sure about hiring a custom home builder or construction contractor.
Usually, the architects help design your house, and the builder will turn the design into a reality. So, they both need to work collectively and collaborate well with each other.
To begin with, ask your friends and colleagues and check if they know any reliable builder. Working with someone referred by your known contact is way easier than hiring someone you don't know about. However, be prepared to spend some time screening and asking right questions to the builder before hiring for a new home construction.
Here're a few of the best ways to hire the best home builder near you:
Check their portfolio to ensure they are capable of building your home in your style.
Review their credentials and industry certifications etc to ascertain they are reliable.
Check their prices and estimates to ensure they are competent and cost-effective.
Ask for referrals of clients they have worked with in the past.
Visit a site they are currently working on to know their way of working.
And most importantly, compare a few of the home builders in town instead of going with a builder that came your way. This is important because unless you compare apples with apples, you may not get the best apple in town.
Once you have found a suitable home builder, just review the construction contract and sign the deal to start the construction work for your new home.
Review construction work
New home construction takes time and depending on the size of the house, it may take anywhere between 12 to 15 months to complete the construction work. So, it is important for you to review the progress and monitor everything as your new house is being constructed by the builder.
Ideally the construction company you are working with should keep you posted on the progress. In fact some of the construction companies have started sharing live CCTV footage with their clients so that they can stay updated.
However, that should not be a reason to not inspect the site physically. Whenever you get time, you should visit the site and review the progress. Because, it is easier to make any corrections at an early stage of construction and therefore it is important to do site visits frequently.
Furnish your home
Once the construction work is over and the builder hands it out to you, you have to furnish the house with the most essential items. Depending on the kind of construction contract you signed with the home builder, you may have to prepare a list of essential items needed to set up a new house.
If you are planning to do interior designing and decorating after construction, then you may have to talk to an interior designing company and get your house decorated and furnished.
If you don't plan to decorate your home for the time being, then just furnish it with the most essential household items like furniture, curtains, lights, fans, kitchen appliances etc and your house will be ready to welcome you.
Move in and enjoy
Now, that your house is ready to welcome you, it's time to call a moving company to get your goods packed and help you move to your new house.
Usually it takes some time to adjust and settle in a new house, especially for kids as they hardly know anyone in a new locality. They are going to miss their old friends and neighbors.
But, that's okay and they will start loving the new house automatically in a few weeks.
So it's time to throw a housewarming party and enjoy the new home with your family.
Conclusion
No other feeling can match the experience of living in a house you built as per your preference and requirements. Living in a fully custom built house is always amazing.
However, building your own house from scratch is not an easy task. It takes a lot of planning, effort, money, involvement and 12-15 months of time to build a house of your dreams. The process of building a house can be tiring and exciting for a homeowner.
But, when you follow a process step by step, your chances of getting everything right will improve substantially. I have already shared a 9 step guide to building a house on your own and I am sure if you follow these steps, you will have no issues building your house.
What else do you think one should know and do while building a new house on their own land?
Feel free to share your tips and hacks by commenting below.
Happy home building!!