Vastu friendly plots, lands and homes are believed to bring peace, prosperity and good fortune for the owners and residents. You don't buy a plot of land every now and then, especially to build a home. Buying a residential plot is a huge decision and it involves a lot of money. Therefore, it makes sense to evaluate and assess the plot correctly as per Vastu guidelines before you select and buy the plot.
If you are planning to buy a plot or piece of land to construct your dream home, and you are wondering about what to look for when selecting a Vastu friendly plot then I have got you covered. Today, in this post, I am sharing a few of the best Vastu tips to select a plot and land to construct your own dream home.
Vastu tips to select a plot or land
I personally interact with hundreds of land owners and homeowners every month as they reach out to us for house designing services. One of the most common requests we receive from them is to ensure that we follow home Vastu guidelines when planning and designing their homes.
Needless to say, a good percentage of people trust Vastu Shastra and they wish to tick off as many Vastu guidelines as they can while buying a property, be it a plot of land or a ready to move property.
Even if you are buying a plot or land as an investment, it will be easier for you to sell a Vastu friendly plot than a plot with a lot of Vastu defects. Hence, it's better to consider Vastu guidelines for plot and land before making a huge investment in buying and registering the plot.
Here're the best Vastu tips that you should keep in mind when selecting plot and land to construct your dream home.
Location and land history
I am sure you know that the location of the plot is one of the most important factors you should consider before buying a plot or land. And while evaluating the location, it is important to look at the history of the plot. Find out what existed there in the past? Was there a graveyard; was it a battlefield or a farm land? The history of the plot says a lot about it.
Surrounding
Location of the plot is crucial and so is the surrounding environment of the plot. A fertile land with plenty of greeneries and open sides are always great. If the plot or land you are considering to buy is very fertile, and has plenty of greeneries then that is a big positive and you can go for it.
However, there should not be a valley at the front side of the plot. Also, a plot with open east and north is considered to be the best because any type of blockage in the north or east will restrict sunlight, which is a great source of positivity and energy. But, blockage in the west or south side is okay as that restricts entry of negative energy.
According to Vastu a plot that has a hospital or graveyard adjacent to its boundary wall is not auspicious for residential use. Hospitals and graveyards can bring negative vibes and that's the last thing you want for your home.
So, when selecting a plot to construct your dream home, just see to it that, there is no hospital or a graveyard close to it.
Also, the plot you are considering to buy should not be situated between two bigger plots.
Shape of the plot
According to Vastu, square and rectangular shape plots are considered to be the best for residential use. When sides of the plots are straight like in case of a rectangular or square shape, then that is the best plot to buy. But, you should try and avoid plots with irregular shape, especially circular, oval and hexagonal plot.
However, you can consider plots of uneven shape, especially if the size of the plot is bigger. However make sure to create symmetry by drawing a Vastu fence (give it a rectangular or square shape) while constructing your home.
Direction and entrance
North facing plots are considered to be the best for home construction. Second best facing for the plot is east and west.
South facing plots are not so auspicious and can be avoided.
Main entrance of the plot in the north or east direction is considered to be the best. Second best position for the main entrance of the plot is the southern corner.
Roads
Roads are seriously important and it's one of the vital things to consider when selecting plot or land for residential or commercial use. A plot with a road on all sides or at least two sides is the best, and this is why corner plots are priced a little higher than plots with a front side road.
However, you should avoid plots at the dead end of the road. However, if the width of the road is wider or equals the width of the plot then you may opt for it.
Land level and soil
The level of land is equally important and the best plot has a flat level of land. But this should not be an issue as land can be leveled on your own. However, when leveling see to it that the slope is from south west to north east i.e. the south west side should be slighter higher than the north east side. Plot with westward slopes can be avoided or must be leveled and sloped correctly.
According to Vastu, plots with rocky lands, black soil or clay soil are not considered to be the best. However depending on the geography you are buying in, you can consider plots with rocks or clay soil, but later on put in white, yellow or red soil to level the plot and correct its Vastu.
Natural extension
Natural extension in the northeast side of the plot is considered to be auspicious. However avoid adding extension in any other side of the plot.
Infographic – vastu tips to select a plot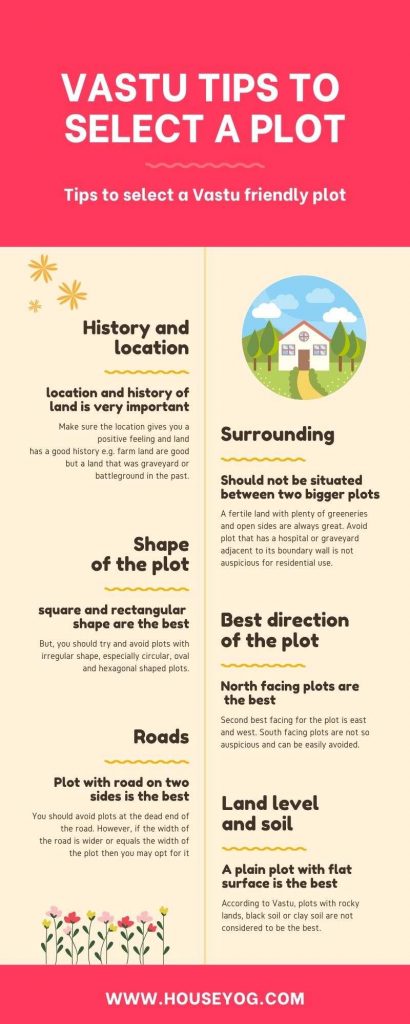 Over to you
Vastu Shastra is huge and it has detailed guidelines for everything related to land and home construction. And it makes full sense to consider Vastu tips when selecting and buying a plot or land for residential use. I have already shared a few of the best Vastu tips to select plot and land for home construction.
However, at times it may be difficult to find a hundred percent Vastu compliant plot and land. But you should strive to tick off as many guidelines as you can. And if you feel the need, you can take professional help from a Vastu consultant near you.
And finally, if you like this post, then feel free to share and help us spread the word.