It requires a lot of planning and considerations to design a new house plan. Assessing the plot size and layout to quality of soil, choosing the right size of the house, deciding the number of floors to build, finalizing the building layout to consider the elevation and aesthetics look of the house, you got to consider so many things when designing a house plan for your dream home. Any floor plan mistake will lead to poor building structure and waste of space, and that's the last thing you want when building a house.
So, it all starts with a properly conceptualized and designed house plan and floor layout. There are many things to consider when designing a house plan, and layout for individual floors of your dream home like the layout of the plot, size of the house, functionality of the space, construction budget, future maintenance costs etc.
If you are designing a house plan and you are wondering about what are the most vital things to consider when drawing a house floor plan then continue reading this post. Because, today in this post, I am sharing a few of the most vital new house planning consideration that can help you choose or draw a house plan correctly:
Plot size
Soil analysis
House layout
Functionality and Lifestyle
Number of bedrooms
Number of floors
Kitchen layout
Building guidelines
Exterior elevation
Light and ventilation
Construction budget
Maintenance expenses
Safety and security
Top 13 most vital new house plan considerations
The process of designing a house plan can easily become overwhelming, especially when you don't know what to consider when choosing or designing a house plan. Designing a space optimized master house plan to drawing individual floor plans for a multi storey house requires adequate planning and future centric views.
There is no shortage of readymade house plans and designs, and tons of new house plans and designs are being published by architects and architectural service providers. But the fact is, every house plan and home designs available may not suit your lot, lifestyle, functionality or construction budget. And therefore, it is crucial and seriously important to think through and consider the most vital aspects of designing a new house plan.
But, I have got you covered as I am sharing the list of most vital things to consider when designing a house plan hereunder:
Consider plot size
Plot size and layout of the plot is one of the most vital things that have to be considered when designing a new house plan. Plot size is vital because depending on the size and layout of the plot, the entire house plan will be drawn. From zoning details, to FAR/FSR (Floor area ratio/floor space ratio), to height of the structure, plot coverage area (built up area) etc has to be based on the plot size and layout only.
Soil analysis
Depending on the geography, there can be different types of soil, and therefore it is important to do the soil analysis and possibly soil testing to figure out the bearing capacity of the soil. Only after proper soil analysis, the structure and foundation can be designed to ensure maximum strength and longevity of the building.
House layout
The layout design of the house is the next most vital thing worth considering when designing a new house plan. The layout or the exterior view of the house is the first thing anyone is going to see and therefore you need to think of the style and layout of the new house really well.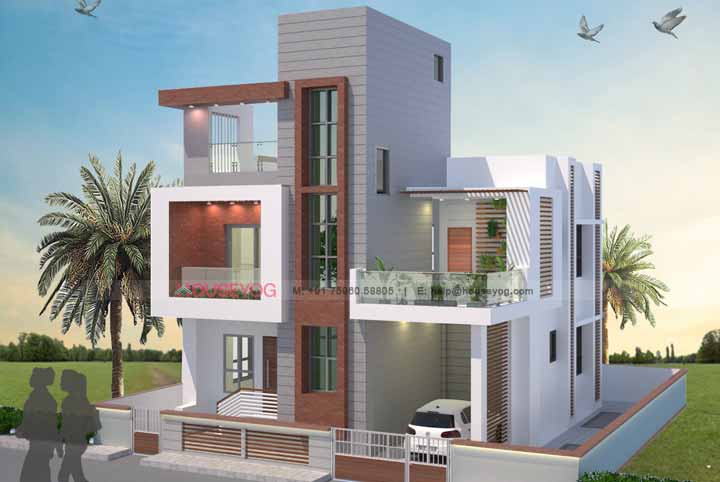 Do you want to build a house that looks modern, traditional or classic? Do you want the roof top to be plain, or have slope? Do you need a house with open space at the front or a house with a backyard garden? Think of different house layouts and styles; check it out from different point of view i.e. budget, availability of space, maintenance etc and then design the floor plan and layout for your dream home.
Functionality
There is a basic difference between a residential and commercial building and that is of the functionality. A house is the most functional space and therefore it is important to pay serious attention to functionality when designing a house plan.
Different families may have different functional use for the same space. If you have aging parents, then they are going to stay at home most of the time, and they may like to binge watch Television in the drawing hall. But if you and your spouse are planning to live in the house, and you both are working professionals, then the way your drawing room will be used is going to be different.
So when designing a new house plan, you should pay full attention to how you want to use a particular area of space inside the house. Do you need a library to enjoy your weekend reading or you would better build a guest bedroom at that place?
When you think from the functional point of view it helps you design a house plan that fulfills the needs of the family, and all areas of your house become efficient and easily accessible to you. Think of functional use and draw the house plan according to your priority.
Number of bedrooms you need
If you are building your dream home today, then you are not going to build another family home soon. It's always a long term investment and therefore it's vital to think about the number of bedrooms when designing a new house plan.
One of the best possible ways to decide how many bedrooms to build in your new home is to assess the size of your family. If you are building a house for yourself, and your parents are staying with you, then you may need a master bedroom for yourself, one children bedroom, one bedroom for your parents and possibly a guest bedroom.
However, while deciding the number of bedrooms for your new house, always think long term. Today you can accommodate two small kids in one bedroom. But, they may need separate rooms in the next 5-7 years down the line. Similarly, you may need separate bedrooms for them now, but they may move out to their own house after 5-7 years from now.
So, this is totally based on your space requirements.
Number of floors to build
How many floors do you want to construct is again a vital thing to consider when designing your house plan. It primarily depends on your space requirements and personal preference. Some people prefer a duplex style building (two floor house) as it helps them build spacious rooms and a luxurious building. However, some people build a two storey house because the number of rooms they need can't be built on the ground floor. Some people build a two storey house to let out one of the floors and earn monthly rental. So, it's all about your space requirement and how you want to use this residential building now or in future.
However, it's always better to build a single storey house if you have the space and you plan to stay there after retirement. Firstly, the cost of construction and future maintenance cost is going to be less for a single storey house than a double storey building. Secondly, there is no point climbing the ladder, especially when you grow older.
But, as I said, it totally depends on your personal preference and circumstances.
Kitchen layout and position
Kitchen is one of the most important rooms in your house, and it becomes even more important when you construct a two storey house for your family. Therefore, when designing a house plan, you should pay special attention to the size and layout of the kitchen.
Ask yourself some of these questions to get more clarity about the kitchen:
Do you want an open kitchen with breakfast nook or you need a closed kitchen?
What is the size of the kitchen in your current house?
Are you happy with your current kitchen size or layout?
If not, do you want to increase or decrease the size of the kitchen?
Do you need plenty of storage space for utensils, accessories and food grains?
Asking these questions will help you get a lot of clarity about the size and layout of the kitchen when designing your new house plan.
Ideally the kitchen is placed on the ground floor of the house, but that's not going to be a concern. But, if you trust in Vastu, then make sure to look for the right position for the kitchen in your new house as per Home Vastu guidelines. The best Vastu position for the kitchen is the south east or the north east position, so keep that in mind when designing a new house plan.
Local building guidelines
Every city or municipal jurisdiction has certain local building guidelines that you must follow when designing a new house plan. These building codes and guidelines must be followed while drawing the house plan. Such guidelines will help you determine the overall height of the building (number of floors), FSR, cover area, open space etc. Even before you start drawing the floor plan, you have to think of the open space that must be left in all sides, and at the front and back of the proposed building.
And if you ignore these local building guidelines and specifications, then you may find it hard to get your house plan approved and sanctioned by the local building authorities. And that's the last thing you would want to experience, no?
So, it is very important to follow the local building code (if any).
Exterior elevation design
Exterior house elevation design is equally important and vital for designing a beautiful home. Exterior elevation is the first thing that anyone looking at the house will notice, and so, it has to look exceptionally well.
But, what exactly do you need to think about when designing the front elevation of the house? Well, there are many things, and a few of the most vital ones are listed below:
Don't just follow the trend when designing the exterior view of your new house, because trends keep changing.
Observe the design of other houses in your neighborhood and decide if you want your house to look similar?
If you want a fresh new look, then browse through some of the best house elevation designs on the internet and sort list a few design ideas.
Think of the constriction cost and future maintenance cost when designing the exterior view and house elevation design concepts.
However, as an architect and house designer, I would always suggest you to go for features and style that you personally like, and then think of other factors like usability, construction cost and future maintenance expenses when designing a house elevation andthe perspective view.
Light and ventilation
Proper lighting and air circulation inside the house is of course an important thing to consider when choosing or designing a house plan for your dream home. It is important to allow as much natural lights and fresh air inside the house. So when designing a house floor plan, you must think about the appropriate position and size for the doors and the windows.
Even though the right position of the doors and windows actually depend on the layout of the building and open sides, it is important to consider wider windows and larger doors and partitions towards the open sides.
Construction budget
No matter what, we all want to get the maximum value of every penny we spend. And when we talk of designing and constructing a house, it requires proper budgeting. Whatever you are planning to build, no matter how small or big, you should always make a construction budget.
When you have a construction budget on the table, you can easily design a house plan that can be constructed in your budget. So whether you are designing a new house or you are buying a ready to build house plan, pay special attention to the tentative build cost.
House maintenance expenses
Apart from considering the one time home build costs, it is important to think about the future recurring expenses. Once you build a new house, it will require proper maintenance and that's a future expense we often ignore. From exterior painting to regular cleaning, utility charges to quarterly property taxes, the overall maintenance expense is going to be more for a larger house. So, it's important to consider these future expenses in mind when you are designing a new house.
Safety and security consideration
Last, but not the list – safety and security. I am sure you would agree that you don't want to compromise with the safety and security of your family and therefore it is important to think of it upfront when designing a house plan.
If you are building a multi storey building, you may need to keep a permanent security guard or a caretaker, and thus it will make sense to keep a security room in your house plan.
Similarly, if there are kids and small children in your family, then you would like to restrict/block access to certain areas of the house like open terrace or balconies.
These are a few of the vital things that must be considered when designing a new house plan.
Over to you
Designing and constructing a dream home of your own can be a phenomenal experience. The process of planning, constructing and decorating a house has evolved to a great extent, and this evolution is never ending. Energy efficient green building to smart homes, the possibilities are endless and the entire process of planning and constructing a modern house is evolving by every passing day. Building and designing a house has become much easier today because of advancement in architectural services and technologies.
But, no matter what, there are certain vital considerations that are equally important for designing a beautiful house plan even today.
And that's what we have discussed above in this post.
What else do you think one should consider and keep in mind when designing a new house plan and floor plan for a new house?
Do share your thoughts and ideas by commenting below!!
Happy house planning and designing!