As we are moving into more compact and smaller living spaces, our life is getting constrained to cramped and limited areas to live in, needless to say, making our daily parlance even more complicated and worrisome. Particularly, when it comes to Indian bathrooms, it's all about being diminutive and studded with loads of unnecessary stuff that we may not even use every time.
So, are you also someone like that who has got an exceptionally small bathroom? If you say yes, then there are certain easy breezy techniques adhering to which you too can transform your compact Indian bathroom into a much bigger and roomier space than before.
Read on to learn more.
Compelling bathroom designs to create a bigger-looking bathroom
We all know that no matter how big or small the bathroom is, there are some basic essentials that should be within there. These include a basin, shower space, WC as well as a Vanity unit. Aside from that, you must ascertain that your bathroom comprises a wet and dry area, both of them separate from each other.
Doing so will allow you to maintain your bathroom effortlessly while you remain safe and secure from all kinds of unprecedented hazards. This was the crux, and now it's your call whether or not you want to create a bigger-looking bathroom.
If you do, then read the write-up carefully as it will familiarize you with some ravishing bathroom design ideas to alter the diminutive appearance of your bathroom into a space that seems brighter and larger.
Here you go!
Keep the floor as clear as possible
Ensuring that your bathroom floor remains decluttered all the time is of tantamount importance. In this matter, opting for a premium vanity unit and floating sinks can be the finest choice to make.
Besides, avoid inundating the floor with massive buckets and laundry baskets. In turn, your bathroom will start appearing much airier and more spacious than it was before.
Opt for larger tiles and attain an enthralling bathroom
Bigger tiles having neutral tones exude a regal ambience all about your bathroom. And not only this, but your bathroom also starts looking much bigger and brighter than before.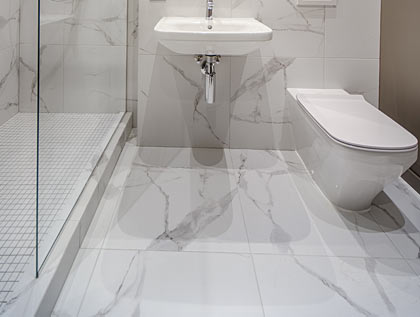 Basically, the tiles will start from the wall all the way up to the counter, creating that stretchy vibe all through that space. On the contrary, should you long for a compelling and bold statement, and then patterned tiles and stripes are a good-to-go option.
Consequently, you can expect an expansive impression in your bathroom from start to finish.
Be delicate with your cabinet edges
Do you know how to make good use of any particular space? Yes, you have guessed it right, by optimizing every nook and cranny of it well. So, when you already have a compact bathroom, why leave its corners unused?
To make things easier, it is best recommended to go for round vanity units that would let you utilize the corner of your diminutive bathroom to the best ability. And you know the best part? These cylindrical edges ensure that you don't end up hurting yourself while you are inside the bathroom.
Utilize the natural light in your bathroom as much as possible
When it comes to bathrooms within compact living spaces, the source of natural light over there is generally quite less. So, even if you have a bathroom like that, make sure that you integrate massive windows in that space.
Instead, adequate sunlight can peep into your bathroom, giving it a much larger and brighter appearance than it had before. However, amidst doing all this, don't forget to keep the aspect of privacy in mind.
For this, you can always go for frosted or one-way blinds and you are done. Also, to take the illumination part a notch higher, you can skim through the various light fixtures that are available in the market.
In a word, a well-lit-up bathroom that is integrated with adequate privacy can render the much-needed comfort and isolation to your Indian bathroom that you have always craved.
Try and install mirror-integrated storage in your diminutive bathroom
Needless to say, mirrors have the capacity to reflect adequate light via any space to make it appear way larger and roomier than before. So, your tiny Indian bathroom cannot be an exception either.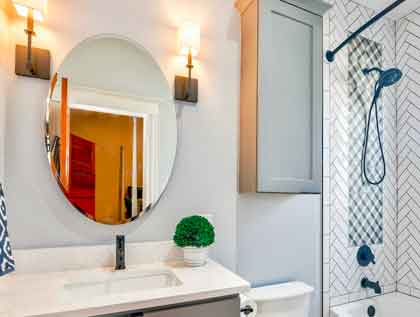 In this context, it is pertinent to mention that hiding storage behind mirror panels can be a fab idea. To do this seamlessly, you got to select reflective or mirrored finishes for your vanity units, particularly the latter must be shutter studded.
As a result, not only will your diminutive bathroom appear bigger but a great deal of light would prevail in their 24X7 as well.
Make sure your storage units are vertically inclined
We generally end up overcrowding our bathroom when trying to fit in the furniture and units over there to the best ability. So, when there is inadequate space, make sure that you use vertical space as much as possible.
In this context, ladder units can be amazing options for modern-day Indian bathrooms that are generally small and cramped. Use them to store your bath linen and toiletries or simply hang your wet towel on it as per your choice.
Go for light and bright hues for your compact bathroom
No matter whether it's your bathroom or any other part of your house, when the space is compact, opting for a lighter colour scheme is the way to go to make it appear larger and brighter.
In fact, it has also been proven that neutral or light tones have the ability to create an expansive feel within any area and it's no wonder. To the best of suggestions, give a thought to installing grey and white mosaic tiles on your bathroom walls.
This way, not only you can give your small bathroom that commodious appearance but also make it look way more stylish and sleek than before. Alternatively, you can opt for high-gloss paint too that will create an even more spacious and brighter impression in your diminutive Indian bathroom and that's for sure.
Create an enviably cool bathroom this time!
So, ready to implement the bathroom design ideas mentioned above for your compact and congested Indian bathroom? As easy as it may seem, without professional assistance, completing this all by yourself won't be easy for you.
It is, for this reason, you must consult a savvy interior designer who has the knowledge and expertise to turn your diminutive bathroom into a highly accommodative and spacious area while making the most of their skills and acumen.