Ever since tiles have come into play, they have become an imperative part of the construction sector. In fact, if you observe a bit carefully, you will notice tiles everywhere. It can range from our bathroom, kitchen, floors, and interestingly even our walls.
So, are you also planning a renovation spree for your home's interior? Then, tiling must be an indispensable part of your remodeling project. While searching for popular tile designs, you will certainly come across myriads of choices. One such amazing option is ceramic tiles.
These tiles are in immense demand these days due to many potential reasons. Their ease of use, versatility, and affordability are what set ceramic tiles from other tiling variants. So, are you wondering which ceramic tiles near me are the best in quality? Then, read the guide below and get a clear idea about this tile before you embark on your buying journey.
What Are Ceramic Tiles?
Ceramic tiles are usually made of a material known as ceramic. These tiles are often used for bathrooms, backsplashes, worktops, walls, and flooring purposes. Primarily, sand and clay are used to make ceramic.
Ground to a fine powder, water is added to this mix and furthermore compressed in a mold at a high pressure. 
This way, the ceramic biscuits are made after which they are dried out, primed, painted, and finally glazed. At last, they are fired inside a kiln at an average temperature of 1000 degree Celsius.
It is one such tiling option that can be installed almost in every area of your house. More importantly, ceramic tiles consist of a sturdy and firm surface that makes them extremely dirt, pollen, and dust-resistant with the ability to resist other allergens as well.
These are some of the reasons why ceramic tiles are in much demand among tile installers and homeowners alike. Its elegant look and an array of attractive designs make it one of the most sought-after tiling variants so far.
In India, ceramic tiles are no way less popular as compared to other places. In fact, choosing the right kind of ceramic floor tiles can ensure a lot of advantages for you.
Let's check them out in detail.
Popular ceramic tile designs
Do away with thinking about how to find ceramic tiles near me like a pro. We have got you covered. Presently, metro tiles are considered the most craved-for ceramic tile designs. They are generally brick-like tiles that originated in the Parisian Metropolitan, that's why this name.
With time, these tiles have become a signature style for kitchens and bathrooms all across the world. In fact, there are more than four hundred designs to select from comprising the Brick and Metro segment.
Individuals having a deep fondness for the stone effect can go for the elegant Otono Tiles. This tiling variant exudes a marble-like effect for its installers. We all know that marble offers this realistic yet distinct veining to its users. So, installing this tiling in your abode means getting the impression of marble without breaking the bank.
Oak wood ceramic tiles
These range from gloss and matt, bumpy and crackled, long and short, and beveled and smooth. Likewise, the Oak Wood Tile is also considered one of the most in-demand tiling options among a multitude of households.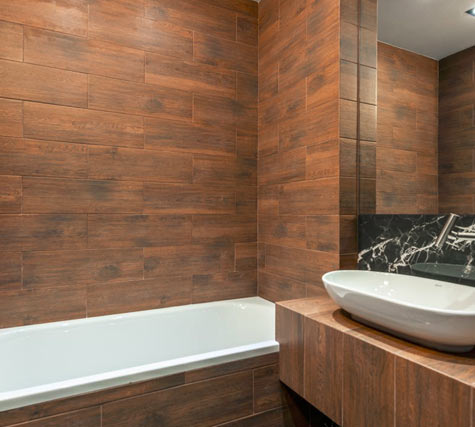 They are also made of ceramic and give off an outstanding wood-like feel for their installers. Furthermore, their textured surfaces get a life with components like knots and wood grain. So, if you want to create a natural impression within your bedroom, dining area, lounge, or hallway, then, Oak Wood Tile is what you must look for.
You will also find many ceramic flooring options to create a statement floor for your living room or bedroom. Take a sneak peek into the mind-boggling collection of Memoir Encaustic Effect Tiles. These tiles are striking enough to transform the appearance of your room remarkably. With these tiles, you can create an amazing statement floor that is surely going to entice your visitors towards it instantly.
On top of everything, the vintage look with patterned designs that Memoir Encaustic Effect Tiles emanate marks it off from the remaining tiling categories.
Ceramic tiles installation tips
Ceramic tiles must only be installed within the interiors of a home. This is because ceramic is not as durable and frost-resistant as porcelain. So, it's better not to install them outdoors since the frost can cause minor damages to it.
However, in countries like India, you can install them outside as well since it's predominantly a humid nation. But, normally, people do install it in places like bathrooms and kitchens that are situated inside the home.
Despite that, you are never short of options, thanks to the wide variety of designs that ceramic tiles come in. This allows you to install ceramic tiles in any part of your home.
Benefits of Ceramic Tiles
As already said, ceramic tiles of a prime quality will ensure certain benefits for your home. These include the following:
Prevention of Germs
Germs cannot access ceramic tiles at all. This is a great advantage for people who want to install this tiling option for their commercial space like for their eatery etc. Plus, the sturdy surface of ceramic tiles also makes them extremely water as well as moisture-resistant which in turn makes them less susceptible to mold and germs.
Diverse product range
You will find ceramic tiles in a variety of styles, textures, and colors. Besides, their patterns are generally made of customized tile sizes. In short, ceramic tiles can align with any possible color scheme and pattern. This tiling variant is also revamped from time to time to simulate the several natural stones and hardwoods out there.
Easy maintenance
Cleaning ceramic tiles is very easy and simple. This is one of the reasons why people prefer buying ceramic tiles over any other tiling option. Even if some liquids, dirt, or stains fall on it, they will only remain on the top and won't be absorbed inside. Just wipe them down with a broom or vacuum cleaner having a soft brush-like component and you are done.
In fact, any other cleaner can be used to remove the unwanted stains from your ceramic tile flooring. This is yet another compelling factor that makes ceramic tiles worth installing in your kitchens and bathrooms.
Cost of Ceramic Tiles in India
Ceramic tiles as you know are available in a host of designs, finishes, sizes, and shapes. When it comes to the price of ceramic tiles in India, it can be as low as Rs. 34 per square foot and as high as Rs. 356 per square foot. This price range may again vary a bit, depending on the style and dimension of your preferred tiling variant and brand.
Select ceramic tiles effortlessly!
Ceramic tiles are available in a range of options in the market nowadays. Should you feel confused about which ceramic tiles near me are the best, then, feel free to visit a nearby tiles store or an experience center of any major tiles brand. While the executives at the experience center can answer all your questions, they will also ensure all your ceramic needs and requirements are met properly.
Besides, you can also share your questions by commenting below and we'll be happy to answer your questions promptly.