Flooring is one such surface in our house on which we walk and stand frequently. Our kids play and we do many things on our flooring. Plus, it has to tolerate many types of stress like loads of furniture, abrasion, wear and tear and harsh chemical cleaning etc.
And the flooring option we choose is also influenced by many factors including comfort, durability and cost etc.
In India, tiling cost varies from Rs.50 to Rs.200 and can go up. However, it can differ a bit according to the brand, design and size of the tiling selected.
So, as you read this flooring cost guide you will know about things such as:
How to calculate flooring costs in India?
Cost of Vitrified Tiles up to 32 inches
Cost of Vitrified Tiles more than 32 inches
Flooring Options-Epoxy, Marble, Laminate and Engineered Wood Flooring
Other Flooring Options-Tiles and Marble
Without any further ado, let's begin!
How to calculate flooring costs in India?
The cost of flooring in India is calculated by multiplying per square feet rate with the area of the floor. So, it is important that you ask your contractor to give you a proper cost idea of the flooring you want to do. Also, your contractor should follow the said technique when calculating the flooring cost.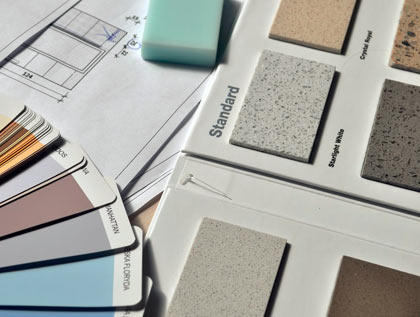 Below is a table showing you the average flooring cost in Mumbai according to the size of the house.
| | | |
| --- | --- | --- |
| Square Feet Area | Average Flooring Cost | Average Flooring Cost (for tiles at 80 INR per square foot) |
| 400 | Rs.40,000 | Rs.73,000 |
| 700 | Rs.73,000 | Rs.1,29,000 |
| 900 | Rs.94,000 | Rs.1,66,000 |
| 1400 | Rs.1,45,000 | Rs.2,58,000 |
Flooring cost chart for different sizes
These prices can vary if the space increases and your contractor can give you discounted rates on that too. For example, if for a 500 square feet area, the flooring cost is Rs. 150, then for a 1000 square feet flat, they will reduce the cost by 10-15%.
Cost of 32 inches of vitrified floor tiles
Vadodara-Rs. 120 – 145 per square foot
Surat-Rs. 120 – 145 per square foot
Ahmadabad- Rs. 125- 150 per square foot
Nasik-Rs. 135 – 160 per square foot
Nagpur-Rs. 135 – 160 per square foot
Goa-Rs. 145 – 170 per square foot
Delhi-Rs. 150 – 185 per square foot
Pune-Rs. 140 – 170 per square foot
Mumbai-Rs.150 – 185 per square foot
Certain factors like the cost of tiles and the per square foot unit have been considered while measuring the rates above. If you want you can use Creek or River Sand in your flooring at your convenience. Though the first option is cheaper but not good in quality. So, keep that in mind.
Detailed flooring cost including material cost and labour charges
| | | | | | | | | | | |
| --- | --- | --- | --- | --- | --- | --- | --- | --- | --- | --- |
| Item Details | Vadodara | Surat | Ahmadabad | Nasik | Nagpur | Goa | Delhi | Bangalore | Pune | Mumbai |
| Tiling Cost | Rs.55 | Rs.55 | Rs.65 | Rs.70 | Rs.70 | Rs,75 | Rs.90 | Rs.90 | Rs.75 | Rs.80 |
| Labour Charges | Rs.35 | Rs.35 | Rs.35 | Rs.30 | Rs.30 | Rs.35 | Rs.35 | Rs.35 | Rs.35 | Rs.40 |
| River Sand | Rs.20 | Rs.20 | Rs.20 | Rs.20 | Rs.20 | Rs.20 | Rs.35 | Rs.25 | Rs.20 | Rs.30 |
| Cement | Rs.20 | Rs.20 | Rs.20 | Rs.20 | Rs.20 | Rs.20 | Rs.20 | Rs.20 | Rs.20 | Rs.20 |
| Grouting and Cleaning | Rs. 15 | Rs.15 | Rs.15 | Rs.20 | Rs.20 | Rs.20 | Rs.25 | Rs.25 | Rs.20 | Rs.25 |
Cost of Vitrified Tiles above 32 inches
Vadodara- Rs.230 per square foot
Surat- Rs.245 per square foot
Ahmadabad-Rs.240 per square foot
Nasik- Rs.250 per square foot
Nagpur- Rs.250 per square foot
Goa- Rs.250 per square foot
Delhi- Rs.285 per square foot
Bangalore- Rs.270 per square foot
Pune- Rs.245 per square foot
Mumbai- Rs.280 per square foot
Again, the cost of tiles and unit of Per Square Foot Rate have been considered while calculating these costs. Based on your needs, you can use River Sand or Creek Sand, though they are not very good in quality.
| | | | | | | | | | | |
| --- | --- | --- | --- | --- | --- | --- | --- | --- | --- | --- |
| Item Details | Vadodara | Surat | Ahmadabad | Nasik | Nagpur | Goa | Delhi | Bangalore | Pune | Mumbai |
| Tiling Cost | Rs.140 | Rs.135 | Rs.145 | Rs.155 | Rs.120 | Rs.120 | Rs.120 | Rs.115 | Rs.120 | Rs.110 |
| Labour Charges | Rs.60 | Rs.40 | Rs.45 | Rs.55 | Rs.50 | Rs.50 | Rs.50 | Rs.45 | Rs.40 | Rs.40 |
| River Sand | Rs.35 | Rs.30 | Rs.35 | Rs.35 | Rs.35 | Rs.35 | Rs.35 | Rs.35 | Rs.35 | Rs.35 |
| Cement | Rs.25 | Rs.25 | Rs.25 | Rs.25 | Rs.25 | Rs.25 | Rs.25 | Rs.25 | Rs.25 | Rs.25 |
| Grouting and Cleaning | Rs. 20 | Rs.15 | Rs.20 | Rs.15 | Rs.20 | Rs.20 | Rs.20 | Rs.20 | Rs.20 | Rs.20 |
Modern-day tiling has a lot to do with the overall look and feel of your home. In fact, when guests steal a glance at your floors, the first thing that comes to their mind is the aesthetic appeal it shows.
Having said that, you will further learn about different types of flooring and their features. Gone are the days when marbles and tiles were the only variants to select from. With so many options available in the market nowadays, installing the flooring of your choice is very easy.
Let's discuss each of them in detail.
Epoxy flooring
Decorative Epoxy Flooring is on the rise. This flooring option is widely used in the Food and Pharma Industries, so is quite popular. Since epoxy flooring is inert, it does not react with any chemicals.
Plus, the joint-less feature this flooring option has ensures a visually pleasing look where it has been installed. Epoxy flooring doesn't collect any dust and debris too, so, cleaning it is very simple.
Also, there are no pores in epoxy flooring, so zero stains of oil can be noticed. Coming to its materials, it is made of Hardener and Resin that are combined together to create epoxy flooring effectively.
In addition, certain colouring agents and fillers are included to create a number of colour combinations. Compared to concrete flooring, Epoxy flooring is way more durable and aesthetically pleasing, so get it installed today.
Laminate flooring
An artificial flooring, Laminate Flooring is alternatively called floating wood tile also. It can be a great choice if you are looking for a substitute for Natural or Hardwood Flooring. These days, you will get laminate flooring in various sizes, designs, colours and wooden layouts.
Salient features of laminate flooring include:
Stain-proof to even cigarette stains
Castor-resistant
Impact-proof
Hygienic and
Long-lasting
While making laminate flooring, planks of HDF (High-Density Fiber Board) are spread along with décor sheets. After that, it is covered with a layer of lamination followed by a film of an Anti-proof coat.
Then, all these three layers are compressed together and turned into a single layer. Next, the layer board will be cut into standard pieces and subsequently sent for the ultimate round of coatings and polishing. When this polish boar is further cut into planks, certain grooves are created for the purpose of installation.
Generally, the CLICK SYSTEM" is implemented while installing laminate flooring as compared to other flooring options. In this process, the planks are first clicked and then centre locked. To skirt it properly, plain the laminate material and shade it close to the Laminate Flooring. It's that easy.
Laminate flooring benefits
Can be installed easily on the already existing flooring. A layer of 2mm foam is installed to level up the base which functions as excellent sound absorption insulation as well.
Can be easily dismantled and reinstalled in a different place
Homeowners can use the floor space immediately after the installation is done. This is because laminate doesn't need any time for hardening and setting like other flooring options.
Laminate flooring per square foot cost
Laminate flooring costs usually range between Rs.60 – Rs 70 per square foot.
Installation cost can vary between Rs.72-240 per square foot, whereas material cost can be between Rs. 60 to 225 depending on the quality and brand.
Maintenance of laminate flooring
Avoid installing low-quality laminate flooring material that can gradually separate and collect a lot of dust.
Use acetone to eliminate tough stains.
Continue altering the positions of your furnishings to keep discolouration at bay, particularly in those areas where laminate flooring is installed.
Cover your windows with good-quality coverings or else pull the curtains to prevent laminates from fading.
If any liquid spills over your laminate flooring, then wipe it off instantly.
Keep adhesive-integrated pads below the feet of your furniture to avoid scratches and abrasions.
Dry mop your laminate flooring on a regular basis using a soft and smooth broom. Alternatively, you can use a vacuum cleaner also to do the same.
Avoid wet mopping at all costs as dampness or wetness can make your laminate flooring unreasonably bendy or swollen.
Engineered wood flooring
Engineered Wood Flooring is made of three individual materials just like laminate flooring. The only difference is that the topmost layer is real wood. However, the thickness of this wood can vary between 2mm to 3.5mm according to the design and style have chosen.
Difference between solid wood and wood solids
Oftentimes, Engineered Wood Flooring is sold as "Wood Solids with Veneer" or just " Wood Solids" in the market. So, homeowners find it confusing when choosing between Wood Solid Flooring and Solid Wood Flooring.
This is mainly done to bring a hike in the price of these products. On the contrary, the reality is Solid wood flooring is made of actual, genuine and solid wood, so, will generally cost you a little more.
Engineered wood flooring advantages
A less expensive option as compared to Solid Wood Flooring
Engineered Wood Flooring doesn't contract or expand as a result of weather fluctuations as compared to Solid Wood Flooring
Tips to buy engineered wood flooring
The thicker the quality of your Engineered Wood Flooring, the better it's quality.
Also, the thicker your flooring, the longer it is going to last.
To the best of suggestions, go for the 3.5mm variant or maybe a little thicker to make the most of your flooring.
Other flooring types – tiles
Most Indian Homes opt for Tiles as their ultimate flooring option. If you too prefer this flooring variant, then try to buy it from leading tiles companies and brands like:
Bell Ceramics
Somani Ceramics
Johnson Tiles
However, if you get it from Morbi, a reputed company in Gujarat, then the quality will be good but not that.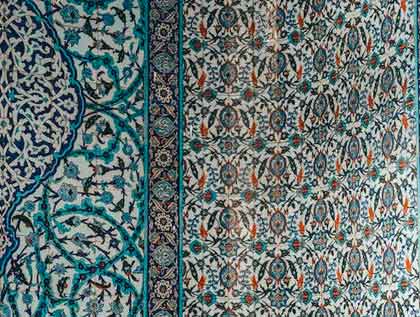 Interesting facts about tiles
Whether you are buying non-branded or branded tiles, they will have any of the labels in them, namely Reject, Commercial or Premium Tiles. Consider each of them below.
Reject standard Tiles are generally purchased for cheaper projects and the reason is very obvious, simply due to their cheaper prices.
Commercial-grade Tiles are bought usually by builders for commercial or residential purposes.
Premium-grade Tiles are purchased by homeowners and are definitely an outstanding option to go with.
To get the best of results, install the premium grade tiles in your home as it excels all the other tiling options trending in the market.
Pro Tip: If you need tiles for the flooring of your 4000 square feet shop, then contact the Tiles Company or manufacturer directly. After that, share your design and specifications and they will recommend you the best flooring option for your space.
Vitrified tiles cost in metro cities
The overall cost will vary according to the design and size. Generally, you will get vitrified tiles in the standard size of 2 by 2. So, if you are buying your vitrified tiles from brands such as Johnson Tiles, Somani Ceramic or Nitco Tiles, the per square foot rate can be as low as Rs.60 and can go up to Rs.300 too, depending on the polish, style and design you have chosen.
Again, the cost can differ as per the brand and current location.
Tips to buy tiles smartly
Keep aside 3 boxes of tiles extra for future repair or replacement works.
Check every box of tile upon their arrival and ensure no shade variation in them.
Make sure that you don't buy bent tiles.
Try and buy tiles with a glossy finish for your bedrooms and living rooms and matte finish tiles for the wet areas of your house.
Other flooring types – Indian marble flooring
Used for many years, Marble is definitely a fantastic flooring option. Though found in many options the Makrana marble is the top-quality marble that one can ever install. So, if you are looking for a classy yet sleek flooring option, then marble is all good to go.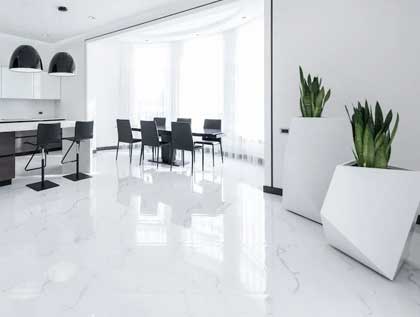 In fact, it offers a durability of around 30-40 years, setting marble apart from other flooring variants notably. With regular care and maintenance and re-polishing at certain intervals, you can retain the spanking-new look of your marble for many years to come.
Indian marble flooring cost
In modern-day houses, homeowners often prefer to install Italian Marble to make their space look utterly sophisticated. This can be in the form of both Simple and Makrana Marble, whatever you choose.
Again, each of these marble options has sub-types. Coming to its cost, it can vary according to the type and design and your tailored needs. Still, the average price can vary from Rs.100 to Rs.500 as per the layout you choose.
Indian marble flooring types
Indian marble is chiefly divided into three individual categories based on their colour, location and design. Here is what!
Onyx-Marble that resembles the design of a plywood
Janjarwala or Morrwala-White Marble having an after figure
Color-oriented Marble-White Marble, Pink Marble, Green Marble and so on
Depending on your varying needs and requirements, you too can install any of the marble flooring types and give the floor of your house an enviably cool look.
Factors to consider when buying Marble
Upon arrival, verify the quality to avoid any breakage. Generally, breakage within 3% is acceptable. However, if the broken stones comprise more than 3 to 5%, then you can always return them to your manufacturing company.
Buy marble stones with good polishing only. Verify that upon arrival for sure.
Make sure the thickness of your Marble is uniform or else the surface will remain uneven all the time.
The thickness of your Marbles should at least be 16mm and not less. If it's not, then be assured that the quality of the item is not up to the mark.
Also, look for other faults in your Marble such as dents, patches, blisters or stains to ensure how sturdy and long-lasting it is.
While buying your favourite Marble, make sure there are no chips or cracks as well.
Decide whether you want to buy Italian or Indian Marble, depending on your needs.
Over to you
Hope you will find the information useful and install flooring in your home that is durable, hard and cost-effective at the same time. Wish you a fab flooring journey ahead!