Nowadays, wooden flooring has become a popular flooring option, especially in a country like India. It comes in several colors, cuts, styles, and variants.
In fact, installing wooden flooring in any room means adding a great deal of warmth and elegance to it.
Despite that, you must consider many aspects before making your own wooden flooring choices.
To make things easier below is a comprehensive post about wooden flooring that will guide you to make an effective purchase.
Wooden flooring and its common variants
As already said, there are different types of wooden flooring options that you will find in the market.
So, before diving deeper, let's learn the individual variants of wooden flooring available in India right now.
Laminate Wood
Laminate wood or floating floor tiles are made of a synthetic substance.
This material resembles the look of wood and is laminated later on to give it a more refined appearance.
It is an affordable option and you will find many choices in the market matching your style and needs. It's better if you choose the click-lock designs as they are easy to install.
Lifespan
Laminate wood is reasonably durable since it is more resistant to bacteria and mold as compared to any other wooden flooring option.
Engineered Wood
Engineered hardwood flooring is primarily made of three to four layers of wood glued to each other.
This results in creating a thick wood-like plank that simulates a typical veneer texture. Generally, engineered wood is applied to the top, so, can be refinished and sanded quite a few times.
That's how the signs of wear, tear, and damage can easily be removed from this flooring option.
It is also one of the reasons why Engineered Wood is considered the sturdiest wooden flooring variant on the market.
Lifespan
The many positive features of engineered wood make it an extremely durable flooring option.
So, you can consider installing it in any part of your house.
The biggest advantage of engineered wood is that it is quite moisture resistant as compared to hardwood flooring.
Hardwood Flooring
Also known as solid hardwood, hardwood flooring is composed of real wood from start to finish.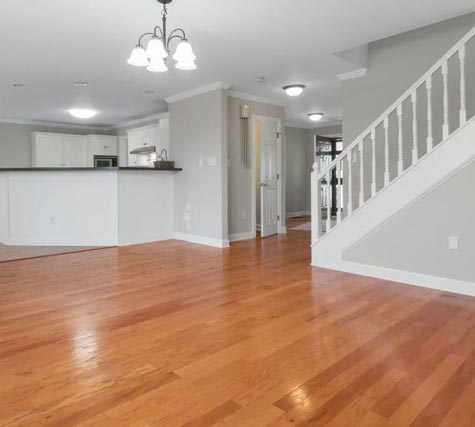 It can enhance the visual appeal of any residential or commercial space.
This is the sole reason why people love to purchase this flooring option for their home or office.
When it comes to its origin, hardwood wooden flooring is mainly harvested from trees like pine, walnut, oak, etc.
Lifespan
Hardwood is the most durable wooden flooring option that one can choose.
Hence, you can expect it to last for several years to come.
However, regular cleaning and maintenance is the key to ensure this longevity.
In fact, you can refinish it as many times as you want throughout its entire lifespan.
Pro Tip!
Try to keep your hardwood away from moisture as much as possible.
Although most of the hardwood flooring options are pre-finished, meaning they come with a top protective layer, nevertheless, it's better to remain on the safer side.
Benefits of Wooden Flooring
Just like any other flooring option like tiles and marble, wooden flooring comes with a fair share of benefits for all its users. Some of these merits can be considered below.
Versatility
Wooden flooring accentuates the interior decor of any home.
Plus, it is available in various options in the market. This makes it quite a versatile flooring choice to consider.
Attractive Look
The simple yet unique look of wooden flooring is what makes it stand out in the crowd.
It can add warmth, style, and grace to any space where it has been installed.
Durability
Wooden flooring is regarded as one of the most durable flooring options in the market.
In fact, if cared for and maintained properly, it can even last for your whole life.
Wooden flooring costs in India
Now that you are familiar with the types and benefits of wooden flooring, it's better to know the ongoing wooden flooring costs in India in case you are planning to buy it.
Laminate Wood
When it comes to laminate wood, it costs between Rs. 120 to Rs. 1200 per square foot.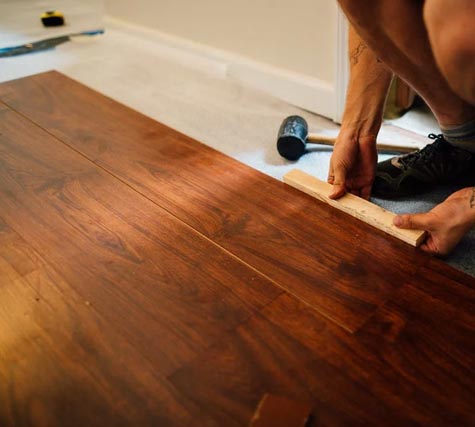 So, if your budget is limited but still you want a solid-wood-like finish, then laminate wood is what you should look for.
The ease of installation it offers also makes laminate wood a popular flooring choice.
Engineered Wood
Engineered wood wooden flooring costs approximately Rs. 200.00 to Rs. 900.00 per square feet in India.
As compared to solid wood, engineered wood is moderately durable, hence, lasts for a shorter period of time.
Again, it comes with various installation techniques like click and fit, nail or staple or glue, etc. So, if you are ready to get the look of real wood but temporarily, then, you can choose engineered wood over any other flooring option.
Hardwood
The cost of hardwood flooring can be as low as Rs. 650 and as high as Rs. 5000 per square foot.
However, it can be worth the investment as it will last for several years to come.
As far as its installation is concerned, solid hardwood is usually stapled or nailed down as per the needs of the installer.
So, do you have a long-term wooden flooring plan and wish to install it differently at different parts of your house?
Then, it's best to go for hardwood flooring.
Suitability of wooden flooring according to areas
Every wooden flooring serves some specific areas of your home. So, let's explore each of them in terms of suitability.
Engineered or Laminate Wood
You can install them in your dining room, hallways, bedrooms, and even living areas.
Laminate wood can also be installed in the basement provided the area is not prone to moisture.
Teak Wood
Teak wood is appropriate for wet areas since its natural oils can keep moisture and fungus at bay.
You cannot replace it with any other flooring option to serve the same purpose.
Solid Hardwood
Solid hardwood can be installed in the same areas just like laminate or engineered wood.
In case you are installing it in the kitchen, make sure that water-resistant mats are placed near the dishwasher or sink to avoid any unexpected damage.
Let wooden flooring cast its spell of magic!
It's easy to get perplexed and nervous when looking for an appropriate wooden flooring in the market. There are so many variants available at various price points. To avoid such confusions and misunderstandings, read this comprehensive guide and you'll get a clear idea about this amazing flooring variant.
And, if you have any questions about this beautiful flooring variant, feel free to ask by commenting below.