Although the ceiling fan is the most rudimentary appliance in a household, installing a ceiling fan becomes imperative as soon as summer sets in. The entire process of choosing and buying a ceiling fan can get a bit complicated at times because there are so many fan brands and models available at different price points.
In fact, ceiling fans have changed a lot, both in terms of features as well as technology. And amidst all this, you remain utterly confused about how to shop for the finest ceiling fan smartly and confidently.
To make things easier for you below is a detailed post pertaining to factors you must consider while buying a ceiling fan and what are the most trending ceiling fans in India at the moment, their individual features and prices.
Hence, without any further ado, let's get started!
Tips to buy the top ceiling fan in India in 2023
As easy as it may seem, buying a ceiling fan like pro is quite a tedious task. There are many aspects you need to factor in when trying and purchase the ceiling fan of your choice. In this context, below are 7 key points contemplating which you can get a hold of the best ceiling fan in India that too at a pocket-friendly price.
Here you go!
Brand Selection
Selecting a reputable company is of tantamount importance when buying a ceiling fan. In India, brands such as Usha, Havells and Crompton sell some of the choicest products to their customers so far. Besides, their charges are pretty affordable too, so you won't have to break the bank while entrusting them. In a word, going for an eminent reseller is a surefire way to purchase a good-quality ceiling fan within the constraint of your budget.
Energy Efficiency
Try and buy energy-efficient fans if coming across those astronomical electricity bills is the last thing you want. To the best of suggestions, make sure that your ceiling fan is BEE star rated as these types of fans can reduce energy bills by 50 per cent at the end of each month. Shopping for Orient Electric's 32W Eco Series Ceiling Fans would be a fab idea in this matter. So, go for it.
Warranty Period
When buying a ceiling fan, considering its overall lifespan or warranty is absolutely necessary. In this context, it is pertinent to mention that fans having sturdier and larger motors tend to last longer as compared to the other variants in the market. So, going that extra mile and spending a few bucks more on your ceiling fan would allow you to enjoy a premium cooling experience that too for the rest of your life.
Finish and Blade Material
Yet another worthwhile factor to consider, pondering over the blade material of your ceiling fan sets the dinkiest variant from the lousiest ones. Often, these blades are made of components such as plastic, wood or metal and you can pick the one that best complements the décor of your living room or bedroom. In any case, if you reside in areas susceptible to moisture, go for blades having a rust-proof finish.
Installation
Installing a ceiling fan is that easy. It's just that you have to adhere to the given instructions in the manual consecutively and you are done. Meanwhile, get the essential electrical wirings that you will need to put to your wall's ceiling at the time of fitting the fan. Though in many houses wires come with as they were already incorporated into the lights before which homeowners wish to replace with a ceiling fan subsequently.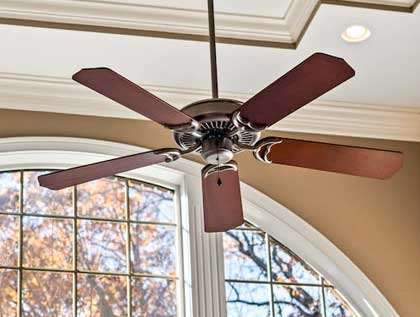 Again, many fans are already integrated with a support system that allow you to make wiring connections without using your hands at all. Just dangle a hook over the electrical box of the fan and your device is up and proper, ready to be used all through the summer.
Accessories
Ceiling fans when accessorized accordingly can add a great deal of vibrancy and exuberance to your living space. So, giving a thought to this aspect can really transform your home from an ordinary abode into an eye-appealing haven.
Say, for example, you can go for a long-pull chain if your room has an exceptionally high ceiling. Similarly, shopping for a ceiling fan that is integrated with fancy lighting options would reward your boudoir or hallway with awe-inspiring illumination and that's for sure.
Aside from all this, a lot of companies sell ceiling fans having a remote control, light control, automatic colouring changing system as well as LED light intensity adjustment for added convenience you are free to take your pick that meets your tailored needs and requirements in the best way possible.
Top 8 ceiling fans in India in 2023
So, now that you know what things to keep in mind while purchasing a ceiling fan for your household, it's time for you to take a peek into the 8 best ceiling fans in India that customers would find worth the investment all through 2023.
Read on to find out more.
Bajaj Maxima
Comprised of a 4-bladed design and an utterly sleek appearance, the Bajaj Maxima ceiling fan is perfect for kitchens and tiny living spaces. Aside from that, it has a 66W motor to ensure optimal performance. And an electrical steel lamination is integrated to render users with adequate energy efficiency and durability down the road. Prices start at Rs.16,89.
LUMINOUS Josh
If an energy-efficient ceiling fan is what you are up to, then Luminous Josh can surely satiate your desire, offering a nominal power consumption of 70W to all its users. Some of the other features include an airflow of 215cfm, a blade sweeps measurement of 1200mm and a four-speed setting to let you adjust the intensity of cooling accordingly. Pay a pocket-friendly price of Rs.1,399 to get a hold of this product.
Atomberg Renesa+
Offering a blade sweep dimension of 1200mm and a motor speed of 340RPM, this ceiling fan from Atomberg Renesa comes with an LED Light that adds to its elegance even more. Besides, it is also integrated with advanced features such as a Timer Mode, Speed Control and Sleep Mode along with a power consumption of 28W, making it one of the most eco-friendly appliances as well.
Coming to the Rotation Per Minute (RPM) rating of this fan, it's not more than 340 RPM teamed up with an airflow of 7769 cfm. However, the Atomberg Renesa Ceiling Fan is slightly on the pricier side and you need to shell out Rs.4,769 to make a purchase.
HAVELLS ANDRIA
Are you looking for a sophisticated ceiling fan that will meet all your modern-day needs? If you say yes, then shopping for Havells Andria is the ultimate option you are left with. It is also a fab option for those who live in spacious living rooms or bedrooms.
And the attributes that set this product apart from others include an airflow of 220CMM, a 3-bladed design and a moving ability of 390RPM. Again, it displays a sweep size of 12,00mm which makes the Havells Andria ceiling fan appropriate for large families.
Above all, the price point is as low as Rs.2,399.
Atomberg Efficio
Integrated with an outstanding BLDC motor, the Atomberg Efficio Ceiling Fan is extremely energy-efficient, offering an advanced sleep mode, timer mode and boost mode to its users. Aside from that, it is loaded with a 3-bladed design and optimum airflow that gets this ceiling fan an edge over the rest of the products in the market. To make a purchase, expend a sum of Rs.3,399.
Bajaj Crest Neo
Individuals who are in search of an eye-appealing ceiling fan must go for this variant by Bajaj. It is one of the least noisy fans in the market and is corrosion-resistant too. And, coming to its power consumption, it remains up to 56W only with a blade sweep measurement of 1200mm and RPM of 340. Alongside, its CFM can escalate as high as 205 cubic feet per minute which is indeed an added advantage. Bring along the Bajaj Crest Neo fan to your home today at a pocket-friendly price of Rs.1,329.
Orient Electric Ujala
The Orient Electric Ujala Ceiling Fan offers great value for money and is a feature-rich product for sure. Notable attributes are the 1200mm blade sweep measurement, RPM of 330 and CFM of 7770 backed up by a 4-speed setting. And you know the best part? You will get it for only Rs.1,549. Isn't that wonderful?
Crompton Hill Briz Deco
Steal a glance at the Crompton Hill Briz Deco Ceiling Fan and you will simply be mesmerized. It comes with a 72Wpower consumption, a sleek 3-bladed design with a motor speed of 400RPM to the most.
Alongside, this product is segregated with a blade sweep dimension of 1200mm and an airflow of 7400CFM and is truly a treat to experience. On top of everything, the fan is fully corrosion-resistant with the motor coated with a sturdy ball bearing and copper-winding, exacerbating its overall durability even more.
All this and many more at an economical price of Rs.1804.
Frequently Asked Questions
Here are a few FAQs pertaining to buying the best ceiling fans in India in 2023.
Which brand sells the best ceiling fans in India?
Usha, Atomberg and Crompton are some of the top brands selling the finest ceiling fans in India.
Which ceiling fans are the least noisy?
Ceiling fans that operate on a noise level below 52 decibels are considered the least noisy fans in India.
Which company offers top-quality ceiling fans?
Orient is a company that is believed to sell the best-quality ceiling fans in India. Starting from affordable to pricier fans, they have an option for everyone.
Which ceiling fans are in maximum demand in India?
Ceiling fans sold by Crompton are in the greatest demand at the moment as they sell a diverse range of fans, each of them having attractive features and a sleek design.
Final Note!
So, what are you waiting for? Embark on your ceiling fan-buying journey today and relish the most gratifying cooling experience like never before.
However, make sure you ponder over each of the points given above, subsequently skimming through the products coming your way and their pertinent prices for sure.
Ultimately, pick a variant that lets you beat the heat of summer with utmost perfection.