Brick is the most imperative building material in the modern construction sector and there is no doubt about it. In fact, the popularity of this component is increasing with each passing day.
As a layperson, you may consider it an ordinary thing but it is not. Ever since they came into being, bricks have evolved into an extremely sturdy construction material teamed up with a good deal of versatility.
Today, you will get bricks in different forms, each of them having different colours, sizes and textures. So, if you are also wondering how to select the best bricks for your house construction project, then today's guide gets you covered. 
Read on to find out more.
Importance of Bricks
Bricks hardly need any introduction. They are the most crucial component in any construction project, no matter residential or commercial. Interestingly, bricks are known to date back to 7000 BC and are considered the oldest building material so far. 
When used correctly, these bricks can have a magical effect on the overall appearance of your house, how durable and sturdy it becomes in due course and the foundation that it displays.
All this and many more are contributing to the increasing popularity of bricks with the passage of time. So, if you are also seeking a versatile component to build a sound living space this time, Using good quality bricks must be your ultimate choice.
Factors to consider when buying bricks for your home construction project
Going for good-quality bricks is of tantamount importance when it comes to building a sturdy building. Coming to comprehensive brickwork, it's not just about conjoining the bricks together as a lot is still left to be done. 
Starting from the colour of mortars, and joint profiles to bonding techniques, certain things must be considered imperatively so as to create the house of your dream. So, before you begin shopping for bricks, it's better to ponder over a few aspects unfailingly. 
Here you go!
Additional Materials
Bricks are not the only item that you will use for building your house. Apart from that, a couple of other materials will be used as well such as tiles, marble, stones, wood, glass and many more. So, make sure to select the additional elements carefully in tandem with your house construction needs. Because bricks have the ability to complement any other materials that you integrate along with, letting you attain a seamless look for your residence once the entire construction spree gets over. 
Specially Shaped Bricks
Try and integrate specially shaped bricks for your home-building projects. Just the way they can enhance the aesthetic appeal of your house, these bricks also make your living space adequately durable and protected down the road. Moreover, there will be no need of cutting bricks manually, therefore leading to reduced waste of time and money.
Orientation
Adhering to a proper orientation while laying down the bricks is very important as it can create a huge difference in making a house seem eye-appealing or utterly bland. Doing so will also reinforce the aesthetics of the wall and that's for sure.
So, what is orientation pertaining to the patterning of bricks? It means a particular side of the bricks needs to face the outward portion while the remaining part should be fixed to the already existing structure. Hence, you must give multiple thoughts to this point before buying the bricks of your choice.
Go for a Premium Bond Pattern
Yet another crucial consideration, while buying the bricks of your preference, keep the aspect of patterns in mind and that too without a miss. In fact, aside from making the brickwork sturdy and unshakable, a bond pattern also impacts the overall visual appeal of the wall to a great extent. So, do select this element wisely and attain the house you have been dreaming of until now. 
Colour of Mortar
Always remember, the colour of the mortar can have a huge impact on how your living space will look ultimately. Depending on the type of bond pattern you have chosen, a mortar can comprise around 15% to 17% of the pertinent brickwork of the wall. Aside from that, you must also ascertain that the mortar you have zeroed in on complements the surrounding environment quite a bit, particularly when revamping the ongoing brickwork. 
Texture
As far as the texture of your bricks is concerned, you will come across varieties and options aplenty, especially somewhere like India. Stock, tumbled, heavy and light textured and smooth being the most notable of them.
In fact, it has a lot to do with determining the final look and feel of your brickwork exactly like that of colour. Also, it can have a striking impact on how light reflects via the inward and outward surface, how the effect of light and shade is created and needless to say the overall colour pattern of your residence.
Brick Size
Selecting bricks of the correct size is in no way less important as compared to the points discussed above. In fact, this one factor will decide a lot of things together such as the ultimate visual appearance of your home, its overall design and the extent to which labourers will find laying the bricks comfortable etc. 
Type of Brick
A preconceived notion about bricks is that it is solely made of clay and are rectangular in shape. However, with time, bricks have evolved into several different types, depending on the materials used in them such as fly ash, concrete and lime etc. So, go for a variant that caters to your construction needs to perfection. 
Colour
This is perhaps the most important factor to consider when shopping for bricks. So, how do you want your home to actually look? Ask yourself this question as the colour of the bricks you choose can aid you in attaining an appearance of that sort. Gone are those days, when bricks were available only in RED, now you will get this material in an array of colours. And you are free to take your pick amongst any of them. 
Different types of Bricks
As already said that bricks are the most essential component of any home-construction project nowadays irrespective of its size. And with the diversity in materials and manufacturing techniques, these bricks have come up in the market in a hell lot of variants.
So, make sure you choose a brick that meets your aesthetic as well as constructional needs in the best way possible. With that said, here are the most common types of bricks along with their approximate costs.
Eco Bricks
Alternatively called Porotherm Hollow Bricks, Eco Bricks are predominantly used for different types of walling solutions. They make the walls adequately strong by incorporating a good deal of thermal insulation in them. And the perforations in this brick type can either be vertical or horizontal.
Calcium Silicate Bricks
Also known as sand lime bricks, calcium silicate bricks are made of a mixture of lime, fly ash and sand. Primarily, they are used for ornamental or masonry works across a range of construction projects.
Engineering Bricks
If the adequate compressive strength is what you are up to, then Engineering Brick must definitely be your choice. You can use it in constructions where strength, acid and frost resistance and low porosity are of utmost importance. Usually, you will find these bricks being used for basement building and renovation purposes etc.
Concrete Bricks
Solid concrete is chiefly used to make this particular brick. Conventionally, a mix of cement, water, coarse aggregates and sand is made, leading to the creation of concrete bricks. And the size and shape can be altered based on your tailored requirements.
Fly Ash Bricks
In alternative terms, fly ash bricks are also called self-cementing bricks, consisting of Class F or Class C fly ash depending on the manufacturing procedure. Generally, fly ash is a component that is gleaned from the furnaces of various industries where you will see coal being burnt. An ash of this sort has calcium oxide in it after it has undergone an immense heat of 1000 degrees Celsius.
Burnt Clay Bricks
Made primarily of clay, burnt clay bricks are put into kilns for burning and then made subsequently. Coming to their usage, these bricks can be applied for building columns, foundations and walls etc. Generally, you will find burnt clay bricks in four different types including:
First-Class-Quality bricks with outstanding edges
Second-Class-Slightly intermittent in shape and ground moulded
Third-Class-Ground-moulded and rough-edged applied in short-paced constructions
Fourth-Class-Extremely erratic and over-burnt with zero resistance, usually found in an unimpressive black colour
So, depending on your individual needs and wants, you can buy any of these burnt clay bricks to accomplish your pertinent project in the proper and expected way.
Sun-dried Bricks
As the name suggests, sun-dried bricks are moulded and subsequently put under the sun for drying. Clay is the predominant material as these bricks conventionally remain unburnt.
Cost of Bricks in India
The cost of bricks in India will vary depending on the type you choose and the place wherein you live. Nonetheless, here is an average price range for each of the brick variants mentioned above.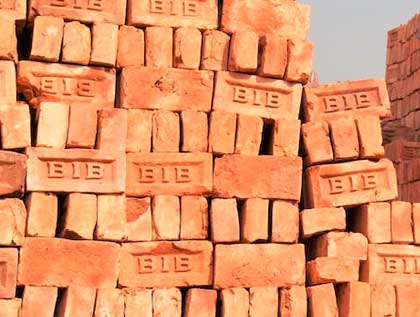 Eco Bricks-4-5 INR per piece
Calcium Silicate Bricks-100 INR on an average per piece
Engineering Bricks-10 INR or above per piece
Concrete Bricks-5-6 INR per piece
Fly Ash Brick-4-6 INR per piece
Burnt Clay Bricks-5-8 INR per piece
To the best of suggestions, set a budget and reflect on your constructional needs minutely. Thereafter, go for the one that best meets your criteria.
Frequently Asked Questions
Below are some of the most Frequently Asked Questions (FAQs) pertaining to the different types of bricks in India. 
Which brick is the best for house construction in India?
Sand lime bricks are considered the best option for any house construction project in India. As compared to the reddish burnt clay bricks, these bricks are grey in colour and come with adequate compressive strength also. Coming to their usage, sand lime bricks can be applied for multi-storied building projects or residential works related to load-bearing wall constructions. 
Calcium Silicate Bricks are used for what purpose?
Calcium Silicate Bricks are predominantly used in fancy architecture and masonry-related works. And the way they are available in various colours, textures and shapes allows you to create eye-appealing patterns as per your choice.
What is the use of sun-dried bricks?
Sun-dried bricks are conventionally used in temporary constructions and are often poor in quality. 
How to choose good-quality bricks?
Bond pattern, brick-and-mortar colour, size, type and texture are some of the factors worth considering when buying the bricks of your preference. Also, compare the price points carefully and entrust a brand that caters to your unique constructional requirements to their best ability.
Which brands are selling the best bricks in India?
Bharat Bricks, NSP and AIIMS Bricks are some of the top brands in India selling second-to-none bricks to their customers.
Selecting and buying bricks is now a cakewalk
We all want that elegant and jaw-dropping home and actualizing that dream into a reality takes effort and acumen. Buying premium bricks is the stepping stone towards this approach, and needless to say, it's easy to get confused when the market is already loaded with so many options. 
Therefore, make sure you skim through all the information given above, the different brick variants, their features and prices, ultimately selecting the one that satiates your desire to build an eye-appealing home impeccably.
Good luck!