Are you looking to buy the best submersible pump for your home, but not sure which of the water pumps available in India will suit your needs the most? That is obvious because the market is loaded with hundreds of water pumps from different brands.
Thankfully, we can help you get it right.
Check out this detailed guide to buying the best submersible water pump for your home. In this water pup buying guide, we'll tell you everything worth knowing about buying the best water pump in India. By reading this post, you will get all the information here on how to buy a good-quality submersible water pump.
So, without any further ado, let's get started!
10 Best Submersible Water Pumps to Consider for Buying
Buying a submersible pump that caters to your needs and budget is something to contemplate about. With that said, below are the 10 best submersible pumps that are expected to rule the entire 2023. If you are constructing your house and looking to purchase the best hardy and high high-performance submersible water pump, then here you go!
Jindal Oil-Filled Borewell Pump
A single-phase pump integrated with a water supply capacity of 80 LPM and a power range of 1 HP, the Jindal Oil-Filled Borewell Pump is definitely a product to consider. It also comes with a great deal of durability and won't be left in your pocket as well.
Price: Rs. 4,000
Grundfos Suction Open Well Submersible Pump
Yet another single-phase pump with a power range of 1 HP, the Grundfos Suction Open Well Submersible Pump is segregated with copper to render customers with effective rust-resistant properties.
Since they conduct self-primming by themselves, it leads to an adequate water supply for users aside ensuring reduced water consumption down the road.
Price: Rs.18,497
Lubi LHL Horizontal Monoset Open Well Pump
The Lubi LHL Horizontal Monoset Open Well Pump is a three-phase Monoset and is enabled by a power consumption ranging within 13AH-10HP. And the good part this pump provides users with a high-level output that also at a low-level input. Coming to the dimension of its outlet, it's not more than 25mm, allowing you to pump even groundwater at ease.
Price: Rs.37,617
Havells W 2 – Open Well Submersible Pump
If a heavyweight product is more your thing, then Havells W 2 – Open Well Submersible Pump must definitely be on your bucket list. Aside from having a premium build, this pump also offers F-class insulation as well as a motor of A 0.5 HP to its users, allowing you to carry out hefty applications easily and effortlessly. Community water supply, artificial fountains, irrigation and small farms are the most prominent of them.
Price: Rs.222,60
V-Guard Neon Open Well Submersible Pump
Looking for a cost-effective yet high-efficiency submersible pump? If you say yes, then get a hold of the V-Guard Neon Open Well Submersible Pump as fast as you can. Just the way it features an amazingly long-lasting aluminium body, it is also integrated with a motor engine of 0.5 HP. Besides, the sturdy motor speed and built that the V-Guard Neon Open Well Submersible Pump comes with gets this product an edge over its competitors. Grab a deal ASAP.
Price: Rs.3,999
CRI Single Phase Borewell Submersible Pump
Currently, homeowners are increasingly opting for the CRI Single Phase Borewell Submersible Pump over the several other variants in the market. With a capacity of 1 HP and running speed of 2900RPM, this product is adequately rust-resistant aside from displaying a sturdy outward surface of copper too, making it an in-demand choice amongst the many households out there.
Price: 12,090
Crompton Borewell Submersible Pumps
Crompton Borewell Submersible Pumps are available in a gamut of variants, offering single-phase attributes as well as HP dimensions to their users. Not only this, but these pumps are also an affordable option to consider, rendering users with a power consumption of 240V and are adequately wear-resistant as well.
Price Range: Rs.15,000-25,000
Waa Open Well Electric Pump
To serve the purpose of drinking water supply and domestic usage effectively, getting a hold of the Waa Open Well Electric Pump is a feasible choice to make. Coming to its noteworthy features, this product displays a B-class insulation and an HP motor of 0.5-1.0, depending on your individual requirements. Also, it provides users with a noiseless operation and is integrated with an impeccable priming and suction attribute. And the power consumption is not more than 200-240V which is indeed an added advantage.
Price Range: Rs.10,000-25,000
Kirloskar Submersible Pumps KU4-OF
A lot of people seek a submersible pump having high-end features, a variant fit to be used for industrial as well as domestic applications. If you are also someone like that, then the Kirloskar Submersible Pumps KU4-OF will surely satiate your desire. Also, it offers minimal power consumption and a voltage capacity of not more than 5.5 HP, making this product an appropriate choice across the various manufacturing plants in our country.
Price Range: Rs.10,000-1,40,000
Waa Borewell Submersible Solar Pump
Undoubtedly a convenient choice, the Waa Borewell Submersible Solar Pump offers nominal fuel cost, and a longer lifespan teamed up with ease of maintenance. Aside from that, it has a Voltage Capacity of 180-240V and power consumption of 0.5 HP-5.0 HP and is primarily operated via solar energy. Use it for residential areas, water storage tanks and small gardens to make the most of this product.
Price Range: Rs.10,000-30,000
What is a Submersible Pump?
In simple words, a submersible pump is a mechanical device that works when the water stoops upwards and approaches the surface unlike it is being pulled up. These pumps totally submerge in the water, that's why the name.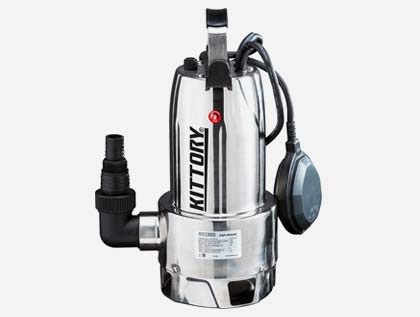 It has an airtight motor that is linked to the body of the pump and generally comes with a hermetic seal. By using the airtight motor, one can push the fluid easily towards the surface. Primarily, the main purpose of a submersible pump is to pump water from the wells and its uncomplicated mechanism allows it to do so effortlessly.
To transpire the kinetic energy into pressure energy, a rotary motion needs to be used, making the water push towards the surface at a greater speed.
How does a submersible water pump work?
A submersible pump primarily functions via a simple mechanism. Subsequently, the liquid is pulled in and teamed up with a couple of aggregates, pumping it to some other location thereafter.
As it functions on the media and its encompassing aggregates, make sure you select a good-quality pump, so that you can pump the water later on elsewhere with little to no effort. Also, the motor that is connected to the body of the pump is totally hermetic accompanied by an electrical cable that infuses power into the pump.
When the pump remains submerged in the liquid, the motor should be completely sealed so that the pump can function properly. If you miss out on doing so, the operation of your pump may go down slightly.
Also, submersible pumps need heavy-weight cables, making them even more effective when used. As a result, these pumps can endure when submerged in sewage and can function from deep inside a well too.
When placing the equipment inside a sewage drain or well, make sure you use a water-resistant structure as these points are generally somewhat inaccessible. So, use submersible pumps as you please to transfer water from boreholes, wells etc., relying on them as an effective tool to get an adequate water supply.
And the best part is you can do this from even exceptionally low depth that too with minimal investment and power consumption.
Types of Submersible Pumps
Depending on the different needs of people, submersible pumps have been divided into six individual categories including:
Submersible Utility Pump
Water Cooler Submersible
Oil-Filled Motors
Base Suction
Stainless Steel and
Deep Well
So, let's elaborate on these submersible pumps for you along with their pertinent features.
Submersible Utility Pump
Primarily a multi-reason and multifunctional pump, a submersible utility pump is used to remove stubborn and dirt-infused water as well as rubbish from open-air spaces and residential areas.
These pumps are very popular due to the amazing features they boast. And just the way it is convenient, a submersible utility pump offers manual and programmed operation to its users too.
In case, there is stagnant water from an overflowing yard or cellar, you can use this pump to remove it immediately.
Water Cooler Submersible
When it comes to submersible water cooler pumps, it's mainly used in farming area water systems, modern areas, and private water irrigation zones aside from serving many other applications effectively. You can use fresh water to cool down the engine also. And the good part, this type of submersible pump functions easily when underwater unlike the other variants in the market.
Oil-Filled Motors
Oil-filled motor submersible pumps chiefly use a food-level oil for lubrication along with a high-end ball bearing. This rewards the oil-filled motor submersible pumps with sufficient durability and stability as well.
Municipal construction drainage, drainage and flood protection, water distribution and water towers are some of the purposes that oil-filled motors serve. Aside from that, lacquer-covered oil and a retractable water-proof joint design are applied to this product to ensure greater efficiency.
Coming to its usage, oil-filled motors are suitable for every household's needs and related applications.
Base Suction
Base Suction Pumps are used in areas such as lakes, pools, dewatering, mining and in streams. This pump sucks water from the lower portion of the well and its outstanding engine cooling capacity gets the base suction an edge over its competitors.
Due to its simple mechanism, industries and individual are increasingly selecting this variant which is also called endeavour pumps or crisis pumps in alternative pumps.
Stainless Steel Pump
Stainless steel pumps offer a way better execution as compared to cast iron pumps. Stainless steel is the main component used to make this type of pump, that's why the name. Due to its high acidic absorption, it can eliminate hot or slightly acidic water in an effective manner.
And coming to its exclusive moulds, you can use them to secure the additional water sources with utmost perfection. Above all, the freshwater keeps moving ahead of time which is definitely an added advantage.
Deep Well
So far, the most in-demand submersible pump in the market, a deep well pump is used to pump water from the well, subsequently, transferring it to your home or the concerned area.
In fact, this type of pump totally submerges into the well water, hence is mostly for civil work. Additionally, an electrical engine is attached along with that aids in submerging the pump into the water even more.
Also, make sure that your deep well pump remains adequately underwater in order to reap the maximum benefits of it.
Reasons to use a Submersible Pump
There are primarily two reasons why individuals use a submersible pump. These include irrigation and draining.
Here is how!
Irrigation
Having land that needs sufficient irrigation, using a submersible pump in this matter would be the finest option to go with. In fact, you can use this device to supply water to gardens of different sizes, ranging from conventional farmlands to enormous ones.
Just create a lake or similar waterbody to ensure the desired water supply and your submersible pump would function smoothly and efficiently. Also, these pumps come with a great deal of durability and are quite friendly to the pocket as well.
Draining
Are you coming across a zone in your house the water you wish to eliminate or drain out completely? If yes, then buying a submersible pump can be an amazing investment.
By using this instrument, you can remove unwanted water from the concerned area in a matter of minutes. Suppose your sink or a certain part of your house has been filled with excessive, getting no outlet to go out.
In such a scenario, you can use a submersible pump to remove the water from those regions so that no abrupt accidents or slippages come your way. And the best part you can prevent these mishaps from occurring way ahead of time.
Different applications of a Submersible Pump
A submersible pump can be used differently to serve purposes. Having said that, here are the most common applications that this tool is predominantly used for.
Municipal Water Supply
A number of submersible pumps having an exclusive design are used for extracting water to make sure it reaches every household safely and evenly.
Industrial Purpose
A couple of these pumps can also be used to serve a range of industrial applications including fire-fighting such as Split Case Pumps and End-Suction Pumps as well as HVAC etc.
Building and Construction
Using Booster Pumps can be a great idea to serve various building and construction purposes effectively. These pumps are chiefly installed to retain the intermittent water pressure, so can be personalized accordingly in order to ensure equilibrium in the water pressure even when lying under low-pressure conditions.
Agriculture
Irrigation is an imperative part of any agricultural project. And needless to say, using the different types of submersible pumps to serve these applications would do you good.
Solar
DC Solar Pumps and AC Solar Pumps are both high-efficiency submersible pumps that can be integrated with solar power and used accordingly.
Domestic
Certain pumps can also be used to serve a number of domestic purposes effectively. Centrifugal pumps and borewell pumps are two of the most prominent of them.
Factors to consider when buying a submersible pump
It is important to consider a few factors unfailingly before shopping for the submersible pump of your choice. Take a look at these points.
Material and Quality
The brand from where you are buying your submersible pump is a crucial aspect to consider as the overall quality of your machine depends on that. Also, the motor and engine decide how effective the submersible pump will be.
In case you are seeking a more durable variant, select pumps having a CI motor body and Noryl impeller so as to satiate your desire. Alongside this, it is equally important to do adequate research aside from going through the review ratings and testimonials of every company selling quality pumps to their customers.
This way, you will be able to purchase a submersible pump that caters to your unique needs and requirements in the best way possible.
Cooling System
A submersible pump is available in both water-filled as well as oil-filled motors. In the case of the former, water is the chief coolant and you can refill it as and when needed. On the other end, oil-filled motors are more susceptible to damage as the coolant is not replenishable. Hence, they are also much cheaper, unlike the water-filled ones.
Discharge Rate
Give a thought to the per-minute rate that counts on the amount of water you are using for your submersible pump. So, make sure that you go for a favourable discharge rate in case the water consumption is enormous. Generally, the discharge rate is evaluated in litres on a per-hour or minute basis. Keep this aspect in mind in order to make an informed decision.
Delivery/Outlet Size
The pipe's diameter via which water pushes upwards through the pump is yet another imperative factor to consider. So, the delivery or outlet size of your submersible pump should be such that matches the dimension of the pipe to which the storage tanks are connected. Conventionally, it is measured in mm or inches depending on the product you are buying.
Pressure and Head
Based on the farmland or house you have and the water table in your vicinity, you must opt for the finest submersible pump of its kind. Make sure it consists of a height to which you can lift water easily and effortlessly.
In this context, it is pertinent to consider the head of your pump without failure. This means the total distance between the height of the storage and the ground's depth wherein the pump has been positioned. Coming to its mode of evaluation, it is generally measured in feet or meters. However, the head you go for should be more than the amount of water that you wish to pump out with each passing day.
Size of Bore Well
Ponder over the borehole's diameter for sure where the submersible pump is generally positioned. So, make it a point to choose an outward diameter the size of which is greater than that of the bore well's size. But if the opposite is the case, then it may not fit in the bore well properly.
Flow Rate
Flow rate means the total time consumed by the submersible pump to pump a specific amount of water. It is conventionally evaluated in litres on a per-minute basis. In case you are buying a product for your home, make sure that it is able to pump 100-120 litres of water per minute. However, if you are shopping for the same instrument for any industrial or farmland application, then a submersible with a flow rate of 2,500 litres per minute would do the good.
Final Words!
With the ever-increasing demand for water, buying a second-to-one submersible pump will definitely be worth the investment. Just the way these pumps let you serve multiple purposes at a go, they also occupy less space, allowing you to consume the desired amount of water in minutes.
So, what are you waiting for? Take a peek into the guide above, skim through all the 10 submersible pumps given over there, and evaluate the individual features, price points and durability of each of them, subsequently zeroing in on an option that caters to your tailored needs to perfection. Carpe diem!