There are many washing machine brands available in India, each offering various features and price points. Naturally, picking the most suitable washing machine brand is going to be overwhelming. But, if you are planning to purchase a new washing machine and you are spoiled by so many choices and feeling overwhelmed, then continue reading.
When it comes to laundering our clothes, most of us find this task a bit arduous. Don't we? So, whether you are a bachelor having to wash your clothes alone, staying with a large family or simply residing at home all the time, cleaning your apparel regularly is imperative.
To make washing your clothes easy and fun, buying a good-quality washing machine may be the need of the hour. As easy as it may seem, choosing a washing machine brand may be quite a tricky task to accomplish.
Be it the size of your family, the number of garments to be washed every day or simply the features you are seeking out, a lot of aspects go when shopping for a washing machine.
But not anymore, as we have a list of the top ten washing machine brands in India that you can check and choose from.
Hence, without any further ado, let's dive in!
Ten popular washing machine brands in India
Below are the top ten washing machine brands in India, and once you take a peek at them, you would be able to comprehend your tailored needs and requirements, the specifications you want in your washing machine and of course your desired price option.
Subsequently, you can make an informed decision that satiates all these criteria to perfection.
Samsung
As a globally acclaimed washing machine brand, Samsung is primarily a South Korean electronic appliance manufacturer, selling some of the finest washing machines to its customers.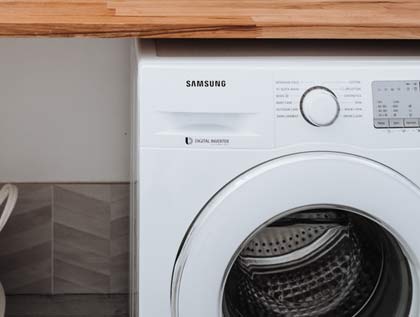 So, whether it's industrial or consumer electronic goods, their product lines are simply second-to-none, hence, customers prefer buying their favourite washing machine variants from them now and again.
Some of the other items that let Samsung remain ahead of the competition include air conditioners, home appliances, integrated systems, memory chips, semiconductors, digital media devices, smart home appliances, so and so forth.
LG
When it comes to exemplifying trending washing machines to perfection, LG hardly needs any introduction as the brand has already sold a slew of such products to its generation-old customers.
Coming to its fuller form, LG stands for ''Life's Good'', however, the brand was initially known as ''Lucky Goldstar'' from 1983 up till 1995. So, if you are looking for a new-age washing machine inundated with all the smart features out there, then consider zeroing in on LG.
Most importantly, their washing machine variants come at pocket-friendly price options, no matter whether you go for top-load, front-load, semi or of fully-automated.
Whirlpool
To be accurate, Whirlpool has been selling a gamut of electrical appliances to its customers ever since its inception. However, their top-notch washing machines are what set them apart from all the other home appliance brands in India, and that's for sure. Always coming up with something new and innovative, the way Whirlpool strives to remain updated in tandem with the latest trends and technologies is an aspect worth paying heed to.
Coming to its commencement, as an American Company, it embarked on a spectacular journey in 1911.
Godrej
Godrej imperiously stands out from others as they were the first to introduce steel drums in their washing machines all across the nation. Not only that, but the fully-automated washing machine variants that Godrej sells comply with the European Energy Efficiency Standard of A++ while being integrated with avant-garde eco-friendly technologies.
Aside from that, the anti-crease attribute that seems incorporated in every of the Godrej washing machines out there allows users to iron their clothes in the snap of a finger as soon as they are washed. All this and many more tags Godrej as one of the most reliable washing machine brands in India and there is no doubt about it.
Haier
Embarked on its home appliance and electronic gadget journey from China, as a multinational company, Haier has currently gained a prominent presence in India, selling exquisite semi-automatic, front-load and top-load washing machines in India. And the best part is, their washing machines come in a gamut of features and functions, and needless to say, they are often available at pocket-friendly price options.
Panasonic
If an outstanding wash quality is what you are up to, then go for a brand like Panasonic for sure. Aside from that, their washing machines are worth the investment, be it in terms of water conservation, energy efficiency, longer lifespan or having double-layered doors etc. Currently, the company is selling their washing machines in all three notable variants including semi-automatic, front-load as well as top-load, each of them available at an economical price option.
Lloyd
Lloyd is an Indian brand that offers a range of washing machines with features like Wi-Fi connectivity and inverter technology. Lloyd washing machines with inverter technology help in saving energy and reducing electricity bills. The inverter technology also helps in maintaining a consistent speed of the motor, resulting in better washing performance. Some of the latest Lloyd washing machines come with Wi-Fi connectivity that enables you to control start, pause, or stop the washing process remotely through the mobile app.
Some of the advanced washing machines by Lloyd are loaded with anti-bacterial technology which helps in eliminating bacteria and germs from clothes. This feature may be especially beneficial for people with sensitive skin or allergies.
Onida
Selling a wide range of top-load, front-load and semi-automatic washing machines to their customers, Onida is one such brand meant for individuals who are on a tight budget at the moment. Each of their washing machine variants comes with high-end features, letting users wash their clothing line in a matter of minutes.
Coming to the elephant in the room, their fully-automatic washing machines are loaded with an array of functions that too at an affordable price range. On the other end, when it comes to their semi-automatic models, they have an internal brush in them and are way lighter in weight, subsequently getting you the same experience as washing clothes manually.
IFB
Primarily selling fully-automated washing machines to their customers, IFB certainly reminds us of our childhood days. They are the epitome of what we generally call ''brand loyalty'', subsequently letting the brand attain a massive consumer base for many years to come. Above all, their zeal to remain abreast of the latest technologies and features while incorporating each of them in their product line has what got IFB an edge over the rest of their competitors.
The important thing to consider when buying a washing machine
These are the most important things to consider when buying a washing machine for your home:
Type of washing machine
There are three main types of washing machines available in India – front load, top load, and semi-automatic.
While the front-load washing machines are more water and energy-efficient but can often be more expensive, the top-load washing machines are more affordable and easier to load but use more water. Semi-automatic washing machines are the most budget-friendly option, but it requires manual intervention.
The capacity of the machine
The capacity of the washing machine is an important factor to consider when buying a washing machine. The capacity is measured in kilograms and determines how much laundry the machine can handle in one cycle. A larger capacity washing machine is suitable for families with more members. The standard size is 6 kg and good enough for a family of three.
Energy efficiency
It is important to look for a washing machine that is energy efficient to save on electricity bills. Check for the star rating of the appliance, which ranges from 1 to 5 stars, with 5 being the most energy-efficient option.
Spin speed
The spin speed of a washing machine determines how fast the drum rotates to dry clothes. A high spin speed means clothes dry faster, but it can also cause wear and tear on the clothes. Look for a washing machine with a spin speed of 1000 RPM or higher.
Features
Look for features such as wash programs, temperature control, inbuilt heaters, child lock, wi-fi connectivity etc. These features can make washing clothes easier and more convenient.
Brand and warranty
Choose a reliable brand of washing machine that offers a good warranty period. A good warranty will ensure that any defects or repairs are covered for a certain period.
Budget
Finally, consider your budget when buying a washing machine. There are many options available at various price points, so it is important to choose a washing machine that fits your budget and requirements.
Picking your favourite washing machine brand is easier than ever
Shopping for the washing machine of your choice doesn't have to be drudgery any more when you already know about the best washing machine brands available in India.
So, make sure you skim through each of the top ten washing machine brands in India mentioned above while taking each of their pertinent pros and cons and compelling factors into consideration.
Also, if you are planning to buy a dishwasher, then check the list of top dishwasher brands and the detailed buying guide.
It is recommended to do thorough research and compare features and prices before making a purchase.
Frequently Asked Questions
Take a peek into these Frequently Asked Questions pertaining to buying a washing machine in India in 2023.
Which washing liquid/powder is considered the best for various types of washing machines?
Liquid laundry detergent is the best option as it is milder and appropriate for fully-automatic washing machines, therefore, offering a premium wash over coloured loads as well.
Why front-load washing machines are so expensive?
Since they offer way better cleaning, and are more water and energy-efficient as compared to other washing machine variants in the market, therefore, front-load washing machines are a bit on the costlier side.
What type of washing machine do I need for a family of 5?
A washing machine displaying a capacity of 6 to 7 Kg is more than enough to wash the clothes in a household with five family members.