As easy as it may seem, choosing the best wall paint colours to paint the exterior and interior of your house can be a daunting task. It takes a lot of effort, acumen and of course a keen eye for colours, aesthetics and design. After all, you want your house to look the best and wall paint colour has a crucial role.
Also, some aspects are worth giving a thought to when it comes to choosing the best wall paint colours for your dream home.
For example, the lighting can affect how the paint colour looks in a room. While natural light can make certain colours appear brighter, artificial light can make a particular colour appear duller. There is so much that goes while choosing the wall paint colors.
If you are planning to apply fresh paint or repaint your house and wondering how to choose the best wall paint colours for the interior and exterior of your house then we have got you covered.
In today's posts, I am sharing some easy-breezy tips and ideas to help you get it right.
Tips to choose the best paint colours for your wall
The exterior and interior paint colors should complement the style of your home. For example, if you have a traditional-style home, you may want to choose more classic colours like white, beige, or grey.
Similarly, if you have a modern-style home, you may want to choose bold and bright colours like red, blue, deep brown or yellow paint colours.
By considering these factors, you can choose the best exterior and interior wall paint colors that will complement your home and create the mood you desire
Consider these tips to choose the best wall paint colours for the interior and exterior walls of your house:
Do your research
Which wall paints for a home's exterior and interior are trending in the market at the moment? Ponder over this aspect times and again before you start doing your research. Skim through the internet rigorously to get some basic ideas. This basic research may help you greatly in choosing the best wall paint colours for your house.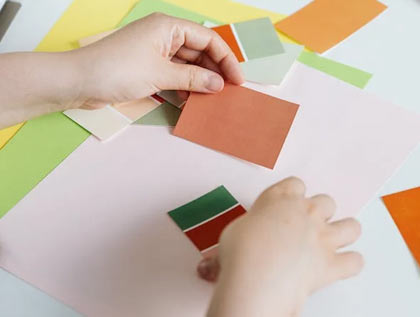 If need be, take a walkthrough of your residence as you focus on the colour combos by that. Subsequently, continue exploring the plethora of options out there, both the online and offline storefronts are deluged with.
Be assured, you will come across innumerable shades of whites, ivory, beige, baby blue, cream and so on. But you got to get your hands only on those that complement your décor in the best way possible.
Trust the thumb rule of colour wheels
A golden rule for painting both the exterior and interior walls is that, go for one dominant colour accompanied by two other hues.
In case you are unsure, rely on the colour wheel format, particularly those tried and tested shades.
Say, for example, you can give a whirl to different tones of the same colour option if you feel like it, preferably what we call a monochromatic colour palette.
Such hues will complement each other like anything, so are alternatively termed ''complementary colours'' also. Suppose, if a vibrant colour scheme is more your thing, then different hues of blue will suffice to get your décor a flamboyant appearance.
Team it up with another shade that looks spectacular in its entirety and you are all done. If need be, seek the assistance of a house designer near you to get this activity a touch of perfection.
Be consistent in your approach
Well, no harm that you are getting experimental with your colours as many times as you wish. But, keep one thing in mind, whether it's the interior or exterior of your house, every nook and cranny of it must be in harmony with each other, particularly when each of them is displaying a specific shade every time.
So, ponder over a colour scheme for the exterior and interior walls that are neither too complimentary nor contradictory to one another.
Opting for a contrasting colour palette is a good idea but if it doesn't steal the eyes and heart of your invitees, then no point in investing in a resource like that.
Review your house design
At the time your home was designed by the architect, they might have given a particular colour palette. Take a look at the design, including different elements like walls, roofs and boundaries etc. Because these are already existing colours and the shades you are going to choose for the exteriors and interiors of your residence will largely depend on that.
So, you simply can't afford to go for a trendy colour option that in no way complements what's still there on the external as well as the internal surface of your living space. Also, the size of the home plays a crucial part in deciding which colour palette will look the best on both portions of your residence.
For example, a colour scheme that is too light won't seem good on a small abode as it can refrain from the grounded look and feel of that refuge. Similarly, very big homes must not be painted with exclusively dark shades or else you will only end up attaining a dwelling that seems utterly inhospitable and bleak.
Coming to the elephant in the room, the landscape of your home. In this matter, it is pertinent to mention that an organic landscape will do good with the interior walls, particularly shades that seem downright recessive, subtle neutral tones, and pastels and see greens being the most notable of them.
Conversely, a landscape in its convention with rows of shrubs arranged serially across a walkway may indicate a sturdier and bolder look, not letting you attain the décor you have been looking for.
Select your undertones wisely
If a darker shade is more your thing, then test it beforehand on a small portion of your walls, no matter if it's the interior or exterior wall of the house. Doing so is of tantamount importance or else you will only end up in attaining a paint that seems overtly unappealing.
In this matter, it is equally crucial to understand the fine-line difference between a cool undertone and a warm undertone. Evaluate the overall effect of the undertone you have zeroed in on and how it finally looks on the intended area of your house.
In a word, be wise with your undertone selection to reward the exteriors or interiors of your abode a ravishing appearance that it had always deserved.
Review your neighbourhood home styles
Though many people care about it a damn the overall style of your house can play a huge role in the colour palette you are going to choose for the exterior and interior wall paints.
So, in case you have a typical Victorian vintage-style home, bolder hues may not be the best fit for it.
Again, in case you have a residence resembling that of a ranch, it's always good to avoid those vibrant pastels and stuff.
Simultaneously, the kind of neighbourhood you live in can also be a notable determinant in what colour option will you go for the interior and exterior walls of your living space.
Do you stay somewhere with trending themes or in a vicinity that showcases downright historic designs? Ponder over this aspect times and again and select a colour palette that you find the most complementary in adherence to that.
Test the colours
Before making a final decision, it's a good idea to test the paint colours in the room. So, you have already narrowed down your colour options both for the interior and exterior of your house.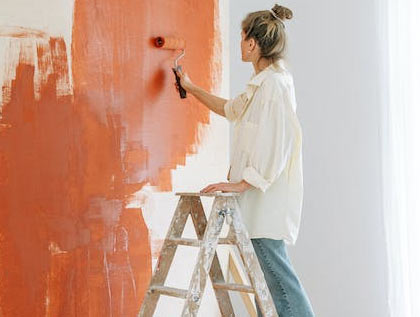 Great job! Next, you will have to be a little naïve, paint them on giant swaths as you get a clear idea of how good they look on the walls of your home.
Subsequently, view each of the shades at different times of the day, individually when there is light and shadow. Are they seeming bland or utterly attractive? Take this factor into consideration as well before finalising the hues of your choice.
In case, you think you are not an expert in this dimension, it's always good to hire a pro, a skilled designer for that matter.
Because we may not at times understand the flaws and shortcomings that the walls of our abode are giving off.
Instead, if we hire a professional, the person may be able to identify such areas of improvement properly, suggesting the most viable colour options accordingly.
This way, not only you can give the exterior and interior of your house the look and feel it deserves, but also complete the task with utmost perfection.
Pick the best wall interior and exterior wall paint
Painting the exterior and interior walls of your house impeccably can have a great impact on how other people view the aesthetics and overall look of your house. So, this time choose the most ravishing wall paint colour tones for your home and turn it into the most eye-appealing house ever.