Planning to build a house in Kolkata (West Bengal) and wondering about the construction costs? Well the turnkey home construction cost in Kolkata ranges between Rs. 1700 per sq ft to Rs. 2100 per sq ft including material and labour. The building construction cost is calculated based on the total built-up area and build quality. By spending Rs 1700 per square feet (of the slab area), you can expect to get the best budget economic construction and finish.
However, if you can stretch your budget by another Rs. 150 per square feet i.e. Rs. 1850-1900 per square feet, you will get even better quality of materials and finish. But if you believe that homes are built once in a lifetime, and you should use a little premium construction materials, then the construction cost in Kolkata may range between Rs. 2000 to Rs 2100 per square feet.
Besides, home construction involves different types of building materials, architects, labour and contractors. And all these factors can add up to the total cost of constructing a residential or commercial building in Kolkata.
Important factirs for home construction cost
Some of the major factors that affect the home construction cost are:
The size and layout of the plot/land you are building on
The actual build area of the house i.e. simplex, duplex with parking or total floor of the house
Quality and grades of building materials being used i.e. cement, steel, tiles, external and internal bathroom and kitchen fittings, electrical fittings etc
Exterior elevation and design of the building i.e. tiles or glass on exterior wall etc
Features of the house e.g. landscaped garden, open terrace, home automation system etc
Utility features like water harvesting, solar panel installation etc
Expertise of the builder, architect, contractors and technicians
If you are planning to build a house and you are at the budgeting stage then I have got you covered. Today in the post, I am explaining everything worth knowing about the cost of constructing your dream home in Kolkata, West Bengal. Although we are primarily discussing the construction cost in Kolkata, the costs are more or less similar in other major cities across West Bengal including Howrah, Durgapur, Asansol, Burdwan, Kharagpur etc.
Calculating the House Construction Cost in Kolkata
The accurate cost of construction can be calculated only when the architectural blueprint i.e. floor plan and house design is ready. However, even if you don't have the floor plan and exterior elevation design etc ready, you can calculate the approx house construction cost in Kolkata considering a tentative house size.
For instance if you want to construct a house on 30×40 sq ft of land then you can easily calculate the tentative cost of construction in Kolkata. But, before that you need to figure out the size of the house to get the build area.
Now, depending on the position of the land i.e. access to road and municipal area, you may get different floor to area ratio and build up area. If you have to leave approx 25% of the land i.e. approx 300 sq ft, then you can construct your house on remaining land i.e. 900 sq ft area.
This is how I calculated the approx floor area ratio (FAR) for budgeting purpose. Please note that the AR can vary and you may use almost total land for construction at some places.
Plot size: 30×40 sq ft= 1200
Approx set back: 25%= 300
Approx build area on ground floor: 1200-300 =900 sq ft
The approx cost of constructing a 900 sq ft house on 30×40 sq ft site in Kolkata will be Rs. 1530000.00 to Rs 1890000.00 depending on the build quality of the house. Costs for duplex and multi storey building are listed hereunder:
| | | | |
| --- | --- | --- | --- |
| Plot Size = 30×40 sq ft Approx Gr floor area 900 sq ft | Economical Rs. 1700.00 | Premium Rs. 1900.00 | Luxury Rs. 2100.00 |
| Single storey construction cost | 1530000.00 | 1710000.00 | 1890000.00 |
| Duplex house construction cost | 3060000.00 | 3420000.00 | 3780000.00 |
| G+3 house construction cost | 3060000.00 | 5130000.00 | 5670000.00 |
| G+4 house construction cost | 6120000.00 | 6840000.00 | 7560000.00 |
Similarly, the cost to build a house on 40×40 sq ft plot, with approx 1200 sq ft build area will be between Rs. 2040000.00 to 2520000.00. The below table can help you estimate the approximate cost of constructing a duplex or a multi storey building.
| | | | |
| --- | --- | --- | --- |
| Plot Size = 40×40 sq ft Approx Gr floor area 1200 sq ft | Economical Rs. 1700.00 | Premium Rs. 1900.00 | Luxury Rs. 2100.00 |
| Single storey construction cost | 2040000.00 | 2280000.00 | 2520000.00 |
| Duplex house construction cost | 4080000.00 | 4560000.00 | 5040000.00 |
| G+3 house construction cost | 6120000.00 | 6840000.00 | 7560000.00 |
Now with the help of above formula, you can get the basic idea of the costs involved in building a house in Kolkata and nearby cities in West Bengal.
Major home construction costs heads and share of expenses
According to this news article, the average cost of construction has increased by over 10-12% in the last one year due to an increase in the raw material prices for key building materials like sand and cement. And the construction cost is expected to increase further in coming years.
Now that you know how much of money will be required to a build a house, let's take a look at the major cost heads and construction expenses in constructing a residential building.
The major cost heads of constructing a house are:
| | |
| --- | --- |
| Cost Heads | Approx cost |
| Architectural design | 2% |
| Excavation | 3% |
| Footing and foundation | 12% |
| RCC Pillar, columns | 10% |
| Roof slab | 15% |
| Brickwork and plaster | 13% |
| Flooring and tiles | 10% |
| Electrical and wiring | 8% |
| Door and windows | 8% |
| Water supply and plumbing | 4% |
| Bath Fittings | 7% |
| Paints | 8% |
Let's take a look at the expense chart below and get a better understanding of these costs heads and its share in overall construction expenses.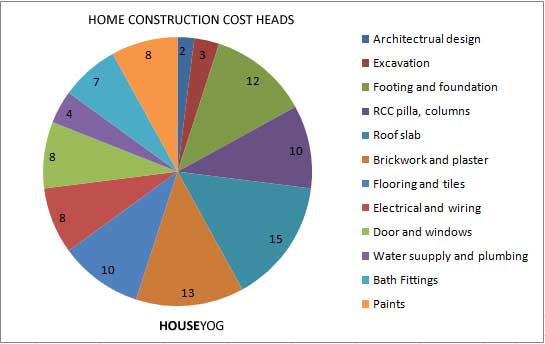 It's also important to note that some of the cost heads are flexible and can have larger shares or smaller shares depending on the individual home owner's preference. For instance, someone may want to do flooring with Italian marble instead of normal vitrified tiles. In that case the flooring and tiling expenses will be more than the anticipated budget. This will also result in escalation of the overall home construction cost.
Things to consider while constructing a house in Kolkata
Building a house of your own can be overwhelming and consuming. Right from choosing the expert architect to design your house to finding the best quality building materials and engaging professional architects and contractors, the entire process can really get tiring and consuming. Besides going wrong in choosing the right architect and building contractors may lead to budget and time escalation.
Some of the important factors you should consider while constructing a new house:
Do adequate planning before starting the construction
The total construction budget and making financial arrangements
Understanding your current and future space requirements
Use readymade house design or go for bespoke architectural designs
Hire professional home builder and architects
Understand the grades and quality of building materials, and choose the right ones
Follow local building code and advisory on building a house
Utility and features important to your family e.g. solar panel, water harvesting, home automation etc
Over to you
The process of constructing a house can easily be overwhelming and tiring for most of us. Finding a suitable plot, preparing land, finalizing the house blueprint and house design, preparing bills of quantities and estimating the cost – the entire process of planning can be tiring and time consuming. Besides, taking the approvals from local municipalities and engaging a professional house construction company needs a well thought out approach.
Luckily, the process of budgeting and estimating the construction cost can be simplified to an extent. And that's what we have discussed in this post today. If you have already selected a plot, you can calculate the house construction cost in Kolkata based on different sets of materials and finish.
What else do you think one should know to calculate the much accurate per square feet costs of constructing a house in Kolkata?
As always, I hope this post will help estimate the overall construction cost. If you have any questions related to budgeting and estimate the cost of constructing a house, do write to us in the comment section below.