Hiring an Architect can be overwhelming because there are no set standards for the architect fees and charges. Different architects in India can charge differently as per their expertise, the size of the project or the level of their involvement. Although the Architect fees and charges for practising architects are well defined by the Council of Architecture, an architect may charge differently for different architectural services. So, if you are planning to hire an architect and you're wondering about architects fees and charges for house designing and architectural services, then I have got you covered. Today in this post, I am sharing everything you need to know about Architect fees, rates and charges in India.
We interact with hundreds of users on Houseyog for house designing services. And, Architects fees and charges remain the most frequently asked question. Although there is no fixed tariff or a rate chart for architectural services, I can certainly help you get a good idea of architects fees and charges in India.
But before we get into the architects fees and charges, let's first understand what they do. And why it is important to hire an architect to design a beautiful house or a building.
What do the architects do?
Architects are professionally qualified and trained professionals who design buildings and structures. Architects primarily create floor plans and designs for new construction projects. They also help renovate and redevelop an existing residential or commercial building. They use their knowledge and skills to design space-optimized buildings that'll be safer, functional, efficient and aesthetically good-looking.
And that's why it is important to hire an architect while designing or renovating your homes, offices or any other types of residential or commercial properties. From designing functional and efficient floor plans to creating beautiful and stunning exterior elevation designs, they can help get it all right for you.
An architect can help design and develop all types of residential and commercial building including independent house, bungalow, villa, duplex houses, shopping complex etc.
Listed below are the key architectural services that an architect in India can help with.
Set of floor plan drawings which may include master plan and individual floor plans
Floor plan with furniture layout
Building elevation designs to help visualize the building
Structural and working drawings for the building
Electrical, drainage and plumbing drawings
Apart from that, they can also do site inspection, measurement and supervision throughout the construction of the project.
Architect fees and charges for architectural services in India
Now that you broadly know what an architect can do and how they help plan, design and build a residential or commercial building, let's understand the architect fees and charges in India. As the architects offer a service, their fees and charges depend on the level of engagement.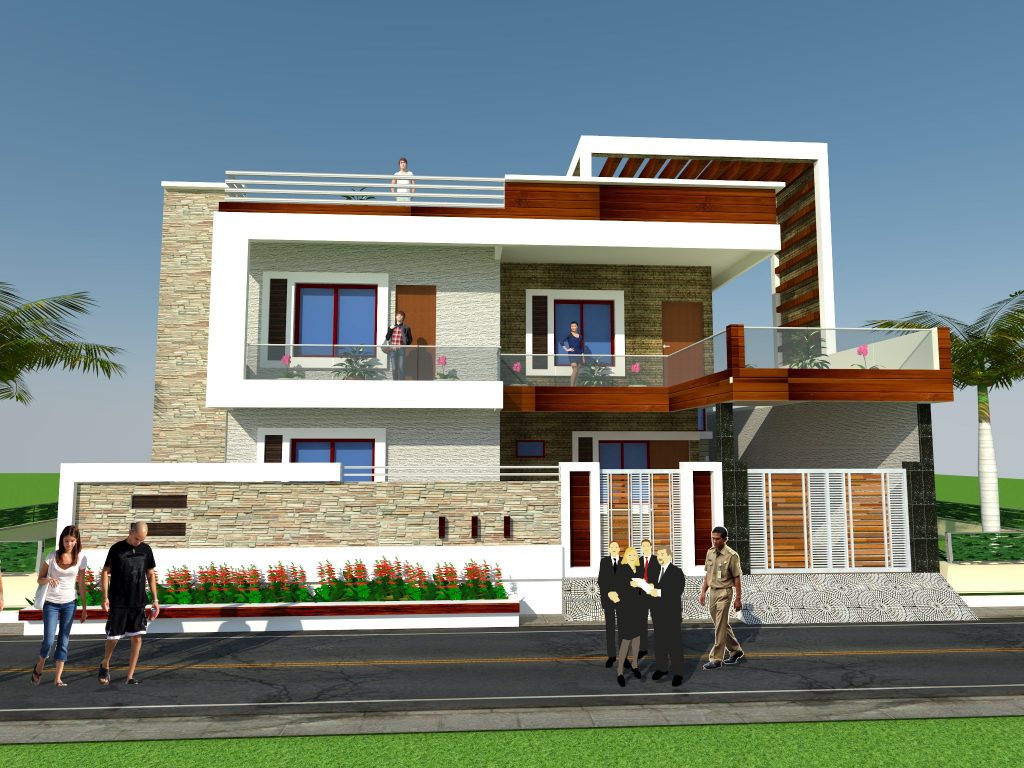 While some architects may charge a flat fee to help design your building, some of the architects in India charge a percentage of the project cost as their service fees. And then there are architects who would charge based on the total plot area or build area or as per the number of services as in drawings and detailing you want them to provide.
So, as you can see, there is no fixed rate card, or a fixed formula to calculate the architect fees and charges in India. Based on the size of the project, level of engagement and expertise of an architect, the charges and fees can well vary.
Different ways of calculating architects fees and charges
Architects fees and charges in India are not fixed and they can change a flat fee considering the size of the plot and building or a percentage of the construction cost as their consulting fees. However, there is no one-fit method and different architects may charge different fees based on their expertise, location and of course the circumstances.
Standard architect fees for different architectural services
Most of the architects in smaller towns and cities charge fixed fees for architectural services. Although the architects consider the size of the project i.e. the total area that needs planning and the number of floors, they usually charge a fixed fee for each of the services they offer.
For instance, here's the standard rate chart of architect fees and charges for different architectural services for a single-floor, 1000 sq ft house.
Simplex floor plan– Rs. 4000 to Rs. 6000 per floor
Exterior elevation design – Rs. 4000 to Rs. 6000 per floor
Structural and working drawing – Rs. 8000 to Rs. 9000 per floor
Electrical, plumbing and drainage drawing – Rs. 6000 to Rs. 7500 per floor
Site visit and supervision – Rs. 1500 to Rs. 2000 per visit
While you are looking at the above rates, you must consider that these rates are valid for smaller house design projects. As the architect's rates and charges are also determined by the size of the building, the rates stated above can change in case of bigger projects.
Some of the well placed architects in major cities can charge between Rs. 30 to 60 per square feet for larger projects for floor plan drawing only. They also charge separately for other allied services like structural and working drawings, and drawing for plumbing, fire, drainage system etc.
Percentage of construction cost as architect fees
If the architect you are working with charges a percentage of the project cost as their fee, then it can vary between 4%-6% of the project cost. The project cost includes structural building construction cost and not the finishing and interior design cost.
So, if you are building a duplex house of around 1500 sq ft, and the cost of construction is around 150000, then the architectural service fees can range between Rs. 60000 – Rs. 900000. The architectural services should include Floor plan, schematic drawing, and exterior elevation, structural and working drawing, plumbing, electrical and drainage drawing along with project supervision.
However, 4%-6% is a standard architect fee in mid-tier cities in India. And that's what the majority of the architects will charge as their fees. But don't assume this is an absolute percentage. Because, in some cases, the architect can even charge up to 8% – 10% of the construction cost as their fees.
Final thoughts on architectural service rates and charges
Finding and hiring a qualified architect to design a new house or renovate an existing building can be overwhelming. Especially if you are concerned about the rates and charges of the Architects. Naturally, as a homeowner, you would want to work with the best possible architect and interior designers to design your dream home. However, you would also like to hire an architect that offers you the best possible architectural services. And at the same time, charges you the least for their service.
Unfortunately, there is no fixed rate card or standard for charging architectural service fees. Different architects charge differently for different types of projects. Some architects in India charge a flat fee. Others may charge a percentage of the total house construction expense. And in some cases, they take the mix-and-match approach.
And that's where it gets complicated. We have been working with a number of architects and based on our interaction with them; we have simplified the process of calculating architect's fees in India. The rates stated above may not work for all the practising architects and for all the locations. But, this will certainly give you a good idea about the architect's fees. And it'll help when you meet an architect to discuss your project requirements and their consulting fees.
If you are planning to build a house and need remote architectural services then talk to us: 7596058808. Our house designing services start from Rs. 4499 only. We'll be happy to help design your house at extremely reasonable rates. Happy home construction!