The importance of refrigerators has increased more than ever. In fact, modern-day homes cannot exist without this particular appliance nowadays. Gone are those days, when the refrigerator was solely considered a gigantic cooling box kept inside a home just for the sake of preserving fruits, vegetables and other food items.
Now, you will get fridges in a hell lot of colors, styles, sizes and designs that cater to the different needs of different homeowners. When there are already so many enticing options available in the market, it's easy to feel confused while making a decision.
A lot of factors are worth considering in this matter to buy the best refrigerator in India that also in the proper and expected way. So, as you continue reading today's post, you will know what is refrigerator, its different variants and the things we need to remember while purchasing one. Let's begin!
What is a refrigerator?
A refrigerator is basically a cooling box that is designed to preserve fruits, vegetables, meat and our favorite dessert items while retaining each of their nutritive values. It consists of several compartments to store your goods like vegetables, fruits, dairy products, medicine etc properly under low temperatures.
Since the refrigerator has thermal insulation in it, it maintains an ideal temperature from the inside. As a result, all your foods, beverages and other stored items stay intact and fresh for days to come.
Aside from that, refrigerators also have freezers in them, where ice is made and where one can preserve fish and meat for quite some time. Each of these features has what made the fridge a worthwhile appliance that every homeowner these days looks for.
Different types of refrigerator
Not every kitchen is the same.
So, the need for a fridge would certainly vary according to that. Having said that, below are five types of fridges that are trending in the market right now.
French Door Refrigerator
An up-sized side-by-side fridge with a freezer that is mounted at the bottom, the French Door Refrigerator comes with the benefits of both the frozen segments and the fridge itself. It also has a very good capacity that allows one to store heavier and bigger items without any obstruction from the center partition.
Side-by-Side Refrigerator
This refrigerator type has a freezer on one side and a food section on the other. Besides, it allows the user access to all their chilled food items within a matter of minutes. Side-by-side also has a nice capacity, hence, can accommodate essential commodities in bulk without occupying a lot of space unnecessarily.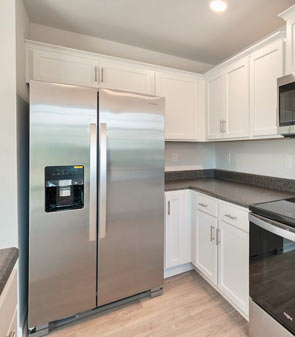 Digital controls and displays, energy-efficient systems and ice-makers are some of the other convenient attributes that many models side-by-side offer to homeowners.
Bottom Freezer
A bottom Freezer is an ideal option for those who use the freezer less as compared to the main fridge compartment. The section of the fridge remains at one's eye level, hence, the need to bend to get the items won't be there at all while getting them from inside.
It also has a number of adjustable drawers in it, that lets you sort your groceries out systematically while packing them away. All this and many more ensure a spanking-organized fridge for you in the long run.
Top Freezer Refrigerator
If you have to access the freezer frequently, then the Top Freezer Refrigerator is the finest option to opt for, since you need not bend down to retrieve what you need. It has an amazing food compartment with an individual freezer on the top.
Hence, homeowners with a small kitchen can easily get a Top Freezer Refrigerator without any doubt. Variants with LED lighting along with a chic fingerprint-proof stainless steel design are also available in the market. Apart from that, there are options with several laminate patterns and bright colors too that are enough to add a fun element to your kitchen.
Built-in Refrigerator
Built-in Refrigerators are generally made according to the cabinets and designs of one's kitchen. It comes with a hidden door hinge and is quite aesthetically appealing as well. Besides, the LED Lighting and safety glass it is comprised of can drastically alter the look and feel of your kitchen, making it look way more sophisticated and discerning than before.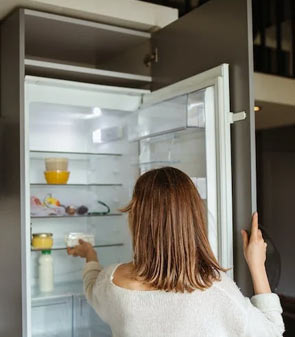 However, it is advisable that you discuss your preferred options with a savvy interior designer, informing them about the different shapes and sizes they've. Doing so will allow you to install your favorite built-in refrigerators in a convenient manner.
Top 5 Best Refrigerators in India available under Rs. 20000
So, now that you know everything pertaining to buying a refrigerator smartly and efficiently, it's time for you to get started with your shopping spree. However, it's easy to get confused and daunting as there is already an outpouring of plenty of refrigerator variants in the market. To make things easier for you, mentioned below are five leading Refrigerator Models that you can choose from and give your consumables the best cooling experience ever.
Godrej 236 L Frost Free Double Door Refrigerator
The Godrej 236 L Frost Free Double Door 2 Star Refrigerator is appropriate for families having 3-5 members at least and not less. Coming to its features, it has a frost-free attribute that is comprised of stop ice build-up to that of the auto defrost option.
Aside from that, the 2 Star Rating that it offers makes it a great energy-efficient refrigerator as well, allowing you to save up to 20% to the minimum on your monthly power bills. Also, the model has got a unique capacity of 236 Liters and a 1-year warranty on the actual product and 10 years of warranty on the compressor, thereby, making it a worthwhile refrigerator variant amongst all the users out there.
Some of the other notable aspects that set this fridge apart from others include a massive vegetable tray, antibacterial gasket, double door facility and so on. Get it in a regal blue color as you expect to pay a price of Rs. 20000 instead.
SAMSUNG 192 L Direct Cool Single Door Refrigerator
If you are a couple or a part of a small family, then the SAMSUNG 192 L Direct Cool Single Door 1 Star Refrigerator would be the best option to go with. More so, this refrigerator offers a totally stabilizer-free operation, ranging from 130 V to 300 volts.
Plus, its capacity of 192 Liters allows you to store plenty of things inside. Though it needs manual defrosting the attribute of direct cooling that the SAMSUNG 192 L Direct Cool Single Door 1 Star Refrigerator has ensured less power consumption, hence, saving on your monthly electricity bills to a favourable extent.
Apart from that, it contains a single door and is a 1 Unit Refrigerator to be precise. Coming to its compressor, you will get to use the ordinary version only as compared to the rest of the cooling models in the market.
On top of everything, the toughened glass and built-in stabilizer that this variant of the fridge is integrated with ascertaining a long lifespan for it and that's for sure.
No doubt it's a sleek option as you get it in a dazzling red color at a cost as low as Rs. 12,490.
SAMSUNG 198 L Direct Cool Single Door with Base Drawer with Digi Touch Cool
Having a 4 Star Energy Efficiency Rate, the SAMSUNG 198 L Direct Cool Single Door 4 Star Refrigerator with Base Drawer with Digi Touch Cool is an ideal choice for both small households and couples alike.
Plus, it can save up to 45% on your overall power consumption bills as it comes with an amazing digital inverter compressor. As a single-door refrigerator, this variant ensures direct cooling for the user teamed up with a capacity of 198 L at the most.
And you know the best part? The fridge has got a Base Stand with a Drawer that is particularly meant for items that don't need any cooling at all, such as potatoes, onions etc.
Isn't that amazing? Available in a sober grey color, in case you are contemplating purchasing this item, then it won't require you to pay more than Rs.16,490.
Whirlpool 200 L Direct Cool Single Door Refrigerator
Are you looking for a refrigerator that would offer you feasibility in terms of usage and a great deal of comfort as well? If you say, then, purchasing the Whirlpool 200 L Direct Cool Single Door 3 Star Refrigerator from the market must be your sole decision.
It is also a good-to-go option for those who are couples or reside in small families. Besides, the single-door option and direct cooling attribute ensure absolute ease of use. Alongside, the color of this fridge is cherry red and using it means saving up to 35% on your energy bills, not to mention, all due to its 3-star energy rating.
However, a cooling variant of this sort does require manual defrosting but the digital compressor that it is integrated with ensures the finest freezing for whatever food items you store in there.
Prices start at Rs.15,190. If you wish, you can go for No Cost EMI options too that will let you shop for the Whirlpool 200 L Direct Cool Single Door 3 Star Refrigerator without breaking the bank.
Godrej 190 L Direct Cool Single Door with Intelligent Inverter Compressor
Integrated with a fabulous Anti-drip Chiller Technology that prevents water droplets from creating and subsequently dropping on your foods, the Godrej 190 L Direct Cool Single Door 3 Star Refrigerator with Intelligent Inverter Compressor is a wow option for small families as well as couples who are looking for a smart cooling variant in the market.
Besides, it also has a massive Aqua Space of 2.25 Liters that lets you store the big-sized beverage bottles right at the door front, that too without putting in much effort. Not only this, but the gigantic vegetable tray that comprises one of the salient features makes sure that you are able to store fruits and veggies in bulk for a long period of time.
Coming to the capacity of this model, it's not more than 190L with a warranty of 1 year on the main product and 10 years of warranty on its compressor. Get hold of such a ritzy refrigerator as soon as possible, available both in the shades of Royal Dermin and Scarlet Dremin at a surprisingly affordable rate of Rs. 1,3,990 onward.
Factors to consider when buying a refrigerator
Buying a fridge from the plethora of options out there can be a daunting task at times. However, by taking certain factors into consideration, you can purchase this appliance in the easiest possible way. Take a peek into these aspects.
Capacity and storage
The main refrigeration process depends heavily upon its pertinent capacity and storage. So, make sure that you pay attention to the following points to get these two features proper for your fridge.
The height of the items that you want to store.
Whether or not you need extra storage areas or accessories in that matter to access your favorite foods quickly and easily.
The size of your family and the individual needs of your family members.
The volume of the essentials that you wish to store so that you can get an appropriate measurement for your fridge on time.
Nowadays, there are many refrigerators that come with a specialized storage capacity. Try and buy those variants and experience the convenience of using a fridge at its peak.
Kitchen space
Before buying a refrigerator, consider the kitchen design and space available for sure as it is an imperative factor to consider for every homeowner. Remember, the overall size of your kitchen not only plays a crucial role in determining the size of your fridge and the rest of the things to be kept there as well.
Take a quick walk-through around your kitchen and decide which space is perfect for closing and opening the doors of your refrigerator without you having to face any unwanted issues at all.
In a word, the size of your fridge must be in alignment with the space of your kitchen. When that happens, not only using your refrigerator becomes a cushy task, but the aesthetics of your kitchen also increases significantly.
Energy-efficiency
No matter which of the aforementioned refrigerator variants, you are going to buy, you must consider its energy efficiency without a miss. This is to ensure that your monthly electricity bill doesn't exceed your budget in any way.
To know how energy-efficient your refrigerator is, you must take a look at its "Energy star ratings" Alternatively, you can look at the power consumption chart of your chosen appliance too for ascertaining the kind of energy efficiency it has.
Design and style
Of late, many refrigerator brands have come up in the market. So, it can be a bit confusing to choose a layout and style according to your unique tastes and preferences. While making a choice, think about the way you want your fridge to function and appear before your eyes.
There are various vertical and horizontal layouts from where you can select your refrigerator variant. The choice is yours. Coming to the elephant in the room, the display of your refrigerator.
You will find that there are many materials and colours that are available in the market when buying refrigerators. Select the best refrigerator in India in terms of these features, say, for instance, taking a pick between textured wood or polished stainless steel etc. Subsequently, select a fridge that suits your unique criteria in the most effective manner.
Grab your favourite fridge today!
As tedious as it may seem, buying the refrigerator of your choice is now just a piece of cake. Simply take the factors mentioned above seriously into consideration and purchase a fridge that best complements the overall look and feel and decor of your kitchen.