2022 has come with unique interior design styles to make you fall in love with your space. It's all about including only what you need so that you have enough room to move around while still accessing everything you need. The ideas are many, so even a fussy homeowner would find something to impress them. Here are the best interior design styles to consider in 2022.
1. Industrial Interior Design Style
If you're looking for a very masculine space, the industrial design style is perfect. It has exposed beams and posts made of iron or wood. A mix of metal, steel, polished concrete, and brick makes this interior design style very modern. The best part about the industrial interior design styles is that they allow you to play around with various textures and colors. For example, if you want a warm and homely feel, go for warm browns and beiges. If you prefer something more modern that projects strength and power, choose metallic shades like silver grey or pewter.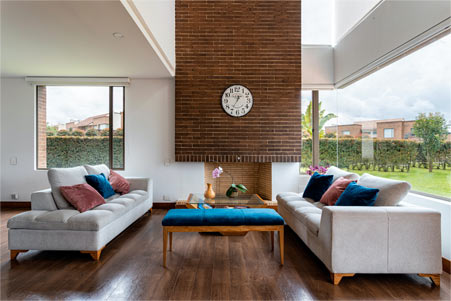 As far as furniture is concerned, industrial interior design styles are all about contrasts. Add a vintage piece next to something ultra-modern. For example, put a geometric sofa up against a rustic fireplace or place a sleek dining table against a distressed wall for a very dramatic look.
For industrial interior design styles, think of going black and white with splashes of color in the form of pillows and throws to add that extra spark.
Industrial interior design styles are all about contrast and striking balance. A mix of vintage and ultra-modern furniture goes a long way in creating the right atmosphere.
2. Traditional Style
Traditional interior design has been around for many years and is mostly inspired by old-school European styles during the 18th and 19th centuries. If you want to give your home an older feel, this is a great design style to consider.
Many people who choose this style for their homes really enjoy decor that has great historical meaning behind it. People who tend to choose this style also include a lot of pieces throughout the home such as art, antiques, and symmetrical objects that represent the European time period.
Some of the elements of this design style include European decor, dark wood paneling, dark wood flooring, silks, velvets, and antique furniture and paintings. This style is really all about architecture.
3. Mid Century Modern Style
The 1950s and 1960s inspire this type of interior design style, but its popularity continues into current times. If you wish to give your house a retro feel, this is one of the best interior design styles to consider.
The interiors are usually symmetrical with clean lines and minimalistic décor. This means fewer things are competing for attention in this design style, making it look more significant than what it is. The center of attraction here is furniture like cabinets, tables, and chairs. For example, if you have a sleek sideboard or bedside table that is unique, then it's the perfect candidate for this interior design style. Just make sure it looks good in any space you choose to display it.
Attractive light fixtures are another way to add character to this design style. So if you have a unique light fixture, consider placing it in this interior design style.
Just do away with everything that looks too fussy and place only the bare essentials. The simpler it gets, the better it appears. So choose pieces that are sleek and long for a more significant impact. Furniture with tapered legs is also a great way to add to this design style.
When you're choosing colors for mid-century modern interior design styles, make sure they are light and neutral. This makes your space feel more spacious while allowing the furniture pieces to stand out in full glory.
You can keep accessories minimal or go all out with vibrant colors for added drama.
4. Rustic Interior Design Style
When you talk about this interior design style most people will think of things like a rustic farmhouse, which is a great example of this particular style. If you are an individual who likes their home to have more of a natural feel or look to it and you are an individual who likes having accessories around your home that are from outdoors, this would be a great design style to try out.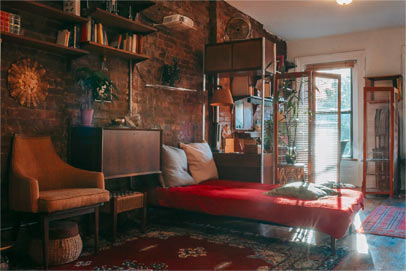 Rustic interiors often include lots of different colors of stone or wood and are often really raw, natural, and sometimes have more of an unfinished look. There is also a lot of earthy touches that are placed around the home with this style as well.
Some important design elements to make sure that you include if you are considering this style are wood floors, wood fireplaces, handmade decor, stone, and open ceiling beams.
5. Beach Style
If you love being at the beach or near the water but can not be all the time because you might live in the suburbs, bringing a beach or nautical style design to your home is a great option to consider. Even though most people advise beach style to only be used in beach homes, you can really get away with it in a regular neighborhood home too.
If you are considering this style, make sure that when picking out decor and colors, you make the interior warm and relaxing. You want your visitors and even yourself to feel like you are in a beach home or at the beach whenever someone enters your home. There are a lot of decor pieces that you can include to fulfill this design style such as seashells, sand, anchors, ships, and boats. Anything beach-related would be great to include to make this design style come to life.
Some important design elements to make sure that you include also are light colors, such as navy, and white, wicker decor and furniture pieces, natural oak, linen fabrics, and different hues of blue.
6. Eclectic Style
The concept behind this interior design style is to mix things up, so use pieces from various time periods and don't be afraid to include different colors within your home too. It's a perfect choice if you're an avid collector who has a collection that spans several decades. You can even bring in furniture or accessories that you've collected on your travels.
Eclectic interior design styles let you play around with textures and colors in vintage chairs side by side with modern sofas. The idea is to mix and match without worrying about clashing colors. It's all about having fun when working towards achieving this design style.
For the walls, you can opt for a bright color like red to add some zest or go neutral and keep embellishments to a minimum. This design style is highly versatile, thanks to the numerous materials you get to choose from, such as glass, fabric, and wood.
Conclusion
Mid-century modern and eclectic interior design styles are great examples of the perfect balance between masculine and feminine elements if you need that balance within your home. So choose your favorite approach when doing up your interiors. If you love simplicity, then mid-century modern is just what you need.